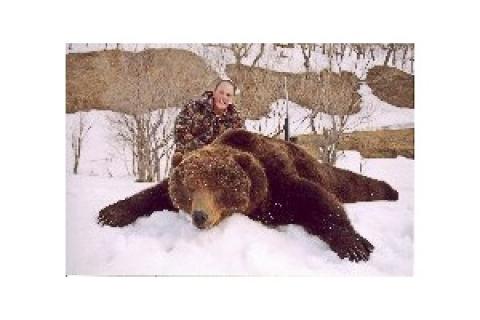 Ever since I saw a photo on the cover of Petersen's Hunting Annual of legendary outdoor writer Craig Boddington with a giant brown bear he'd taken in Alaska, I've been dreaming of the day when I too can hunt North America's largest land carnivore in the Land of the Midnight Sun. That photo was about 30 years ago. Alas, I haven't quite made it there yet, but I'm working on it. If this hunt is on your "bucket list" too, here's a quick summary of what you need to know.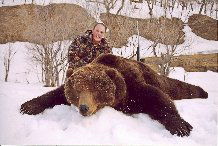 Like Alaska, Russia offers good bear numbers. Photo courtesy  of The Hunting Consortium
After years of debate, biologists finally determined a number of years back that grizzlies and brown bears are basically the same animal, with the coastal sub-species simply growing to larger proportions due to salmon-rich diets. While grizzlies can be hunted in a number of jurisdictions, Alaska is the only place in North America to hunt coastal browns, so the Alaska Department of Fish and Game is a great place to start for information. One important item to note is that you can only harvest a brown bear every four years in Alaska.


There are three general areas to hunt coastal browns in Alaska:


Southeast Alaska
Admiralty, Baranof and Chichagof Islands, also known as the "ABC Islands", have healthy populations of these bruins. Typical specimens from this chain of islands run in the 8-9 feet range (squared measurement of the hide). These are typically the most affordable brown bear hunts in Alaska, and are mostly conducted by boat. Spring hunts run from mid-April to early June, while fall hunts run mid-September to early October, when spawning salmon fill the streams. Black bear hunting and fishing can usually be added to these hunts.


The Alaska Peninsula
This area produces some of the biggest bears in Alaska each year, with averages over 9 feet, and many 10-footers being taken too. As a result, hunts in this area are usually more expensive than the ABC Islands. The Peninsula is open to spring brown bear hunting only in even-numbered years (2014), and in odd-numbered years (2015) for fall hunts only. These hunts can be either boat-based or land-based. Early-spring hunts often require the use of snowshoes and can be physically challenging, with harsh weather being commonplace for fall hunts.


Kodiak Island
This iconic Alaskan destination has its own sub-species of coastal brown bear, the "Kodiak". This rugged island is arguably your best bet in Alaska for a true 10-footer or bigger. This fact, combined with tight harvest quotas, results in hunts that are generally more expensive than the Peninsula. Hunts can be either boat-based or land-based, with fall hunts providing the bonus opportunity to also hunt the island's Sitka blacktailed deer.


In addition to these Alaskan destinations, there is another good option for giant brown bears. Eastern Russia's Kamchatka Peninsula offers good bear numbers and perhaps a better average size of bear taken than Alaska. Hunts are conducted in April and May, often in deep snow with the use of snow machines. Hunts are generally a bit more expensive than Kodiak Island, and travel is obviously a bit more involved.


For all hunts of such magnitude and expense, I always recommend enlisting the services of a reputable booking agent such as The Hunting Consortium, usually at no additional charge to the hunter. Its founder, Bob Kern, has particular expertise when it comes to arranging Alaskan and Russian bear hunts.


Good hunting.