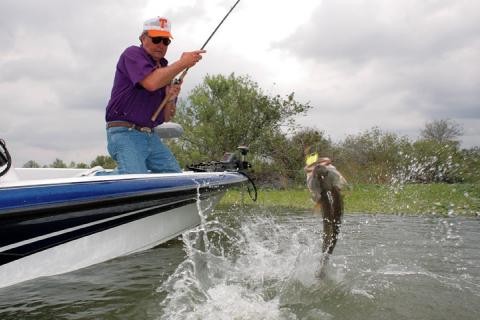 It's your first bassin' trip of the year. Make it count by using these five early-season strategies from legendary anglers. At least one of them is guaranteed to catch bass in frigid water regardless of where you're fishing.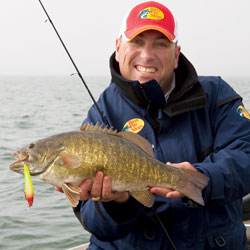 When the fish are suspending close to main-lake structures such as deep channel points and rock bluffs, jerkbaiting is a logical approach.
Tip #1: Suspending Jerkbaits in Open Water
Suspending jerkbaits like the Smithwick Suspending Pro Rogue and Strike King KVD Wild Shiner are favorites of pro bassers in early-season tournaments. Virtually no other style of artificial lure can be worked as slowly and still draw strikes from bass, something you should take into account when faced with hyper-chilled water on your first bass outing of the year. These minnow mimics can be made to suspend in the water column indefinitely; monster bass will eat 'em when they're sitting dead-still!


Dale Hollow Lake (Tenn./Ky.) bass guide Fred McClintock, a member of the National Fresh Water Fishing Hall of Fame, relies on suspending jerkbaits to catch big smallmouth, largemouth and spotted bass every January and February. "The water temperature on Dale Hollow will often be in the upper 30s to low 40s during this period, and the bass are understandably lethargic," he said. "Because this is a clear lake with little cover, the fish are usually suspending in open water, so jerkbaiting is a logical approach."


The "open water" part of this pattern is a bit misleading, McClintock admits. "The bass aren't suspending in the middle of the lake as they often do in hot weather; they're relating loosely to main-lake structures such as deep channel points and rock bluffs. It's common to find them suspending 8 to 15 feet deep a cast or two away from the structure."


Wind is an absolute must for this pattern to become operative, McClintock insists. "I've had days when the wind blew 30 miles an hour and we'd catch 20 big bass on jerkbaits. Then the next day, the wind would lay down and we couldn't buy a strike. Most bass fishermen try to get out of the wind, but this is a serious mistake when fishing suspending jerkbaits. Wind draws suspending bass shallower and makes them more aggressive."


Just because these lures are called jerkbaits doesn't mean you should jerk them too much, Fred cautions. "Make a long cast, reel the lure down to its maximum depth, give it one or two lazy pulls with the rod tip, let it sit 8 to 10 seconds, then gently jerk it again. If this doesn't work, pause longer between jerks. You might have to let the bait suspend motionless for over a minute before they'll swim up and hit it."


Tip #2: Hair Jigs and Grubs on Rocky Banks
"In cold water, bass relate strongly to 45-degree rock banks," Priest Lake (Tenn.) bass guide Jack Christian has found. "They don't have to swim nearly as far to make a significant depth change on a sloping bank as they would on a flat, a critical point to understand early in the season when bass are sluggish."


Christian knows a leadhead lure like a hair jig or grub is ideal for probing these sloping structures. "By casting to the bank and allowing the jig or grub to stair-step down the slope, you can probe a wide depth range fairly quickly, a big plus when you aren't sure how deep the bass are. These compact lures resemble the small crayfish and minnows preferred by bass in frigid water."


If the water is murky and in the 41- to 45-degree range, Christian fishes a 1/8 ounce hair jig with a small split-tail pork trailer, a combination known locally as a "fly 'n rind." Contrasting dark colors such as a brown jig with black trailer suggest a live crayfish to bass. If the lake is 45 degrees or warmer and moderately clear, Jack uses a 4-inch twist-tail grub in smoke, pumpkin or chartreuse, rigged on a quarter-ounce head. Christian fishes both lures on a heavy-action 6-foot spinning rod with 8 pound mono.


Targeting rock transitions is paramount with this approach. "Bass won't be evenly scattered along a stretch of bait, but will concentrate in places where one size or type of rock changes to another, such as chunk rock to gravel, or gravel to shale," Christian noted.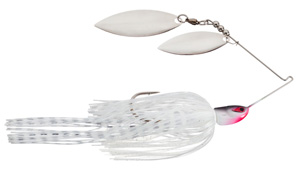 Consider a spinnerbait for early-season bass fishing.
Tip #3: Spinnerbaits Around Shallow Wood
"Cold, murky water in late winter and early spring means lethargic bass close to wood cover — the perfect scenario for a spinnerbait," claimed veteran Tennessee bass pro and tv fishing show host Charlie Ingram. "This is the only lure you can work horizontally through the water column at a slow to moderate speed and bump off wood cover without hanging up."


Ingram's philosophy of early-season spinnerbait fishing is simple: "If you aren't bumpin' cover, you're wastin' your time," he indicated. "The bass will be hanging tight to the wood and will rarely chase down a lure. You want to your spinnerbait to literally scrape the bark."


Charlie offers these tips for early-season spinnerbaitin': "Cast just past a log or stump, then slow-roll the lure so it either ticks against the wood, or deflects off it gently. If you're fishing a large tree, position the boat so you can retrieve the spinnerbait down the length of the cover as opposed to slicing across it. Most strikes will occur where large branches jut off from the trunk."


Charlie varies the size, color and blade configuration of his spinnerbaits according to water color, lake temperature and gut feel. "Early in the year, bass often feed on small baitfish, so instead of a spinnerbait with large willow-leaf blades, I'll try one with small blades. Besides matching the forage size, small blades emit less vibration and aren't as overwhelming to lethargic fish."


Ingram employs other spinnerbait tricks in cold water. "Bass often want a compact lure early in the season, but rather than fish a light spinnerbait, I'll use one that's at least 1/2 ounce, then trim the skirt back and leave the trailer off," he explained. "The heavier lure can be presented more accurately in the wind, which always seems to be howling during early-season tournaments. Also, I'll vary my retrieve speed with changes in water clarity. In muddy water, I'll fish a spinnerbait faster so it's closer to the surface, then in clear water, I'll slow way down until I can just barely see the blades flashing when standing up."


Tip #4: Jig 'n Pig on Stump Rows
Most competitive anglers dread early-season bass tournaments, because frequent frontal passages can trash a winning pattern overnight. Not Arkansas pro Ron Shuffield. He knows what big largemouths want in cold, murky water, and he sticks with it, regardless of where he's casting for cash. "A jig 'n pig is my early-season money lure," he admits. "I'm so confident in it in February and March, I may go through three days of competition without fishing another lure."


Shuffield likes a half-ounce black and blue jig with a straight black, or black and blue, jumbo pork frog trailer, a combination which he says strongly mimics a live crayfish. "A half-ounce jig is a heavy lure, but the big, fat trailer adds enough buoyancy so it falls slowly into the cover," he pointed out.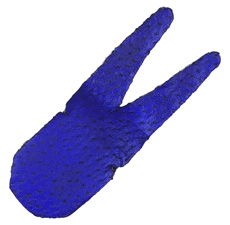 Combine a black or blue jumbo pork frog trailer to a black and blue jig for a Pig 'n Jig that will produce bites.
Ron's favorite early-season target is a stump row lining a shallow ditch or creek channel in a reservoir tributary arm. "Bass will move out of the channel and hang around the stumps, grabbing crayfish that wander too close," he said. In clear to moderately stained water, he backs off and casts the jig to his target; he'll move closer and pitch or flip the stumps as water clarity decreases.


"Instead of hopping the jig the way most guys fish it, I'll just turn the reel handle slowly with the rod tip around 10 o'clock and swim it past the stump. This less-active retrieve produces more strikes from quality bass in cold water. I caught a 10-pounder last February at DeGray Lake near my home by swimming a jig around stumps."


Tip #5: Underground Springs
"Underground springs are overlooked bass magnets," claimed Doug Hannon, Florida's legendary "Bass Professor."  The big-bass hunter, naturalist and underwater photographer has filmed many monster bass for ESPN TV segments around Florida's crystalline springs, and offers these suggestions for locating and fishing spring-fed areas early in the season.


"Springs are much more common than most anglers believe — there's more water underground in many regions of the country than above the surface," he said. "You can find springs in your local lakes and rivers with a surface temperature gauge. Spring water runs in the low to mid 50-degree range year-'round; in early spring, a spring-fed tributary or bay is likely to be 10 degrees warmer than elsewhere in the system. This is a huge attraction for baitfish and bass early in the year. Spring water is clear, so if most of the lake is murky, any clear area you come across is likely to be spring-fed. Also, the spot where the spring bubbles out of the lake or river bottom often appears slick on the surface."


Hannon recommends baitfish-imitating lures around springs; his favorite is a floater-diver minnow in a silver or gold foil pattern worked with short, erratic twitches of the rod tip. "There's likely to be a ton of bait in the area, so it's important to give the lure the look of an injured minnow so it stands out from the pack," he emphasized.