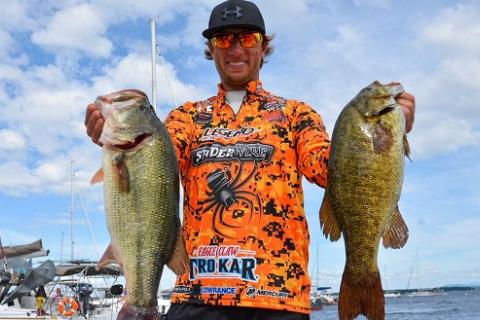 by Dave Landahl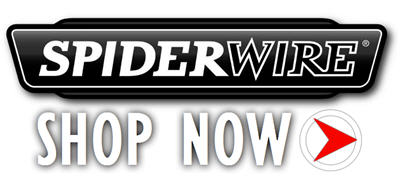 Fletcher Shryock has been plying his craft on the Bassmaster Elite Series for several years now. The Spiderwire fishing pro is known for his distinctive orange-hued gear and his flat-top caps. Fletcher has also made it to the Bassmaster Classic and won a B.A.S.S. Open event. He can catch da bass.
So, how does Fletcher like to chase bass during the fall months? Well, most of his efforts revolve around shad as the primary bait, so his offerings tend to be color coordinated with them. Think white baits. Check out his three faves.

Frogging for Bass
"Fishing in the fall is all about being around and mimicking the baitfish," said Shryock. "The bass will start to feed more as winter approaches and can make for some incredible days.
"One of my favorite ways to catch them in the fall is by throwing a white Yamamoto Yama frog bait in shallow water anywhere there are shad present. Most of the time you'll find the shad toward the backs of pockets or on flats with some kind of cover on it."
Proper gear is key for frog fishing in the fall.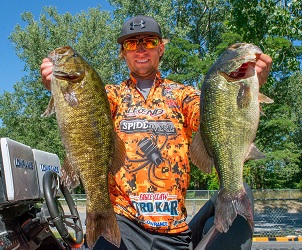 "I like to throw the white frog on a 7'3" MH Abu Garcia Villain 2.0 paired with an Abu Garcia Revo ALX 8.0:1. I like the faster retrieve to cover water this time of the year.
"The key ingredient to hooking up with the explosive bites the frog generates is using 40- to 65-pound Spiderwire Stealth Smooth braid. This line will allow you to make extremely long casts. Since there is no stretch, your hookup ratio is much greater than using monofilament or fluorocarbon."
Flipping and Pitching for Bass
"I mentioned that bass are focused on shad this time of the year," said Shryock. "Flipping and pitching doesn't sound like a good option, but often times there are lake drawdowns this time of year, which tends to create a lot of matted vegetation. The fish get in the grass to ambush shad.
"One of the great ways to catch them is by flipping a Texas-rigged Yamamoto Psychodad into the grass. The size of the tungsten weight I use depends on grass thickness. I use an Abu Garcia Revo ALX 8.0:1 reel paired with an Abu Garcia 7'11" heavy action rod and heavy Spiderwire braid to winch the fish out."
Fletcher suggests focusing your flipping and pitching in vegetation located in pockets and flats near channel swings.
Spinnerbait Fishing
"The third on the list of my favorite fall baits is a white colored Yamamoto thin-wire spinnerbait," said Shryock. "Its perfect for covering a lot of water in creeks, pockets and flats where shad are present..
"Key into any isolated cover and grass you can find. Similar to my other favorite techniques.."
Fletcher uses an Abu Garcia Revo ALX 6.4:1 reel loaded with 15-pound fluorocarbon fishing line on a 7-foot medium Villain 2.0 rod for spinnerbait fishing.