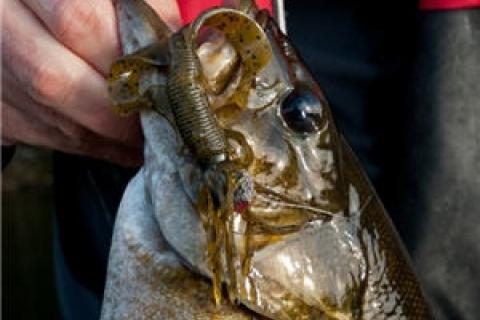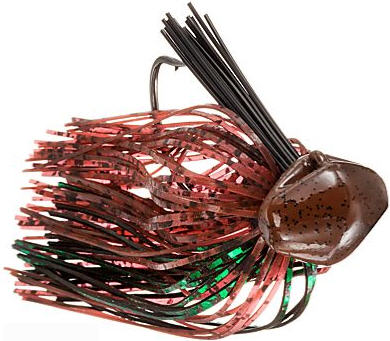 Casting, jigging, and dragging a football jig teamed with a bulky plastic are reliable ways to catch smallmouth bass. Try wetting one this fall, and you'll quickly get hooked on the fish-catching power of football jigs.
Autumn is a time for upsizing baits to catch trophy smallmouth bass. Big and chunky plastics top my list of presentations. Using a football jig head for rigging is an excellent choice. Here are three reasons why.


Side step snags
A football jig's shape gives it a great advantage. Its elongated, oval head helps it roll over minor snags better than a ball head jig. This saves you money as you'll lose fewer jigs. It also makes it easier to drag the presentation along the bottom. This is important because pulling a chunky plastic along the floor appeals to autumn smallmouth looking for crayfish, gobies, and other bottom-dwelling creatures.


A shimmying fall
The shape of a football jig causes it to shimmy through the water as it sinks. This natural action appeals to bass and makes a plastic come alive. Because of this undulating motion, a football jig has an advantage over other jigs that fall like a sinking stone with little action.


Pointing up
Certain styles of football jigs provide another bass-catching feature. When rested on bottom, the hook is elevated off the floor. This posture replicates the defensive stance of a crayfish when the jig is rigged with a craw, creature, or spider grub. Regardless of what soft bait lures you use, keeping a portion of the jig off the bottom makes it more visible to bass.


Give tributaries, points, and humps a try this autumn. They're some of my favorite spots to fish in the fall. You can use a lot of tactics to catch them from these areas. I'll often troll crankbaits, work some walleye jigs, or cast swimbaits.


For more tips on what fishing lures will catch smallmouth this fall, visit 5 Proven Baits Sure to Hook Fall Smallmouth Bass at Bsss Pro Shops 1Source.