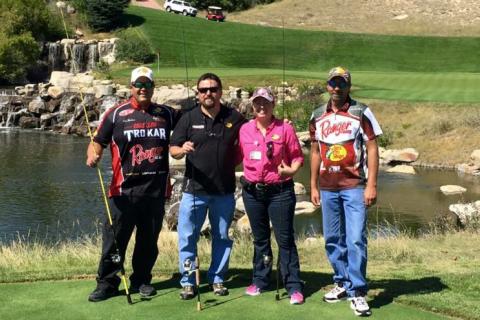 Some people may think you have to be a fisherman to work at Bass Pro Shops, but this just isn't the case. I came to work here with a long family background in logging and living/camping in the woods. I hadn't fished since childhood when my grandfather would take me fishing for catfish. But, that all changed after I earned a promotion at the Bass Pro Denver store and became the head of events and promotions. That change has given me the opportunity to help teach kids how to cast and fish and to share my story about how... It's all about that bass.


Bass Pro Shops Fishing With the Denver Police Activity League
This past month we were invited by the Denver P.A.L.S. to help teach disabled girls how to fish and we jumped at the opportunity to get out of the store and help these kids get into fishing. So we assembled a team of Pro Staff helpers from the store, Sam Heckman and Jack Winters and our General Manager Vaughn Peterson and loaded up some bait and fishing gear and set off.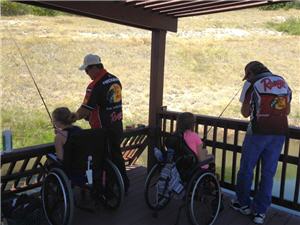 Special Fishing Ponds With Wheelchair Access
We were attending a charity golf tournament on a private golf course with private ponds set up for wheelchair access. The ponds were nice sized and stocked with a ton of bluegill and a few bass. I had helped catch bluegill at the store, but this was a whole new fishing experience for me. We were going to fish on a real body of water and, I felt pretty uneducated and needed a lesson before I could help these girls.


My Lessons in Fishing
So Sam jumped at the chance to help me learn to fish. He's one of the top bass anglers in the country and, I felt pretty special to get a lesson from him.


As he pulled out his original Johnny Morris Carbon-lite combo that he's used for over from 10 years and hands it to me to use, he begins to show me how to cast and coach me in the details of fishing around structure.


He kept saying "do you see that Bass by the structure"? I kept saying "No, I see a rock". Little did I know the importance of polarized sunglasses! Apparently with the right sunglasses, you can see the fish in the water, you can see your line, and it makes fishing a lot easier. Note to self, buy a pair of polarized sunglasses.


So then he tells me how I need to work the bait and how important it is to jerk my rod up to set the hook. He explains to me how we are using a Trokar® offset fishing hook and a Stik-O worm. He then tells me I need to keep the worm straight on the hook. Next, I'm to let the bait fall in the water then give it a small pop and reel it in a little. Holy Smokes, after about the third cast, we hook a fish! I wasn't really sure when the first bite happened, or how to set the hook, but I jerked and we had a fish. Oh my gosh! How exciting! We move around the bank and catch 2 more fish. I'm starting to get the feel for casting, working the bait and what a bite feels like. Pretty cool!


Now It's My Turn to Teach Fishing
When the girls arrive we move to the dock. These girls were awesome catching bluegills so fast, it was crazy FUN!


The girls were reeling in fish one after another. Some bluegill we even caught without bait. Once each girl had caught several little bluegills, they decided it was time for a break. I needed one too. As they were talking, I could hear a couple of them mention, they wanted to see a big fish.


My Time to Shine
After hearing those wishes, I went back to practicing with that old Johnny Morris fishing pole which was propped up against the rail. I threw out a cast, worked it back to me and nothing. I threw out another cast, and worked it back and nothing again. Ugh. Sam noticed I was practicing and said" you're getting the casting thing down." It made me smile. I had learned something new and holy *** I was bass fishing!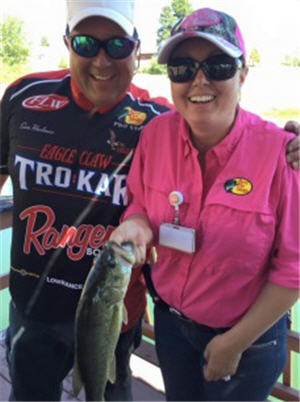 Sam Heckman, Pro Staff Bass Angler & Loralee Alemanni, Promotions/Event Coordinator Bass Pro Denver.
Out went the 3rd cast. It was farther than the first two and I worked it slower. All of a sudden, BAM! I felt this hard jerk on the end of the pole. It was like a rock just pulled on my pole! I jerked back hard and dang, it was on! FISH ON! This thing was fighting, I could feel it. He wasn't letting me reel him in without a fight! I was so excited, I started screaming "I have a fish, I have a fish!" The end of the pole was bending and I thought for sure it might snap.


Jack was standing next to me, he grabs the pole and says "let me check". Then he says "no I think you are snagged on the bottom." At that moment a rush of disappointment came over me. How could I mistake a big bite for a snag? Then of course, I feel like an idiot for jumping and screaming about it. He starts laughing and gives me the rod back and says "No, you really do have a fish." Now I'm thinking...Mmmm men.


All that ruckus gets Sam's and Vaughn's attention. The girls are all eyes on that pole and what I'm going to pull out of the water. Holy *** I just caught my first BIG fish! As I reel it in, and he fights, I get him to the top of the water and it starts jumping and slapping itself on the water. I couldn't believe it! This is what they talk about as "slammin' bass". As we reel him in the girls are cheering, the pro staff guys and my boss was cheering and laughing at my excitement. What a huge sense of accomplishment. I just caught my first bass fish and it was AWESOME! Even though it felt like I had hooked a trophy bass however he was only 3 lbs. or so I'm told, but that didn't matter, I was hooked! Man, I want to do that again and again!


A new bass fisherman was born that day. I caught a total of seven bass, but that one on the dock will be forever engraved in my mind. I may never be a pro at fishing but I'm sure gonna keep trying to catch bass! I'm proud to say I work at Bass Pro Shops and I have caught a Bass!


by Loralee Alemanni
Promotions/Event Coordinator
Bass Pro Shops Denver, Colorado.