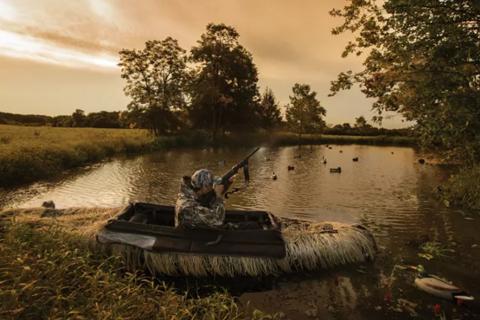 Millions of ducks and geese come down the flyways each fall, just as they have done for eons. Likewise, thousands of waterfowl hunters lie in wait, hoping to coax a few of the magnificent birds within shotgun range. A growing number of hunters are utilizing small watercraft like the Stealth 2000 Duck Boat to assist their efforts in outsmarting migratory waterfowl. I joined that crowd years ago, and the rewards far exceed the efforts. 
Why Use Watercraft for Waterfowl?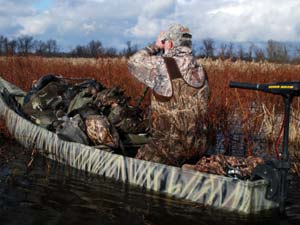 Many state and federal waterfowl areas consist of massive acreages dedicated to intensive management practices that entice migrating waterfowl to stop in each season to feed and rest. These areas contain shallow waters complete with abundant food supplies. Managers often gradually increase water levels as the season progresses to keep a constant supply of food available to puddle ducks and geese. 
Designated wade-and-shoot areas within waterfowl management areas have become extremely popular. The downside, however, is the limitations placed on hunters. While wade-and-shoot hunts can be very rewarding, a wading waterfowler simply cannot carry many geese or duck decoys or other necessities. 
Areas that contain only a few inches of water and are not designated as wade-and-shoot only lend themselves to the use of small duck boats or hunting boats to transport man, dog, decoys and supplies. A small boat goes a long way toward improving both the ease and success of a waterfowl hunting adventure. 
Small Hunting Watercraft Options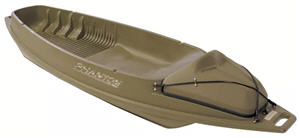 I was first introduced to the idea of lightweight waterfowl watercrafts when hunting at Missouri's Ted Shanks Conservation Area near the Mississippi River.
Tip: Hunting ducks has never been so much fun as it is with the Beavertail Phantom Duck Boat. This waterfowl-specific kayak is built to overcome the challenges often found when hunting out of smooth-bottomed conventional kayaks.
A few days later, I took my shallow draft 18-foot camo jon boat a few days later. I powered it with a 5-horsepower Mercury motor and a good pushpole like the Cabela's Northern Flight Telescopic Push Pole, price at about $39.99.
Hunting alone, I could carry all the waterfowl decoys I wanted, cooking equipment and supplies and still have room left over to utilize the remaining space as a layout boat. The 60-gauge aluminum makes the boat light enough that I can pick it up and carry it with one hand. 
Tip: The TRACKER TOPPER 1236 jon boat is easy to transport on top of a vehicle or in a truck bed—and it can still accommodate two anglers and their gear! It also features a wide 36" bottom for added stability. Crafted with rugged 0.050 aluminum alloy. With this versatile and lightweight boat, you'll be able to enjoy the great outdoors anytime. An optional trailer is available.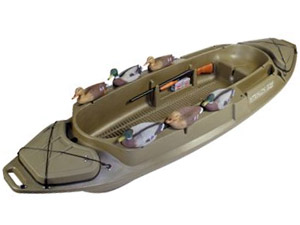 Kayaks are another possibility for shallow-water duck hunters, but most are very limited on space. If a hunter wants to travel light, these easy to paddle and maneuverable crafts are the ticket.
Tip: Turn your Ascend kayak into a floating blind with the Cabela's Northern Flight Waterfowl Kayak Blind. Designed to fit the FS12T and H12 kayaks from Ascend, this blind delivers complete coverage for you and your kayak.
I once owned a sit-inside kayak made by Old Town. The short kayak proved very stable, and I could easily get in and out of it, even while wearing waders. I strapped a dozen decoys on the front of the boat and stashed it in cover after tossing out my decoys. 
Layout boats are the absolute ultimate for shallow-water duck hunters. They have a very low profile, draw little water, and with the appropriate camo, blend completely into the surroundings. Layouts are manufactured by many companies with a host of adaptations.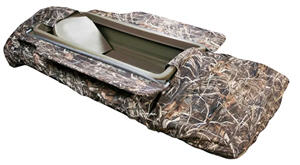 Stealth and Beavertail make several models of duck boats in rugged 1-piece polythene construction. These are said to be some of the toughest duck boats on the market. The twin-hull design produces amazing stability, yet the boat floats in 5-inches of water. Features include two watertight compartments, twin gun racks with shell holders, wide cockpit, contoured seats, non-skid floor, and locations for oar-locks, dog platform, decoy slot and side storage. Molded-in handles make for easy lifting. 
Sneak boats are very similar to layout boats with few differences. Pirogues are common in the south and tend to be very small one-man boats. Both are highly effective in the right situations. 
Jon boats come in a vast assortment of lengths and widths. Small boats, 18-feet or less, can often be used on waterfowl areas with deeper water or canals that lead to blinds, shallow water areas or fields. Many companies produce special edition jon boats as waterfowl hunting boats. One's imagination and budget are the limiting factors when it comes to choosing one of these boats. 
I have owned several duck hunting boats over the years, but my current boat has proved to be my favorite. It is a 17-foot Grizzly johnboat equipped with a 50-horsepower Mercury outboard. The boat sports lots of storage room, a gunbox, non-slip finish and comfortable seats. I bought the boat with an OD green finish, purchased a stencil kit and camoed the boat myself in three hours.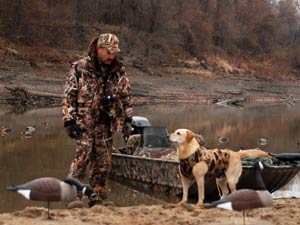 Dozens told me that it wouldn't work, but I've sat in my comfortable boat seat, without a blind over the boat, and harvested ducks on a regular basis. I simply toss a few pieces of camo material around to cover the console and other shiny areas. 
Tip: Shop waterfowl hunting gear and accessories at Bass Pro Shops here
Choosing a duck hunting boat can be a daunting task. If you begin your search by identifying your specific needs, the type of boat necessary will materialize in your mind as you do your homework. However, if you're like me, you probably have several different waterfowl hunting styles. I own a specific boat to match each style — canoe, kayak, sneak boat and a big jon boat. I need a pirogue to round out my fleet, but my wife says otherwise.
Good hunting...