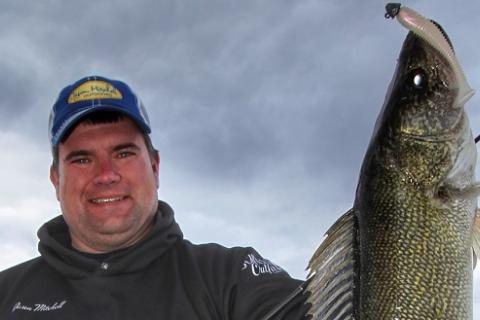 by Jason Mitchell
Weeds hold walleyes all summer long but aquatic vegetation can become even more appealing in the fall when water temperatures drop.  While many productive patterns can emerge, what can be so appealing about weed fish come fall is that there is often a level of stability.  
Fall can be a whirlwind of change and when deep fish become nomadic, weed fish just kind of hang around.  This consistency is something that can benefit an angler when deep classic structure turns on and turns off.  As a guide, I can't tell you how many times I limped into a shallow weed line break in the afternoon and salvaged the day.  During my career filming television shows, we have relied on fall weed bed patterns several times… from the Canadian Shield to large natural lakes like Mille Lacs, Leech Lake and Devils Lake.
Typically, in the fall, weeds begin to break down.  Green weeds will be random strands and clumps mixed in with dying weeds.  From my experiences, if there is good water circulation and a little bit of green left, walleyes will remain in the breaking down weeds and as these weeds break down, they sure become easier to fish.  Some anglers believe that weeds will hold heat as water temperatures cool.  Maybe what does happen is that weeds absorb heat from the sun in the fall and this extra warmth holds fish.  What I do know is throughout the year, weeds offer a level of consistency as weed walleyes just don't move nearly as much as fish on other patterns.  On so many fisheries, a percentage of fish live in the weeds for a large part of the year and while these fish obviously have windows where they aren't active, these fish just don't go anywhere.
What is also interesting is just how many times these fall bites become an afternoon bite much like the spring.  Mornings can be slow and as the sun warms the water up, the fish become more active. With that being said, weed fish sometimes have to be approached methodically where you must grind out a location and wait for the windows where these fish open up.  
How to fish these weed walleyes in the fall can vary dramatically.  In the past, we have found walleyes using milfoil, cabbage, dollar weed, pencil reeds, cattails and grass.  Each lake will have its own personality in how deep and dense weeds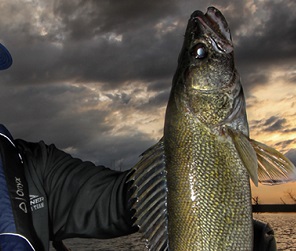 will grow.  For big fish, one of my confidence lures is casting a big swim bait and slowly reeling over the tops of weeds or along the break.  A 3.8 inch Kalin's Sizmic Shad rigged onto a Kalin's Spot Stalker Jig has accounted for many big walleyes for me over the past couple of years.  The spot stalker has a thin wire weed guard that I am surprised more walleye anglers don't use because this jig can crawl through vegetation but the weed guard is thin enough where it isn't "walleye proof."  
If there is one mistake or limiting mindset that keeps anglers from catching more walleyes with swimbaits in weeds, I would argue that too many anglers are hung up on the notion of keeping the boat out deeper off the break, insisting on casting up into shallower water.  This deep to shallow angle can be very productive but this is just one angle to try.  
We find so often that we catch so many more walleyes by nosing the bow of the boat up further into the weed line where we can cast along the break or parallel to the flat or contour.  There are also times where we find fish stacked up on the inside edge of the weed line and long casts along the edge just keep the swim bait in front of fish so much longer.  If you are just picking off a few fish, note exactly where the strikes came and experiment with your angle so you can keep the lure in front of fish longer.  As water temps drop in the fall, there will be days where fish will follow a touch longer before striking so experimenting and understanding different casting angles can be extremely important.
Besides swim baits, shallow running crank baits can also work well over the tops of weeds and rattle baits are often overlooked.  On fisheries like Devils Lake where there is typically some algae stain in the water, a bottom bouncer and spinner run along the edges of the weeds can be productive.  On clear lakes like Winnibigosh and Leech lake, we often do better running spinners behind split shot or bullet weights.  If the contour is long enough and straight enough, trolling crankbaits can be deadly.  
The reality come fall is that there will be several options to at least try when it comes to finding walleye.  Deep structure, channels, sharp breaks, boulder rock piles and current are all options but when you hit that wall where fish seem to be here today and gone tomorrow, explore the shallow weed options because while you might be dealing with a smaller percent of the overall walleye population in that fishery, these patterns are often some of the most consistent.  When other patterns get tough, some consistency is good.