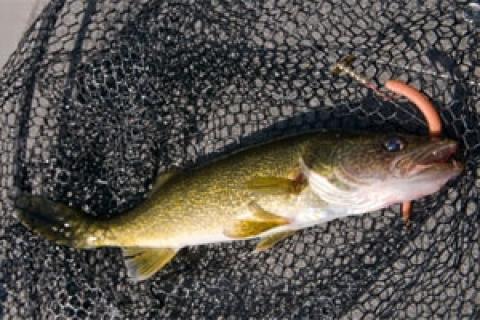 Every species has several standard rigs that, more often than not, are reliable fish-catchers. Day in and day out, these three are some of the most reliable at putting walleye in the fishing net.


Bottom Bouncer and Walleye Spinner Rig
Why it works: For many, this is the go-to when drifting or slow-trolling for walleye.


How to rig it: Carry bouncers in 1-, 2-, and 3-ounce weights for a range of depths. As far as spinner rigs go, there are tons of choices. Worm harnesses feature two snelled hooks, while leech and minnow versions have one. The whirling blade puts out flash and vibration that calls in fish. Color, shape and size can be deal-breakers when walleye are fussy. Live bait is the traditional choice, but I'm a big fan of using Berkley Gulp! nightcrawlers, minnows and leeches, as they're durable, loaded with scent and come in a range of colors.


How to fish it: Some days this rig is best dead-sticked in a rod holder when trolled or drifted, other times working the rig by raising and dropping the sinker along bottom is better. Experiment and let walleye tell you what they prefer.


Lindy Rig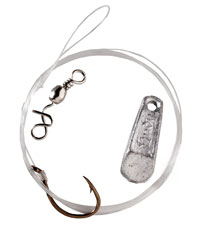 Why it works: A Lindy rig is effective when walleye are fussy.


How to rig it: The standard rig is a 1/8- to 1/2-ounce walking sinker, bead, swivel and a minnow or leech/crawler hook. There are variations, including rigs outfitted with a small spinner or a float that elevates the bait off bottom. While a traditional walking sinker works, the Northland Fishing Tackle Rock Runner Slip Bouncer and the Lindy No-Snagg Slip Sinker are sophisticated options less apt to snag. Typically a Lindy rig is teamed with live-bait, but soft-baits work as well.


How to fish it: A drag-pause retrieve is as complicated as this method needs to get.


Slow Death
Why it works: A long-kept secret of tournament pros, Slow Death was unveiled years ago and took the walleye world by storm.


How to rig it: A specialty hook, like the Mustad UltraPoint Slow Death Hook is tipped with a piece of nightcrawler or an artificial worm. This should be a couple inches long, so 0.5-inches of the worm hangs off the back of the hook. The little nugget corkscrews through the water, an action walleye find irresistible.


How to fish it: Most often the rig is pulled behind a bottom bouncer or another snag-resistant weight on a 4- to 6-foot lead. Or eliminate the guesswork, and grab the Fin-tech Slow Death Rig, which has everything needed — minus the worm.
Stock your tackle box with these three rigs. They're tried-and-true presentations that consistently catch fish.