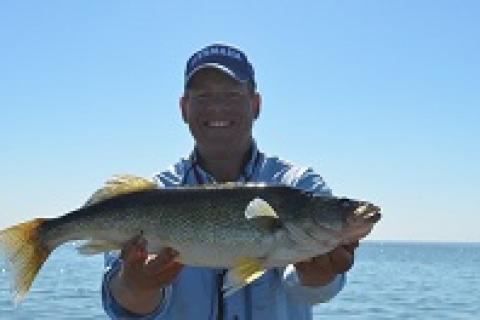 On Lake of the Woods or any other body of water holding walleyes, there is one fishing presentation that has become a staple for putting walleyes into the boat.  Growing up, I really didn't pull spinners much.  When I did, it was a Lindy / Little Joe spinner rig, usually with a small Colorado style red and white blade and one hook.  I would slow troll or drift with either a leech or a minnow.  It was effective, but not a staple.


As I matured as an angler, I considered rolling the dice and going pro.  I began fishing as an amateur with the Professional Walleye Trail (PWT).  Basically, I would help a team pre fish for the tournaments, giving me an understanding and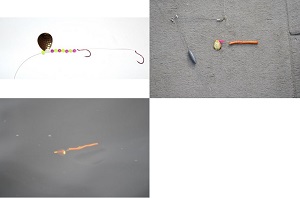 experience in how to approach a new body of water.  I then would have the opportunity to fish with a different pro each day of the three day tournament.  What a learning experience.   I learned a lot, but one thing I noticed, regardless of what state or which walleye lake we were fishing, a lot of pros used crawler harnesses and caught a ton of walleyes.


I began using those same techniques on the lakes that I fished and noticed my personal catch rate of walleyes went way up.  Lake of the Woods is one of those lakes.  Crawler harnesses or spinners as some anglers call them, are extremely effective in this stained water for a number of reasons.


1.  Harnesses can be 1, 2 or 3 hooks and can be fished with a variety of live bait
2.  Harnesses can be fished in all depths, in rocks, weeds, over mud and in sand.
3.  Using a quick change clevis, blade sizes, shapes and colors can be changed easily
4. The flash of a blade and the vibration of the blade both attract walleyes
5. Harnesses can be fished with a variety of weights, weight styles, although I prefer a 2 ounce bottom bouncer!
6. They are easy to use and when fishing with inexperienced anglers, the fish will often hook themselves


In a nutshell, pulling harnesses for hundreds of hours, here is my boiled down recipe…  Use a 2 ounce bottom bouncer with a 3-5′ two hook harness.  Use a #4 Colorado hammered gold blade.  Add a juicy night crawler with the thick dark front of the crawler on the front hook and the second hook about where the band of the crawler is.  You want the crawler pulling straight through the water.  I normally like about 3-4 inches hanging off of the back hook, not a whole crawler.  This prevents the walleyes hitting only the crawler and not the hooks.


Troll or drift with your harness at a 45 degree angle, typically 1.1 – 1.3 mph.  The walleye will "load up" meaning it will feel like you have hooked a wet sock and are just dragging it along.  Count to two or three and sweep the rod embedding the #2 -#4 octopus hooks into the walleye's hard mouth.  Measure walleye.  If legal, deposit into livewell or iced cooler later to enjoy for dinner!


I encourage you to add crawler harnesses to your walleye tool belt.  They are easy to use and extremely effective!


by Joe Henry