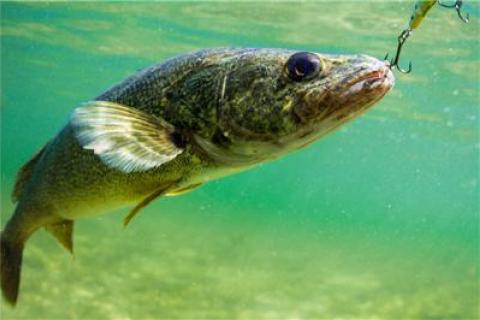 (Editor's note: Ted Takasaki placed 10th in the NWT Walleye Tour on Green Bay July 24 –25.  This is his view of the tournament.)


Subtleties make all the difference when it comes to catching walleyes on the Great Lakes or even big bodies of water like Mille Lacs and Lake of the Woods.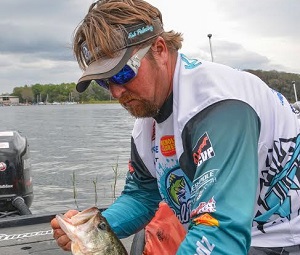 Anglers often appear to be fishing open water over expansive areas. But, the slight changes in bottom structure below the boats are keys to locating walleyes.   The breaks aren't always obvious. Suspended, roaming walleyes often utilize a drop of just a foot or two.


Success comes from quickly finding the spots that hold walleyes and targeting the right depth with presentations that produce the largest and most fish in the least amount of time.


The process begins with homework
Before the recent tournament at Green Bay, analysis of other competitions held there during the summer singled out a handful of potential spots.


The first day of pre-fishing produced a few big fish outside of Geano's Reef, on a subtle point the locals call the "Shark Fin." The fin appears on the Lake Master  map and extends from the shore to the main lake basin.  Walleyes showed up on the sonar 12 feet down over 21 to 28 feet of water. There was no need to return there until the first day of the tournament.


Locating Walleyes
How walleyes position themselves on big water structure seems to depend on currents set in motion by wind. Similar to locating walleyes in rivers, breeze-driven current seems to create eddies around structures where walleyes rest or wait in ambush near the moving water for prey.


But unlike in rivers, location of eddies are not obvious at all.  They change with wind force and direction.  At Green Bay, walleyes moved from the tip of the point to inside turns to just off the point during the course of the same day. A presentation like trolling that covers big sections of water is needed to intercept their movements. Waiting for fish to come to you will just not work.


Choices in tactics
The tactics is boiled down to two: trolling livebait spinner rigs, or artificial crankbaits.  Crankbaits are often a great choice for anglers headed to places like Green Bay, Bay de Noc or the Bay of Quinte during the fall. But, July water temperature on Green Bay hovered in the mid 70s. Out come the 'crawlers and spinner rigs. Use an 8-foot, medium-action rod like the St. Croix's board rods. These rods have a very soft, limber tip, but are stout enough to handle in-line planer boards, which spread your baits out from the boat.  Line-counter reels are critical to return to productive depths over and over again once they are found.


Ten-pound line stands up to the abuse the Great Lakes can dish out, namely zebra mussels and abrasions from rocks.   Leaders made of 12 pound fluorocarbon are strong enough to handle big walleyes and the line vanishes in the crystal-clear water, a troublesome feature of the Great Lakes in summer.


Big water and big walleyes usually mean big blades are needed to send out vibrations and flash over long distances.  Number 5 Colorado blades did the trick during the first day of the NWT event.  Metallic silver and gold blades were best in bright sunlight.


A couple of weighting systems are available to spread lines through the water column to find active walleyes.  Snap Weights can be used in two ways. One is to use the same weight on each line and vary the length of line from the snap weight to the planer board to vary the depth from line to line.   Or, use the same distance between weight to the planer board each time but use different sized weights from line to line.   Once fish are located, change up lines to target the key depth. In-line weights like Little Guppy weights, bullet, or chain sinkers are often more convenient.  They don't require re-adjustment each time you catch a walleye or need to clear a line.


A general rule of thumb is to use a 1-ounce weight with 50 feet of line out to get down 23 feet at 1.3 mph.  Speed will also determine how deep the sinker will drop or rise within the water column.  Faster and the rigs will rise.  Slower and the rigs will drop.


Trolling Motor, GPS, Sonar & On-Screen Mapping
The Minn Kota Ulterra for my bow mount trolling motor proved to be critical.  Boat direction and speed can be controlled remotely from anywhere in the boat (with the I-Pilot accessory) while your hands are free to check lines, prepare spinners and do other tasks.   Even while using the gasoline kicker, the I-Pilot allows you to steer easily.
If the wind really whips up, the automated stow/deploy feature of the Ulterra can be a lifesaver as you don't have to lean over the bow to manually stow your motor.
Without a doubt, GPS, sonar, and on-screen mapping are needed tools to find and stay on fish.


Five walleyes weighing almost 24 pounds came into the boat during the first day of the tournament.   Two beautiful walleyes of 26 inches were caught within the first 30 minutes on spinners suspended at 15 feet over 23 feet of water.  Several passes and 4 hours later yielded one more 24 incher.  With an hour to go, I had to run to a shallow reef and cast up a couple of smaller fish for a limit in order to salvage a tough day for 39th place out of 129 anglers.


Day Two dawned and I went to the same area where I had caught the two 26 inchers on the first day with spinners.  After four hours of nothing, I made a split second decision to switch to all crankbaits.  These crankbaits were long, slender, deep-diving cranks in purple and pink colors.  I tipped all of the cranks with a half of a nightcrawler.   The crankbaits were placed 90 to 115 feet behind my Off Shore trolling boards.  Wham!  It was like a light switch had been turned on.  Five fish ranging from 28 to 25 inches were in the livewell within a period of an hour!


In this tournament we were allowed to keep six fish but weigh only five so I had some time to upgrade the smallest fish of 25 inches.  The bite had slowed down a bit, so I decided to make a change in location and troll a bit deeper.  Ten minutes later, I had my 28 incher and knew I had a good weight for the day!


A weight of just less than 58 pounds on 10 fish was good enough to catapult me into 10th place for the tournament. In short, even though I had not won the tournament, I felt that I fished almost the perfect tournament under the pressure of time and given the challenges of a tough bite overall. The life of a tournament angler has its ups and downs and certainly there were many exciting moments over the course of the tournament. It's time to pack up the rods and get pumped up for the next one!