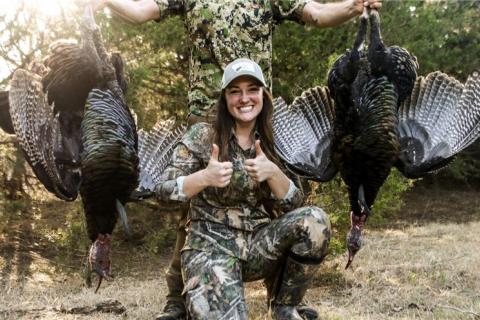 A three a.m. start to get here in the dark and a headlight handshake introduction. Sitting in the dewey stillness of the morning hunt, with a front pew view of the world as it wakes. Listening to the rise and swell of a rural orchestra, straining to hear a single note in the dazzling crescendo of sunrise - the gobble. It's the waiting, and willing my heart to slow its race. It's the deep steadying voice of my hunting guide Shane Lewell narrating the scene as it unfolds before me, drawing my focus from the nerves in here to the details out there.

My SHE Outdor turkey vest, turned seat, with my back against a wide tree, and I'm told to get comfortable with my shotgun across my knee. He scratches out a call quietly once, and then twice. A turkey answers and my heart trips and skips a beat.



Tip: "The biggest mistake people make is to call too often, and much too loud. If a hen doesn't sit in the same spot and yell all day, then neither should you," his words slip through the camouflage mesh of his mask.


My Hunting Guide is Reading the Signs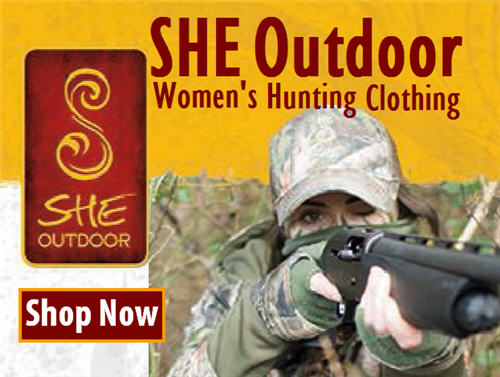 Lewell is reading the signs and my mind when he says "Patience is the most important thing. I shot my first turkey when I was 12, and I've been guiding since I was 18, but you still get antsy sitting under a tree. The best way I've found to hunt turkeys is to stay put and take a nap. I can almost guarantee you'll wake up to a tom gobbling at your feet."


So we wait, stock-still and wide awake. We hear them behind us, the only thing coming towards us is a skunk, who circles back again for a better look at our lurking forms. We wait, and wait some more. And then we're moving, turkey decoys on our backs. "We'll find 'em, I promise you that."


Shop all SHE Outdoor hunting gear at basspro.com/sheoutdoor

We're skirting the edge of open space, a walk-and-pause game of cat-and-mouse through fields, and pastures, creek beds, and trees. A follow-the-leader crouch walk, while Shane gives me the lay of the land. "There's two ways to hunt turkeys," he says with a grin, "and you haven't lived til you've reaped them with a fan." We're crawling 300 yards through canola plants, inching forward achingly slow, head bent low, one hand gripping a fan, the other on a Stoeger shotgun. Eyes trained on a redhead, and feeling overwhelmingly exposed. An "are you ready?" and a less than convincing "yes." I've got shaky hands, a heart pounding out of my chest, and sweat beading on my skin, pausing in utter disbelief that we haven't been found yet. He drops the fan and I take my shot. It's a swing and a miss. A miss … and a riptide of emotions take hold. The frustration and self-loathing are nothing compared to the bitter taste of wasted opportunity, of having disappointed the four guys waiting with binoculars back in the truck, who could have made that shot. Of squandering the time, and effort of the man next to me in the dirt, letting him down, he who set me up in the perfect spot.



Tip: "Reaping" turkeys, also known as turkey "fanning," is an increasingly popular method of turkey hunting, albeit a difficult one. In order to "Reap" a turkey, the hunter crawls toward a gobbler while hiding behind a turkey fan decoy. The hunter moves into position, and waits for the real gobblers to close the gap - incited by what appears to be a fanned-out competitor, the turkeys come at a run, ready for a fight. Once the Toms are within range, the hunter can take their shot. CAUTION HUNTERS: This hunting technique is dangerous. It is important to note, that fanning should ONLY be practiced on private land, in an open area where you can be assured there are no other hunters in the vicinity.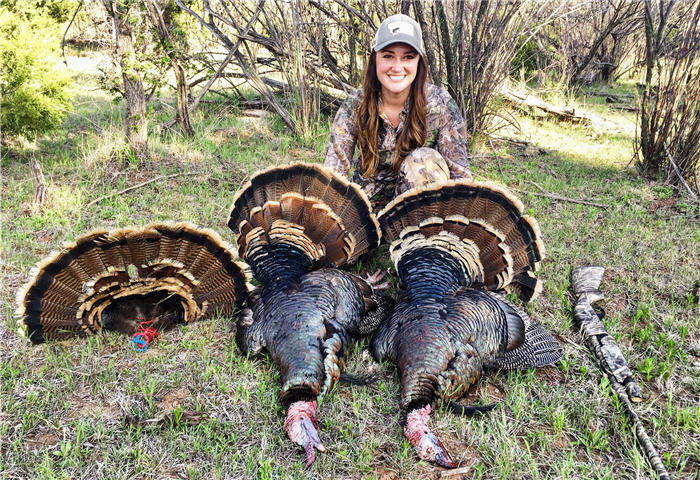 Katie Marchetti harvested two Toms on her first turkey hunt.
photo credit Shane Lewellen @The_Outfit_Oklahoma
A quiet lunch, and the packing up of my stuff. When they could have been rid of me and instead tell me to stay, and try again later in the day.


We're pulling up to The Outfit Oklahoma guide services cabin that sits above a bass-stocked pond. I'm handed a cool beverage and a fishing pole, finding a spot in the shade - getting to know these men who let me hunt with them for a day. And even if this was it, feeling very glad I stayed.


2. The Power of a Second Chance

We take a fruitless drive in the evening, with turkeys on the mind. Its one last turnout, binoculars around every neck. I don't even bother to get out, until Shane comes striding back to the truck, saying 'grab your stuff,' and he and I are making wide tracks around a rafter of Toms fawning over a hen.


We're crouch-walking again, a creek bed cliff to our left and a low slung tree lined fence to our right. It's hotter now, and my legs and back start to ache, a dropped knee sends a stinging sandbur reminder to stay on my feet. Thankful for my new SHE Outdoor Element II pants and long sleeve SHE Outdoor Element matching shirt, that feel as if they were made for me, seamlessly transitioning along with me from one extreme to the next. I'm feeling every weighted ounce of that weapon in my hand, forearm, shoulder, mind. There's a flash of red to our left when we're looking right, and a text confirmation that the Toms are gone, only a hen still in sight. We're living a saga of anticipation and disappointment, there it is, and then it's gone again.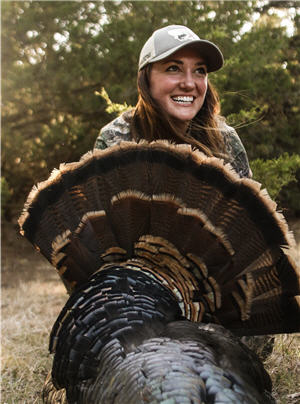 Katie Marchetti with Rio Grande wild turkey.
photo credit Aaron Davis @AaronRDavis
We're resting in the shade, and he asks "do you want to go look just in case, or call it a day?" But curiosity is the only thing left when you've reconciled yourself to a miss. So we're walking slow and quiet, until our view opens up. Terse orders come to get down and put my fan up, and just like that my nerves begin to hum at the sight of multiple toms spoiling for a fight. It's back in the dust and brush for me, crawling forward here where every inch is a mile, hiding behind the man and fan in front of me. It's mild panic when he can see them and I can't, the brush haphazardly distorting every thought and Shane's rapid fire whispering "take the shot, take the shot!" It's a gun that jams, turkeys on the move, a curse that sears my tongue. The world slows it's spin when he whispers, "It's alright," calmly placing a fresh firearm in open hands. Stock to my shoulder, eyes to the sight, a squeeze of the trigger and...BAM! Two toms relinquish the fight.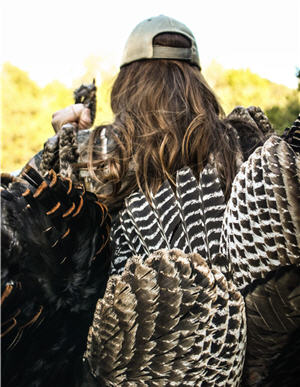 Katie Marchetti with her Rios slung over her shoulders.
photo credit Aaron Davis @AaronRDavis
He's smiling at me, and looking at my birds, I forget to breathe - I didn't waste a second chance when it was given to me! I'm at a loss for words, and newfound respect. My hands begin to shake, and turkey fever starts to break, with a light-as-a-feather touch on the wing of that tom and this one too. There's a thousand colors, never before seen on these turkeys from my dreams. The heads I thought red, boast a myriad of blues. A million emotions stream across my face. Humbled by the resounding quiet, the stillness after the flurry - pride and relief, amazement with a twinge of grief. Knowing I took a life, and yet not feeling that it was an unfair fight.


There's the foreign weight of a Rio slung over each shoulder and a long walk ahead. Appreciating the SHE Outdoor Avila High Rubber hunting boots on my feet, caked in red clay, splashing in the creek when just a few short weeks ago they were crunching through the Montana snow. Now my fingers are entwined with spurs, and three beards dancing low. I'm wiping the dust from my face, but my smile stays in place, as men and congratulations materialize from the trees. There's laughter, and high fives, and a chest nearly bursting with gratefulness and pride. Thankfulness for a clean harvest, for weight worth carrying, for hard work that reaps a reward.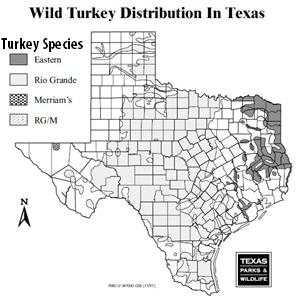 Tip: In case you're new a turkey hunting, a "Rio" is the Rio Grande wild turkey. The rio have the largest population and the widest range of the three turkey subspecies found in Oklahoma and Texas.

graphic credit TEXAS Parks & WILDLIFE
3. The Power of Persistence
Thankfulness for men who sacrificed their Sunday for a stranger. For men who are patient in instruction, and persistent in opposition. Thankful for 13 hours of sun and dust, sandburs and brush, burning muscles and chapped lips. For 13 hours of adrenaline bursts and dashed hopes, for second chances, and joyful hugs, for encouragement whispered through camouflage masks and happiness that doesn't fade. Learning that hunting turkeys requires as much stillness as strain, that using a brand new gun could have cost me the day and that I'm capable of far more than I say. Finding that the minutes were full but the hours were few for strangers to feel like so much more in the glow of dusk, creekside in a pasture with two toms on the tailgate of the truck.


Shop all SHE Outdoor hunting gear at basspro.com/sheoutdoor