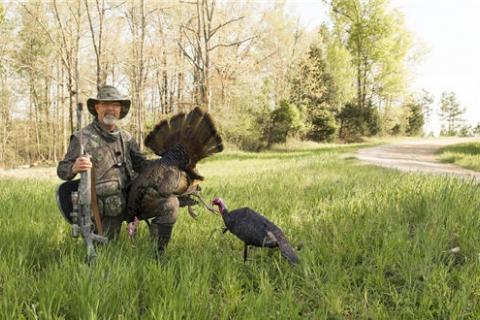 Hunting with the GrowingDeer.tv team! Turkey hunting in Alabama, Kentucky and Kansas!  Grant and Adam team up to tag a late afternoon long beard (08:42 - 15:07). Then Lindsey lets the Winchester do the talking on a strutting tom in the Kansas timber (15:08 - 21:02). The Alabama  weather doesn't help the turkey hunt so Dr. Woods shares valuable information on managing southern pines to benefit whitetails and other wildlife (0:02 - 08:41)



  Links to hunting products shown in this video:


Montana Turkey Decoys at Bass Pro Shops

Ol' Tom Camo Turkey Vests at Bass Pro Shops

LaCross Hunting Boots for men at Bass Pro Shops

LaCross Hunting Boots for ladies at Bass Pro Shops

Winchester Long Beard XR Turkey Shotshells at Bass Pro Shops

Join the conversation with other hunters and land owners on Growing Deer Tv's facebook page or Twitter:@GrowingDeer. If you like videos from GrowingDeer.tv visit our main website at GrowingDeer.tv for more videos and cool stuff interesting to hunters and land managers. Also look us up on Instagram and Pinterest.


From GrowingDeer.tv
Grant Woods