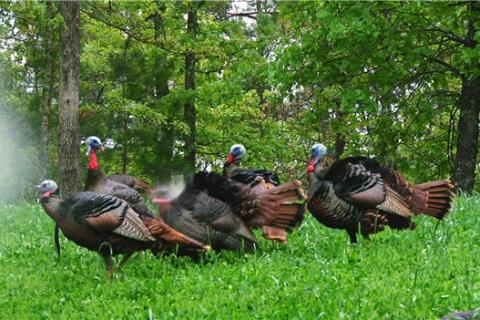 Turkey hunting with the GrowingDeer.tv team: Grant and Adam hunt an Ozark turkey during opening week. They reach deep into their bag of tricks to pull this turkey hunt off.  (see 0:01 to 11:00) Then team Martin doubles again! Their Arkansas opener for turkey hunting was full of gobbles, fights, and flying lead. (see 11:00 to 19:17)



  Links to hunting products shown in this video:


Montana Turkey Decoys at Bass Pro Shops

Caldwell DeadShot FieldPod at Bass Pro Shops

LaCrosse Hunting Boots at Bass Pro Shops
Winchester Long Beard XR Turkey Shotshells at Bass Pro Shops

Join the conversation with other hunters and land owners on Growing Deer Tv's facebook page or Twitter:@GrowingDeer. If you like videos from GrowingDeer.tv visit our main website at GrowingDeer.tv for more videos and cool stuff interesting to hunters and land managers. Also look us up on Instagram and Pinterest.


From GrowingDeer.tv
Grant Woods