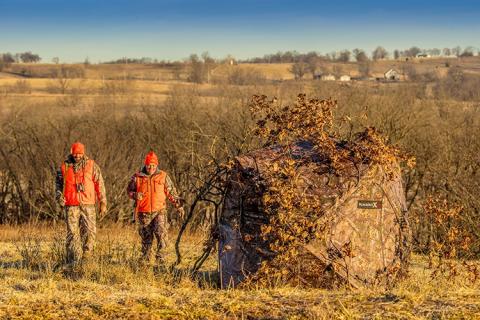 There was a time when hunting blinds were a luxury. Making a blind was difficult work: building the framework, cutting foliage to match the area and securing the foliage to the frame — not to mention where the blind was built, is where it stayed. Today's blinds are a must have, and setting one up and using it is so simple even a beginner can do it and be successful hunting from it.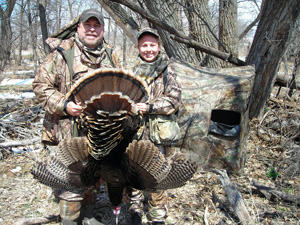 A blind serves many functions — not only does it keep the hunter hidden from the keen eyes of game, but being inside the blind hides the human silhouette and allows the hunter to move without getting busted.


By using the latest camo patterns blending in is as simple as setting up the blind and climbing inside.


Turkey hunting legend, Ray Eye, is a believer of blinds especially when taking young or new turkey hunters into the field.


"When taking out new hunters they don't yet understand the term, sit still," says Eye. "They fidget and spook birds. Also they are often carrying a 20 gauge which means you need to get the bird in close. By using a blind the hunters can move around; eating and drinking or being a kid without the worry of scaring off birds."


There are several types of blinds to choose from and each has its own pros and cons.


Tips for Using a Hunting Blind
When using a blind make small openings rather than opening the windows fully. This gives the quarry less chance to see you inside the blind.


Don't skyline yourself, by opening a 360-degree bank of windows an approaching deer or turkey will pick up movement inside as you prepare for the shot. Keep the back side of the blind closed.


Ensure there's enough room. For firearm hunters this isn't normally a big deal of sticking the barrel through the port, but archers must ensure there is space to hold up their bow and draw while not bumping any part of the blind.


Archery hunters need to decide to shoot through the ports or open them. Some mechanical broadheads open when striking the netting. 


Practice setting up, taking down and perhaps most important preparing for the shot. Archers should practice shooting from the blind. The last thing you want to be doing is fumbling around in the dark or trying to figure out how to operate a shooting port when a longbeard or buck appears.


Ground Blinds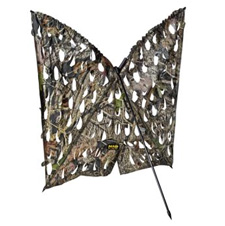 Mad Max Portable Ground Blind
Perhaps the simplest type of hunting blind is the ground blind. This is a normally a piece of camouflage material and a few poles.


Ground blind advantages: Ease of set up and use, very lightweight and inexpensive. Many photographers, both still and video, utilize these ground blinds because they require much less space to set up in and use.


Disadvantages: It doesn't keep hunters or photographers hidden from a turkey's eyes in a 360 degrees circle like the other blinds and offers little protection if inclement weather springs up.


Most hunters use a small chair and sit behind the cloth peeking over the top in wait.


Mad Max Portable Ground Blind
This ground blind features a compact and lightweight design, built- in shooting sticks and its size allows easy packing. The Mad Max Portable Ground Blind may be the ultimate blind for Runnin' & Gunnin' for turkeys but is equally versatile as a deer blind. It is available in Mossy Oak Break -up.


Primos Stake Out Ground Blind
With features including Primos' Bricaid spun-bonded camouflage screen material, five collapsible solid fiberglass shock-corded poles for quick and compact takedown and its own carrying case. The Primos Stake Out Ground Blind is great for a fast set up or if you are planning to sit a spell. It is available in Mossy Oak New Break-up.


Hunter's Specialties 12' Camo Portable Ground Blind
What's not to like about this blind? The Hunter's Specialties 12' Camo Portable Ground Blind easy to carry, set up and takedown and features shock-corded poles, spun-bonded polyester material die cut for a 3-D camo effect and is durable enough to last season after season, all at a price that won't break the bank.


Spring Steel Hunting Blinds
Spring steel blinds are essentially a pup tent; a piece of camouflaged material stretched over spring steel poles just like a tent. These blinds are lightweight and fast to set up and take down and lightweight making these blinds easy to pack. The disadvantage is that these blinds are lightweight and whip in strong winds scaring off turkey, deer and any other game in sight.


Most of these blinds feature shooting windows and are blacked out; the inner walls are blacked out to provide a "shadow" so the game won't see you inside.


The spring steel type blinds are less expensive than the hub style blinds, but due to its construction are also smaller than the hub style blinds.


Ameristep Doghouse Hunting Blind
The Doghouse features Edge ReLeaf 3-D camouflage system, ShadowGuard interior to eliminate shadows inside the blind, four shoot through windows and high wind tie downs all with a back pack case for ease of carry and is available in Realtree AP.


Hub-style Hunting Blinds
The hub-style blinds are the ultimate in ground hunting blinds. The design uses a metal hub in each of the walls and roof attached to these hubs are metal poles by pushing out on the hubs the wall springs into place. These blinds are the sturdiest and are usually roomy enough to keep two hunters out of plain sight with room to spare. While not completely waterproof, they will take the brunt of a torrential downpour. So much so that on more than one occasion I've climbed inside one to escape the elements. These hub style blinds are often a bit heavier and more expensive than the other type ground blinds.


BlackOut Hub-Style Ground Blind
Featuring an ultra-dark interior, extra-large size for multiple hunters the BlackOut hub-style ground blind is ultra- light and ultra-easy to set up and take down. Other features include shoot-thru mesh and zippered exterior windows all fits inside a backpack-style bag for easy carrying. The BlackOut comes in Realtree AP.


Big Game Treestands The Redemption Ground Blind
The Redemption is full of features found on blinds costing much more. Easy-access zip door with fastener to secure lower opening, extra-large center windows, bottom wind flaps, and reversible shooting windows is all the blind you will ever need. The Redemption comes in Epic camo.


Primos Double Bull Double Wide Ground Blind
The ultimate in ground blinds, the Double Wide is the standard of how all other blinds are judged. The Double Wide features the no zip Double Wide door, 180 degree of full front shoot-thru mesh windows and a Blackout interior. The Double Wide is the ground blind for serious hunters. The Double Bull Double Wide is available in Ground Swat camo.