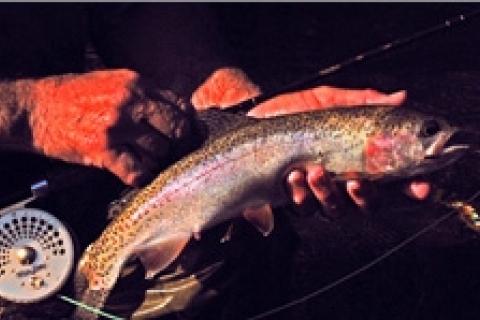 The drift looked perfect. I had cast a No. 12 Pheasant Tail bead-head nymph into the head of a small, dark pool on southern Missouri's Barren Fork Creek, one of six cold water wild trout streams in the Missouri Ozarks.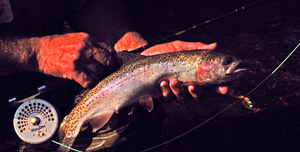 Railroad crews, during the late 1800s, often seeded suitable creeks with wild stocks of  rainbow trout as they headed west. Several diminutive streams in southern Missouri still hold fishable populations of trout which have survived from those original stockings.
Barren Fork is located in northern Shannon County. While the name indicates a place of lifelessness, nothing could further from the truth. The cold spring waters are teeming with lush aquatic vegetation and a variety of aquatic insects.The Missouri Department of Conservation owns about 1/2 mile of the stream from Twin Springs to the mouth. Further access may be gained on private property at Sinking Creek Farms. Check out www.wildcreeks.com.
Mill Creek is in Phelps County just south of Newburg. It is home to a respectable population of wild trout, including McClouds.The Missouri Department of Conservation has an access below Wilkin Spring and the U. S. Forest Service maintains an access on the stream's lower reaches. Eight miles of stream are available for fishing from Yelton Spring to Little Piney Creek. Rivaling Crane Creek for quality of fish, 20-inch rainbows can be caught here.
Spring Creek is also in southern Phelps County. Anglers enjoy 6.2 miles of this productive stream from Relfe Spring to its junction with Big Piney River. The tiny stream twists and winds trough fields and forests creating a challenge for trout chasers. Much work has been accomplished on Spring Creek by Trout Unlimited. Plentiful habitat exists here giving trout ample hiding places.
Little Piney Creek wild trout area includes 9.9 miles from the Phelps County line and includes Piney Spring Branch and Lane Spring Branch down to Milldam Hollow Access.The largest of the six wild trout streams, the Little Piney offers plenty of big pools, deep scours and swift runs.
I fish Little Piney Creek more than the other wild trout areas because of its proximity to my home. It never fails that I catch a barrel full (OK a small barrel) of brightly colored McCloud strain rainbows here. However, I have nailed rainbows up to 17 inches by drifting scuds and bead head nymphs.
To thoroughly fish Little Piney Creek, an angler needs to float the entire 9.9 miles in a canoe or kayak. Pulling over to work the deeper holes will be well worth your time. Too, the creek is chock full of scrappy smallmouth bass.
Blue Springs Creek, in Crawford County, is a 4-mile stretch of the finest wild trout waters in the state. The tiny creek supports lots of scrappy rainbows, but they can be very difficult to catch. Stealth is paramount to bring one of these beauties to hand. The tiny creek can be jumped in several locations. Tight growing vegetation crowns the stream in many spots, calling for short, accurate casts.
Crane Creek, in Stone and Lawrence counties, offers 8 miles of fishing for pure strain McCloud River rainbows from Quail Spur Road to County Road 13-195. These fish are essentially the same "California Mountain Trout"  that rode the seeding trains in 1880. The size of the stream doubles below the city of Crane, offering anglers better holes and riffles to fish.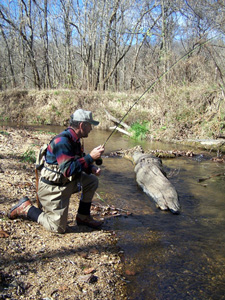 Crane Creek is not big, but it grows big trout due to the rich supply of aquatic insects, minnows, crayfish and summer terrestrials. Backcasting is difficult due to brush, weeds and overhanging trees.
A brightly colored 18-inch rainbow inhaled my drifting nymph in a 3-foot deep pool on the Wild Creeks section of the Barren Fork. Immediately the drag on my 4-weight White River Fly Shop reel began screaming as the powerful fish peeled line and headed up stream.
I chased the big rainbow hoping to gain some line back before it went under a log that leaned low into the water from the near bank. I didn't make it. The fish gained the backing and for the first time I feared losing the magnificent catch.
Without hesitation I leaned hard towards the underside of the log, thrust my rod underneath and endured the brush of cold spring water against my face. Stretching to my very limits, I managed to grasp my rod on the far side of the log. I gasped with desperation as I blew water from my face and reeled maniacally to gain the belly which had formed in the line.
The fish had stayed hooked, to my utter amazement. Yet, the burly rainbow had not yet weakened enough to be brought to the net. Two more powerful surges sent the crimson stripe racing upstream.
I felt the pulse of the pull on my fly line wane. A minute later I slid my net under the ivory belly of the most beautiful rainbow I had ever seen. I relished the moment with the splendid, wild, creek-born fish. The feeling of connecting with a creature so beautifully linked to the past gave me a rush of appreciation for the fish and the people with the foresight to place trout in the cold, tumbling streams of the Missouri Ozarks.
My wife, Dian, snapped photos quickly, to preserve the memories. The brightly colored rainbow finned in the current for a few seconds and headed back to its lie.
Every wild trout is a treasure. Although anglers are allowed to keep one fish over 18 inches, I would hope that every angler returns their catch of these rare fish back to fight another day.
For more information on the wild trout streams of Missouri, contact the Missouri Department of Conservation at www.conservation.state.mo.us.