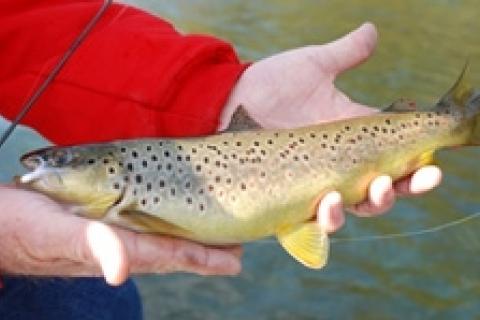 The White River of Arkansas is a world class trout fishery. Trout anglers from around the world come to fish the cold waters which flow from the base of Bull Shoals Dam. Four species of trout may be caught here, but brown trout garner much of the attention because they grow to behemoth proportions.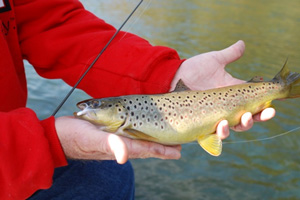 White River brown trout can be caught with a rip and pause method with white marabou jigs.
The Arkansas Game and Fish Commission stocks almost 2 million fish per year in the white River, including rainbows, browns, cutthroats and brook trout.
"Brown trout grow to enormous sizes here," said Don Cranor, a longtime trout fishing guide on the White River. "Abundant food sources and a 16-inch length limit allow browns to not only grow rapidly, but to reach respectable sizes."
Trophy brown anglers often toss flies up to 10 inches in length. Real die hards ply the waters of the White at night in drift boats, when truly big browns are on the prowl.
Browns are susceptible to drifted minnows as well. Cranor often drifts both live and dead minnows while in pursuit of brown trout. "Big browns are real scavengers," he commented. "They will lie in wait of dead or dying minnows drifting downstream. I like to use big minnows in the 4-inch range."
I fished with Cranor last year and his advice proved dead on target. He drifted a large minnow at my request in hopes of hooking a hefty brown. Within 30 minutes of beginning the trip, Cranor boated a beautifully colored brown.
"Tomorrow, we will  try a different technique, which may not produce big fish, but it will produce numbers of browns," Cranor advised. I couldn't wait to see what he had up his sleeve.
As soon as we hit the river the next morning, Cranor broke out an ultra-light spinning outfit rigged with a White River Fly Shops' ProLite in white marabou. His vicious cast created the swish of a sword slicing through air. "Cast the jig as hard as you can to get it out as far as possible," Cranor instructed.
"Seconds later Cranor's rod swished trough the air again. I thought he had set the hook. "Nope," he quipped. "I rip the jig to the surface and let it drop. Trout will normally strike the jig as it drifts downward."
A few casts later, Cranor set the hook on the first brown trout of the day. The action proved to be quite fast as the two of us whipped our tiny rods through the air to gain distance and jerk our jigs to the surface. I don't know which caused the most arm fatigue, casting and ripping or reeling in the dozens of brown trout we caught.
Don Cranor may be reached www.whiterivertroutfishig.net or 1-866-789-6271. Call well in advance — he is a very bus man.