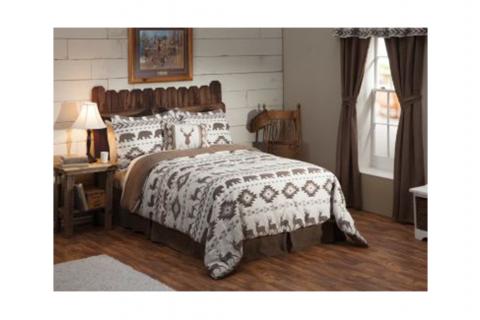 Top-quality cotton yarn, expert construction and state-of-the-art finishing processes make Cabela's bedding superior.
Quality
Our sheets are made of some the finest cottons available. This premium-quality cotton thread travels to the best textile mills in the world, where centuries-old fabric-making knowledge, and more than a few trade secrets, meet modern technology. After the world's finest cotton has been selected, spun and woven into supreme-quality cloth, it must go through finishing processes. Our sheets are finished for increased luster, softness, shrink-resistance and strength. The end result is bedding you can count on for long-lasting quality and premium comfort.
Comfort
Count on Cabela's bedding for a good night's sleep. From thread count to top-quality fabric finishes, our bedding brings extra comfort to any bedroom ensemble. Thread count is an important part of bedding quality and price. Generally, a high thread count means higher quality and a softer, silkier feel. However, fabric types and weave styles also impact the bedding comfort and quality. For example, a sheet set with a lower thread count made of extremely high-quality cotton will be as soft as a high-thread-count set made of low-quality cotton. That's why we offer such a wide range of thread counts – everyone's comfort requirements and budgets are different.
Value & Variety
At Cabela's, we pride ourselves in offering quality bedding at reasonable prices. Plus, our selection of outdoor-lifestyle home decor, including bedding, leads the industry.