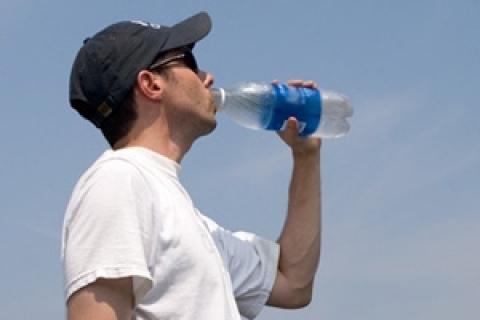 Few things stimulate the senses and rejuvenate the body like quenching your thirst with big gulp of cool water in the great outdoors. Staying hydrated is important, especially in extreme temperatures. Mild dehydration can lead to fatigue, irritability, lightheadedness and, if left too long, heatstroke or limit the body's ability to stay warm in cold conditions. Staying hydrated is as simple as carrying adequate water and drinking often. This guide overviews the many container options for transporting liquids.


Banning BPA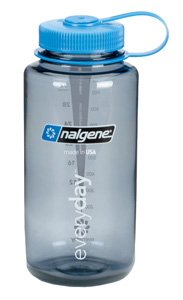 After it was found that BPA had health risks associated with it, many brands began marketing their plastic water bottles as BPA-free.
In 2008 there was a lot of buzz about Bisphernol A (BPA) and the health risks associated with it in consumer products, like drinking containers. Many national governments issued warnings and retailers responded by pulling water bottles, hydration packs and other products containing BPA off the shelves. In 2012, the U.S. Federal Drug Administration banned BPA from children's cups and baby bottles. But that doesn't mean all plastic bottles are BPA free.


The BPA scare also fueled the resurgence of stainless steel and aluminum drink containers, as well as a line of products that are made using BPA-free plastic materials. Long story short — if you've owned a water bottle or other container for more than four years, you'd be wise to consider replacing it. One way to tell plastics contain possible hazards such as BPA is the recycled "7" symbol with "other" written below it.


| | |
| --- | --- |
| Steer clear of water bottles with this symbol: | |
Water Bottles  
Water bottles are the most popular containers for carrying water or sports drinks. A water bottle will quickly pay for itself and is more environmentally friendly option than buying a disposable one. Here are some considerations when shopping for a reusable water bottle.  


Begin by considering volume and your needs. A 25-ounce capacity is a good option for urban trekking, while multiple 34-ounce bottles would be appropriate for a day's fishing in the heat of summer. Keep size in mind, too. Opt for a sleek design if looking to stash the container in a small daypack or fit its base into a car's cup holder. Some models are dishwasher safe, another worthy consideration.  


Narrow-mouthed water bottles are advantageous when drinking on the move. Try sipping a wide-mouth model while jogging or boating down the lake and you'll likely end up wearing more water than you swallowed. There are even hands-free bite valves available on some products for the quickest of sips.  


Wide-mouth models have their place though. They're good for filling with ice cubes and scooping in powdered sports drinks. The oversized gap is also likely compatible with a water filter as well, which is handy in the backcountry. Although it's noteworthy that some bottles are designed for water treatment, such as the Sawyer Water Treatment Bottle with Filter that features a hollow fiber membrane that removes particles, protozoa and bacteria, including E. Coli, Giardia, Salmonella and Cryptosporidia.  


Another valuable feature is a loop-top cap that lets you secure the bottle to a backpack or other bag with a carabineer. Bottles with measurements on the side are also handy for backwoods cooking and mixing powdered drinks.


Hydration Packs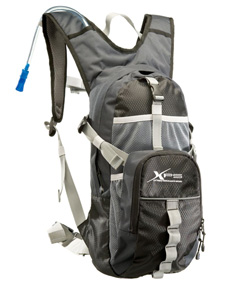 For the outdoor enthusiast on the move, it's tough to beat the benefits of hydration packs.
Hydration packs are another excellent option for transporting water in the wilderness. These packs come in two main groups. One is designed exclusively to hold only the reservoir, with some models have a small pocket for carrying necessities. This style is preferred by runners, mountain bikers and other sports enthusiasts who want to transport adequate water with minimal bulk. The other style is of the backpack variety and features a pocket for reservoirs, as well as a larger storage space. These are favored by hikers or hunters who want a one-pack solution for carrying water as well as other gear.  


Reservoirs, also called bladders, come in various sizes and provide water to the user via a tube. Most tubing features a bite-valve for hands-free drinking when needed. Valves also regularly come with a locking system to ensure the leak-proof transport of fluids. Some reservoirs are treated with a product to eliminate bacteria for great tasting water. Look for reservoirs with a wide opening to make filling and cleaning a quick task.
 
The overriding benefit to hydration packs is that water is always within reach thanks to the tubing. This makes one more prone to drink throughout the day than when relying on water bottles that may have accidentally been packed out of reach in the bottom of a pack. For those on the move when outdoors, it's tough to beat the benefits of hydration packs.  


Insulated Bottles  
Insulated bottles and containers are designed to thermally insulate beverages and other liquids (like soups). Whether you want to keep water ice cold in summer or have hot coffee during an autumn outing, insulated bottles are the way to go. Stainless steel models are the best option for the outdoors, as they take a lot more abuse than fragile glass-lined ones.


High quality models, like those made by Thermos and Stanley, will have a leak proof cap. Also look for caps with a spout. Being able to pour with the cap on helps retain heat inside the bottle when filling a cup.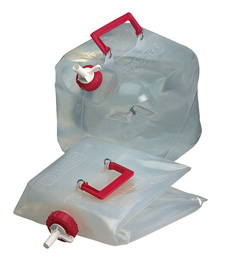 Collapsible water jugs are great for saving space when empty.
When investing in an insulated bottle, consider its intended use. If you're planning on storing hot or cold drinks for any length of time, buy the model touting the best insulation times. Remember, too, that it's critical to pre-heat or pre-chill the bottle first with hot or cold water for approximately 10 minutes before adding the contents.  


Water Jugs  
These containers are designed for transporting large amounts of water and are ideal for cottages or car camping when treated water isn't available on site. A few options exist for water jugs. Collapsible models are great for saving space when empty. Hard-plastic versions will sit sturdier on tables and are more resistant to punctures. Both models come with handles for easy transportation. Look for units with leak and spill proof spigots.  


Flasks and Canteens

Flasks and canteens are a more traditional method for carrying water. Canteens are designed to carry more water than flasks and feature carrying straps. Stainless steel flasks are often used to carry alcohol or spirits. The benefit of flasks is their extremely low profile, making them great to keep in a pocket. Use them to bring water into to a sporting event or on an evening walk. The downside to flasks is they don't carry a lot of water.  


No matter the season or adventure, remember to drink plenty of fluids when outdoors, especially in hot conditions. There is no substitute for the replenishing qualities of water but sports drinks are a nice alternative. This year invest in a few different water container options to stay prepared and never go thirsty on your outdoor adventures.