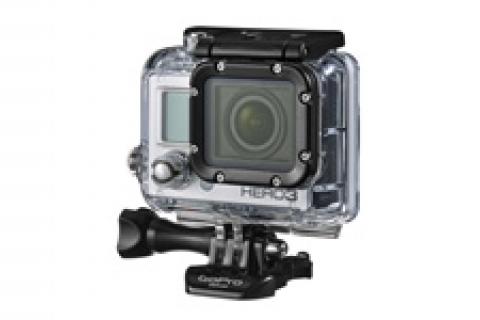 In 2009 I purchased the original GoPro Hero camera for kayak fishing because of its waterproof housing and compact design. It performed well and helped me capture some great images and videos.
The GoPro Hero3 Black Edition video camera has all the bells and whistles missing from other Hero editions.
Recently I got my hands on the latest GoPro Hero3 Black Edition, which is the top-of-the-line unit of the three new models; the White and Silver are the others. Compared to the original, the Hero3 Black Edition is dramatically better. It's 30 percent smaller and 25 percent lighter, but the camera's impressive features have ballooned.
The Black Edition touts 12 megapixels for photos that can be shot at a rate of 30 images per second. Ultra-wide video can be captured in 1440p 48fps, 1080p 60 fps and 720p 120fps. In addition to phenomenal optical enhancements, the audio has been redesigned and enhanced.
Built-in Wi-Fi is another major perk of the Hero3 and allows the camera to be controlled via a Wi-Fi remote (an accessory that comes standard with the Black Edition). Another option, and the one I use the most, is controlling the Hero3 via Wi-Fi using the free GoPro App from my iPhone; note the App is compatible with any iOS smartphone or tablet. Although there is a slight lag, teaming the Black Edition with the App delivers incredible performance. Using the preview function I can quickly frame shots. The App also makes it easy to navigate and adjust the camera's settings — a few finger taps is all it takes to switch from recording video to time-lapse photos, for example. Compared to my original GoPro, this functionality makes me dramatically faster and more efficient at capturing the photos and video I want. Worth noting is the Wi-Fi connection between camera and control device will be lost when the unit is underwater.
Copious camera mounts and accessories are other benefits of choosing a GoPro. Whether using a chest-mount for a hike or a tripod mount for the boat or hunting blind, there's ample add-ons to choose from to get the photos and video you're after to share with friends and family.
While the above are a small sampling of the GoPro's selling points, an often overlooked virtue of these sports-action cameras is they are incredible learning tools. Studying video footage provides a unique and unbiased perspective of events. Doing so has helped me identify, improve and correct mistakes I didn't realize I was making, such as fine-tuning rod positioning when fighting a fish and tweaking my kayak paddling stroke. These are two examples, but given its rugged, waterproof housing, a GoPro is a companion for pretty much any outdoor activity. The Black Edition will record video and photos along the way that not only look amazing but can also help you hone your skills.
The GoPro Hero3 Black Edition retails for $399 at basspro.com. For a video sample see my Tips for Fishing Bucktail Jigs video on this site.