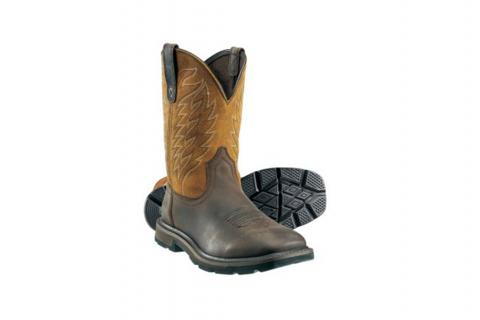 Whether you're after a pair of no-nonsense work boots or something casual for everyday excursions, this guide will help you find the perfect pair of Western boots.
Anatomy
Fit
Snug instep
The instep is the part of the boot most critical to a proper fit. Insteps should be snug, as they're responsible for holding the boots on your feet, but not overly tight – you don't want the boot to be squeezing your foot.
 
Heel slippage
When fitting a pair of western boots, your heel should slip up and down around 1./2" when you walk. After the boots are broken in, some (or all) of the slippage will disappear.
Materials/construction
Uppers
• Leather
     o Cowhide leather is the most common material used for western boots. Tough, flexible, long-lasting and good-looking, cowhide leather is the top choice for almost all boots.
• Exotic skins
     o Want your western boots to stand out from the rest? Pick an exotic leather or skin and add some style to your step – popular choices include caiman, snakeskin, elephant, ostrich, buffalo, stingray and more. Be sure to pay extra attention to the care instructions, as they're likely to be different from traditional cowhide-leather boots.
• Synthetics
     o Maybe you want a camo pattern, or some extra abrasion or stain resistance. Nylon is a popular synthetic choice, especially for work boots. Look for rugged, maintenance-free synthetics on the shafts, vamps and counters.

Soles
• Leather
     o Leather soles are found on most classic western boots. They easily slip into and out of stirrups, don't pick up debris, and can oftentimes be replaced when worn out.
• Rubber
     o Rubber soles provide superior traction and are great for everyday use. The tread pattern can range from light traction to aggressive all-terrain lugs, depending on the style of western boots and intended use.
Western-boot styles
Cowboy
The classic western boot. You can spot a pair of authentic cowboy boots by their angled heels; tapered, slightly rounded toes; leather soles; and traditional western shaft height (12").
 
Roper
Roper-style western boots are characterized by lower, block-style heels; rounded toes; shorter shaft heights (usually 10") with a shallow scallop; and more flexibility than traditional western boots.
 
Stockman
These boots typically have a block-style heel, deeper scallops and are 11" or taller in height.
 
Work
Work boots are easily recognizable by their rugged looks and aggressive rubber outsoles. Western work boots are perfect for outdoor activities, especially if you're around mud or other slick terrain. Many styles have steel toes, waterproof liners, cushioned midsoles and other enhancements to let you work in comfort through any conditions.
 
Fashion
Detailed stitching, bright colors and exotic materials are commonplace among western fashion boots. You'll wear these for anything from casual everyday wear to formal events.
Toe Styles
Many different styles of toes are available, ranging from broad square toes to sharply tapered, pointed toes. Generally, toe styles don't affect the fit of the boot, and the shape you pick should be based on personal preference. Broad square toes tend to have the roomiest toe boxes, so try on a pair of them if you're looking for maximum comfort.
Heels
Western
These classic heels are angled in the back (they're sometimes called underslung), and are typically 2" or less in height. Lower angled heels, commonly referred to as walking heels, are 1½" or less and are designed for comfort on your feet rather than stability in the stirrups.
 
Block
Generally wider and lower to allow better balance and maneuverability on the ground, yet still have a 1" to 1½" heel to keep your feet planted in the stirrups. These heels are ideal for everyday wear, and are not angled like classic western heels. Roper and stockman boots almost always feature block-style heels.
Boot Care
Leather conditioning
For maintaining the finish of your leather boots, Cabela's offers a selection of top-notch leather oils and preservatives. Most are rubbed in by cloth or by hand and provide long-lasting protection from dirt, help to remove scuffs and extend the life of your boots.
 
Waterproofing
Cabela's carries a variety of water-repellent and waterproof treatments. These will prevent mud and water from penetrating your boots, keeping your feet dry and the boots' leather protected.