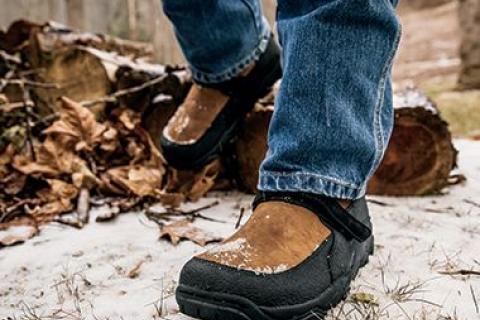 Winter means different things in different parts of the country. Considering it might dump 24" of snow overnight in the Rockies, pour 2" of rain in 24 hours in the Pacific Northwest or send the mercury plunging to -30°F in the Midwest, winter creates a special set of needs for winter footwear no matter where you are.
Generally, there are four types of boots you'll need for winter, depending on your activity and where you live – pac boots, rubber boots, hiking boots and casual boots. Each serve a purpose, and that's why you're reading this guide now. Let's dive in.
Tip: Shop Men's Shoes and Boots here
Tip: Shop Women's Shoes and Boots here
Tip: Shop Kids' Shoes and Boots here
Pac Boots

Keep Feet Comfortable in Severe Winter Conditions
When you think about boots for winter, you might envision pac boots. These are your traditional boots for traditional winters – you know, the ones with lots of cold and lots of snow. The telling features of pac boots are ample insulation, tall shaft heights and excellent moisture protection.
Good pac boots will have loads of insulation to keep your feet toasty in even the most frigid conditions. These are also the only boots that commonly incorporate an insulating barrier in the soles. This makes them a good choice whether you're jigging for walleye on a frozen lake or sitting in a treestand on a snowy late-season hunt.
With all the heat-trapping features, you want pac boots to incorporate some kind of moisture-wicking feature into their design, because the last thing you want when adventuring in cold weather is to have moisture next to your skin. Moisture sucks away heat faster than anything, so pac boots will often have a way to transport that moisture away from your feet so it can evaporate and the insulation can do its thing.
The second main feature of pac boots is the shaft height – usually you're looking at 12" and up. However, if you know you'll be in areas with lighter snowfall, you can get by with lower shafts. The tall shaft is obviously there to combat snow, but some boots will incorporate a drawstring around the top for an extra measure of defense against snow, because – well, what have we learned about moisture against the skin? It's bad. So a drawstring is good.
The final feature of pac boots is waterproofing. Whether it's in the form of a coating, a membrane or removable gaiters, pac boots need to keep water out. If you haven't read it enough already, I'll say it again – wet feet equal cold feet.
A final word on pac boots – since it's going to be freezing cold when you wear them, there's a good chance you'll be wearing bulky gloves, too. This means you might want to look into boots with easy lacing systems like Boa® closures, pull-cord closures or hook-and-loop closures.
Winter Hiking Boots Add T

raction and Keep You Warm and Dry
If pac boots have a downside, it's that walking over technical terrain or for long distances in them can be a bit cumbersome. If it's a lot of hiking you're doing, winter hiking boots might be more your speed. Winter hiking boots will share many of the same features as pac boots – they'll contain some insulation, a bit of a shaft for ankle support and definitely have some sort of waterproof protection.
The difference will be in mobility. The insulation will be lighter to keep your feet agile. This means you might need to look into ordering a half size up to accommodate thick socks if you're going to need extra warmth during your adventures.
The shaft height on a winter hiking boot isn't so much there to block snow, but rather to support your ankles so you can traverse uneven terrain. Much like pac boots, winter hikers also will utilize both waterproof protection and a moisture-wicking design to keep your feet dry from internal and external moisture.
Winter hiking boots' lacing systems also should focus more on securing your feet rather than being easy to operate – Boa systems offer the best of both worlds, but a traditional hook lacing system is just fine.
Rubber Boots Keep You Dry All Year Long
For your winter pursuits that are less about the cold and more about the wet, a good pair of rubber boots may be all that you need. While some rubber boots incorporate insulation for added warmth, many simply serve to offer complete waterproof protection, nothing more and nothing less. Splash through puddles, wade through streams or stomp through mud – it doesn't matter when you're wearing rubber boots. If you need a bit of extra warmth when the temperature starts approaching freezing, you might layer on another pair of socks to keep your toes warm.
Casual Winter Boots to Get Around Town
Sometimes you're not playing outside. As unfortunate as it may be, there are times when you've got to get around town in more formal situations when the streets and sidewalks are a slushy mess. Maybe you're comfortable wearing pac boots in these instances, but maybe you want something with a little more style – hence, casual winter boots. Many of these boots will feature leather uppers with some light insulation and a waterproof membrane. The idea is that you won't be spending hours at a time outside, but when you do get outside in them, you won't be dancing with frostbite.
Don't Let Your Boots Dry Out or Crack
No matter what winter looks like where you're headed, you can bank on there being some moisture, and moisture is hard on boots. Leather in particular can quickly be ruined without proper care. So, be sure to pick up a boot oil or other types of boot conditioners and allow your boots to dry slowly after a day of exploring the winter wonderland.