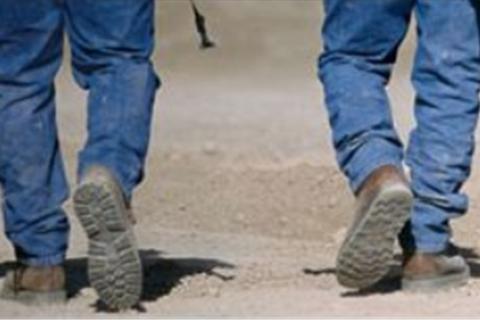 Choosing the right  work and duty boots is a choice that can mean the difference between enjoying your work or being miserable. In some lines of work it could even mean the difference between safety and serious injury or even death. Modern, feature-laden boots provide a myriad of options to address almost any concern.
It's vital to consider how many hours a day you plan to wear your boots and the impact they will have on your ankles, knees and back. Your health is at stake so time invested in selecting the right pair will pay dividends every hour on the job. And if an accident should happen, the right safety features in your boots will be priceless, so don't focus on cost alone!
Tip: Shop women's work boots here
About Boot Construction
How a boot is made will have influence beyond initial cost and extend to its performance, comfort and longevity. Welt construction is the most durable technique. A welt is a strip of leather or synthetic material between the upper and sole to which both parts are attached. Some welt-construction processes use double stitching for maximum durability and stitch the upper, outsole and innersole securely together through a leather welt. Boots made this way are among the most rugged you can buy, making them a good choice for heavy-duty jobs that may involve extreme conditions and work environments.
The direct-attach method is another common technique. It uses a mold attached to the upper part of the boot that's injected with molten rubber to form the sole. Direct-attach boots like Timberland Direct Attache Insulated boots are comfortable, lightweight, durable and shock absorbing. For jobs that require fast movement and sure-footed traction, such boots offer excellent stability.
Cementing is the third most used construction process. A durable and flexible high-strength adhesive is used to bond the outsole to the rest of the boot. Boots constructed using the cementing method aren't as costly and often offer lightweight comfort features that make them a good choice for light-duty jobs involving extended time on your feet. While cementing and direct attach work well, both lack the rugged durability of double-stitched welt construction.
Boot Comfort
Comfort is of vital importance, especially if you spend a lot of time standing on hard surfaces such as concrete floors, streets and sidewalks. Compression pads are a great help in such circumstances. These pads are built into the sole of the footwear and are made of material that compresses when weight is applied to absorb shock and reduce fatigue.
Manufacturers have their own technology, and if you have a preference for a particular brand of boot, chances are they have one or more that includes some type of compression pad. Certainly, the thicker the pad, or the more direct the contact between your foot and the pad, the happier your feet will be. If you work in hazardous situations where there is the potential for objects to be dropped on your toes, you'll want an OSHA-approved boot.
About Safety Boots
While the Occupational Safety and Health Administration sets requirements for job safety, it's the American Society of Testing and Materials International (ASTM) that sets worldwide standards for testing, materials and construction techniques of safety boots.
The safety feature most often required for work boots used to be a steel toe, but now other materials work just as well, if not better, when you consider the entire scope of protection, weight and comfort. A composite toe is one of the most popular alternatives to the traditional steel toe. It's lighter, and the resultant weight reduction can be a big comfort factor at the end of the day.
A variety of materials are used to achieve the same level of protection required by OSHA, and the thickness of the material can make a boot toe slightly larger, but function over fashion is the rule on the job.
The only limitation to composite toes is that some are limited to one strike, so check to make sure a composite toe will work for you. An aluminum alloy is another option that is lightweight and just as strong as steel, offering protection without weight or bulk. The cost of these various safety toes is very similar, with the aluminum alloy running slightly more than steel or composites.
Several types of safety boots are available for specific situations involving electricity. Boots that protect from shock are the most commonly required; however, with the computer industry and others that involve sensitive technology, preventing static discharges can be just as important. The ultimate in protection from electrical shock is achieved when all components are nonconductive. ASTM tests boots for resistance to electrical conductivity, resistance to electric shock and static dissipative performance. A boot can be rated for electrical-hazard use, or for its static dissipating abilities, but not all boots have both. Make sure you select the boot that meets your job requirements as directed by OSHA.
Soles come into play with jobs that involve water or caustic chemicals. Acid-resistant soles are available, and slip-resistant soles should be a high priority even if you don't come into daily contact with wet surfaces. Unexpected rain, snow and sleet can cause slips on the way to work as well.
Consider the height of the ultimate boot for your job. Jobs that require ankle support, such as railroad, logging and ranch work, will require at least a 9" boot with a snug fit to support the ankle and lower calf. Workers who climb ladders or towers should pick a boot with a minimum heel height of 3/4" and a 45-degree bevel for sure footing on every climb. Heels that are beveled too much can cause a boot to slip off a rung.
Once you've narrowed down the required safety issues, sole, construction, boot height and padding, standard features such as insulation and waterproofing are the last options to consider. Bass Pro Shops and Cabela's carries a wide selection of boots that are designed and built to stand up to the toughest workday on any job site. The time spent in the selection process will be most appreciated long before the 5 o'clock whistle blows.
About Duty Boots
Finally, law enforcement, military and security jobs demand boots made to optimally blend comfort, performance and safety features. Such footwear is called duty boots, and they are available in a variety of configurations to fit specific applications. Security personnel in an office complex and soldiers working in desert or mountain environments have different footwear needs, and a search for "duty boots" or "military boots" in the Find box at the top of this website's home page will direct you to our selection.