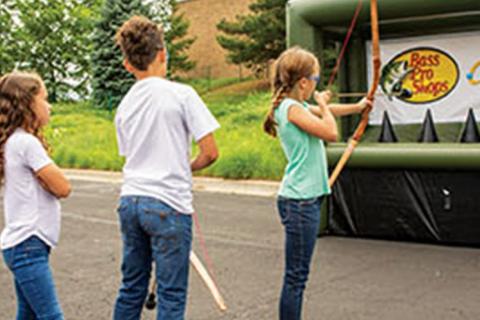 With three young nieces, ages 8-10 years old, coming to visit me this summer, I was trying to think of some fun games and activities that would keep them occupied and happy. Bass Pro Shops Family Summer Event provides the perfect answer. And it's free! The event, held June 22 through July 21, at most of the Bass Pro Shops and Cabela's stores located across the United States and Canada, features free games, activities and workshops for kids with their families. All can learn skills such as archery, camping, hiking, watersports, fishing, and backyard adventures.  Workshops are recommended for kids ages 6-12.


Tip: Visit www.basspro.com/shop/en/family-summer-event


The workshops are conducted by experts, last about 20 minutes each, and the kids will get a free lanyard with booklet to mark off completed workshops. Kids will earn a free, collectible badge for every workshop completed. If they attend all 5 workshops, they receive a completion pin*.


Also, during the Family Summer Event, kids eat free!
Kids Have Different Activities Every Week

After doing some of the workshops, my nieces can try free craft activities such as:

Creating a picture frame and bear craft.

Color a plaster bird magnet and create your own binoculars.

Practice at the casting challenge.

Decorate a wood tent and receive a scratch off moon phase disc.


Practice at the shooting and archery range.




Bass Pro has a different workshop and craft featured each week from June 22-July 21 on Thursday and Saturday, NOON, 1PM, 2PM, 3PM and on Sunday from 1PM - 2PM.


Try out the free game area after completing the free workshops. Adults and kids can enjoy several free hands-on outdoor games including:
Bean Bag Bucketz
Wicked Big Sports Giant Pong Set
Ladderball
Spikeball
Bag Toss
Giant 4-in-a-row game
Free Souvenir photo opportunities are available July 4,6 & 7 NOON - 4PM. You'll be able to download them to share online with friends and family too!
Tip: If you find a game you like, you can purchase any of the outdoor games at Bass Pro Shops and Cabela's


Note: Please visit the Bass Pro Summer Event website and click on an individual store site for store locations near you, activities, and times.


My nieces say they can't wait to come to Family Summer Event at Bass Pro Shops.  I can't wait to take them camping and fishing the next time they come down so they can put to use all the fun stuff they learned.


* While supplies last. Workshops and events are subject to change. Activities vary by location. See your store for details.