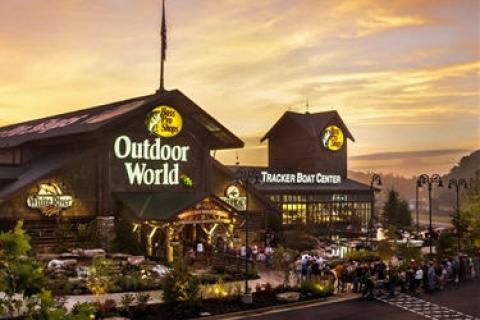 It's Conservation Baby! RedHead pro hunting team member, Brenda Valentine, talks about conservation and women in hunting


The saying, "It's Bristol baby!" made popular by NASCAR commentator and three-time NASCAR Cup Series champion Darrell Waltrip, was repeated several times by developer Steve Johnson during the building process of the new Bass Pro Shops store locating in The Pinnacle.  Bristol, Tennessee, the birthplace of country music and home to Bristol Motor Speedway is now home to one of Bass Pro Shops newest retail attractions.  I just returned from the opening of the Bass Pro Shops Bristol Outdoor World, located in the beautiful foothills of the southern Appalachian Mountains.  More than 10,000 people came through the doors during the spectacular Evening for Conservation event Wednesday night, Aug. 20.  This exciting, celebrity-packed event is free and open to the public and kicks off the official grand opening of new Bass Pro Shops stores.


The event featured celebrities from the world of sports, entertainment, and the great outdoors, interactive vendor exhibits and demonstrations, and it's the first night the store is open to the public. Local chapters of conservation groups that Bass Pro Shops partners with on a national basis set up booths and their members talk with customers about their group's ongoing projects.  In addition, fifty cents of every dollar spent inside the store that night, goes toward a designated conservation group.  In Bristol, the money was earmarked for Tennessee Wildlife Resources Foundation, Wonders of Wildlife, and the American National Fish and Wildlife Museum.  Hey…it's conservation baby!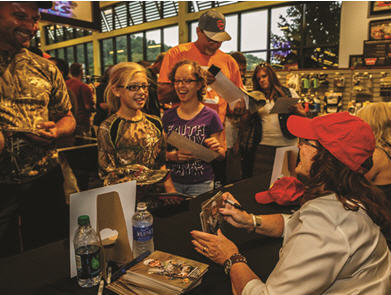 RedHead Pro Hunting team member, Brenda Valentine signing autographs at Bristol opening.
One of the outdoor industry celebrities attending the Bristol Evening for Conservation was RedHead Pro Hunting team member, Brenda Valentine.  I had the opportunity to sit down with Brenda for a quick discussion and to get her thoughts about conservation and women in hunting.  Here's what she had to say:


Question 1:  You've been a Bass Pro Shops Evening for Conservation celebrity guest at many new store openings.  As the "First Lady of Hunting" you certainly understand the importance and responsibilities outdoor sportsmen and women have regarding conservation.  Can you help those not familiar with our industry understand how hunting and conservation go together?
Brenda:
Regulated hunting based on sound biological studies and practices is the backbone of conservation and thus the future of wildlife.  Hunters, through license sales and their own self-imposed taxes are the primary funding behind conservation practices such as restocking programs, habitat acquisition and enhancement, education, and game law enforcement.  Without the money brought in by hunters conservation programs would dry-up causing the demise of many species due to overpopulation or market slaughter.  In reality, the burden of the future of many game animals lay directly on the shoulders of us hunters and those who cherish the hunting traditions.
Question 2:  Bass Pro Shops has been honored many times for their dedication, passion, and efforts in conservation.  What do you see as the most important thing any of us (inside or outside the industry) can do to help protect our natural resources and assist in on-going conservation efforts?
Brenda:
VOTE—VOTE—VOTE!   Voters need to study, research, and be aware of where the candidates stand on conservation issues and vote accordingly.  I view casting your vote in every election from local to national as the most important thing everyone can do for conservation.
Question 3:  What do you enjoy most about the new store openings?
Brenda:
I can't remember how many new Bass Pro Shops I have had the privilege of seeing the ribbon cut but I never grow tired of seeing the enthusiasm of the people and knowing they will have this landmark in their own community.  It is the customers—the people who share the same dreams and values as so many of us in the outdoor industry—that I enjoy the most.
Question 4:  What is the single best piece of advice anyone ever gave you?
Brenda:
I have never compromised who I am for what others might want me to be.
And, when asked what her advice would be for young women wanting to enter the hunting field she said she believes that now is the most favorable time in history for women to get into hunting.  She advises women to build a firm hunting foundation based on experience and a love for wildlife and conservation.


The Evening for Conservation is just one way Bass Pro Shops demonstrates its ongoing dedication and commitment to conservation.  To learn more about Bass Pro Shops and conservation, visit Bass Pro Shops conservation partnerships information page.