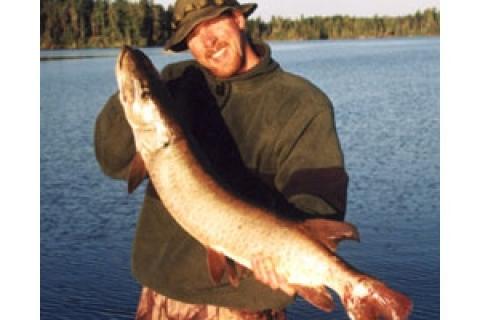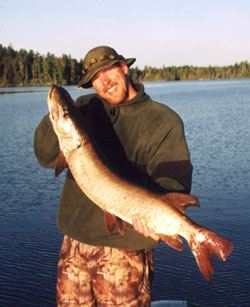 Ask a Northern angler to name the best musky fishing destinations and chances are legendary Canadian venues like Lac Seul, Georgian Bay or Lake of the Woods would top the list. But you don't have to risk frostbite to catch a big musky. Although most Yankees (and many Southerners) don't realize it, some world-class muskellunge can be caught south of the Mason-Dixon Line on waters with minimal fishing pressure and no ice coverage in winter.


Muskies are native to some rivers and streams in southern states, and have been stocked with varying degrees of success as far south as Alabama. The hotbed of Southern musky angling is the mountainous region stretching from eastern Kentucky through West Virginia, where several excellent fisheries attract anglers from around the country. The best known of these, Kentucky's Cave Run Lake, gave up a 44.38-pound state record in 1998. Another Bluegrass State musky fishery, Green River Lake, has hosted the annual Muskies Inc. spring tournament.


But less-known lakes and streams throughout the Southeast occasionally produce monster muskies as well. The heaviest muskellunge every officially recorded in Dixie, a 49.75-pounder, was taken from obscure Stonecoal Lake, West Virginia, in '97. Anna Marsh, a grandmother from nearby Weston, caught the 50-inch brute on a night crawler while bluegill fishing from the bank with a spincast outfit — a fact I love to point out to fishing acquaintances who have accumulated thousands of dollars worth of musky lures and tackle. A week after Anna caught her trophy, a 52 1/2-inch musky was found floating dead in nearby Moncove Lake, a 144-acre body of water that hadn't been stocked with muskellunge since the Sixties.


The possibility of catching a certified bull 'gator of a fish from water that hasn't been jerkbaited and bucktailed to death adds to the mystique of Southern musky hunting. I've heard tales from local fishermen of encounters with downright scary fish. Like the Tennessee angler who hooked a musky in the Collins River that was so big, it pulled his canoe upstream. Or the Kentucky farmer who recalled the day his grandpappy caught a 57-pound musky from the Green River on a catfish trotline — "Fed a family of 12," he told me. Fish stories? Perhaps. But it's a stone cold fact that five Southern states have muskies over 40 pounds in their record books.


Muskie Fishing a Cult Activity
With the exception of a few high-profile bodies of water like Cave Run, the musky maintains a low profile in Dixie; consequently musky fishing is somewhat of a cult activity here. This is bass and crappie country, and an angler thrashing the water with oversized Suicks and Eagletails is bound to garner some stares. But that doesn't keep Parkersburg, West Virginia musky addict John Kaltenecker from his appointed rounds on rivers and streams in the Mountain State, where he's caught and released hundreds of muskies. "These fish will ruin you," he confided. "I can't remember details of many of my past bass trips, but I can tell you exactly where, when and how I caught almost every musky I've ever landed. Once you catch a big one, you're hooked. Other fish are just bait."


"If I mention that I'm going musky fishing, friends assume I'm heading for Minnesota or Wisconsin," Steve Dodson of Mt. Juliet, Tennessee added. "Most local anglers don't even realize muskies live around here. In central Tennessee, Dale Hollow and Great Falls lakes both have a decent population of muskies, and their average size is bigger than in most Midwestern lakes. We've boated fish weighing 35 pounds, and state biologists tell me they've shocked up fish in the mid-40s."


Southern Musky Patterns
Dixie's musky waters fall into three basic categories: highland reservoirs, timbered reservoirs and rivers/streams. Natural lakes with thick weed cover, the kind of places most Northern musky hunters fish, are virtually nonexistent in Southern musky territory.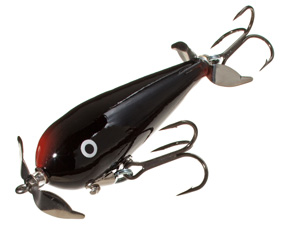 In the fall, winter and early spring, try a muskie plug to target submerged ledges, weedbeds and channel bluffs.
Southeastern highland reservoirs are deep, clear and rocky, with little submerged wood cover. Their forage base consists of threadfin and gizzard shad; sometimes alewives and rainbow trout are on the menu as well. While these lakes are best known for their smallmouth bass or landlocked striper fishing, some of them contain muskies, usually the progeny from aborted stocking programs. One of the best Southeastern highland musky reservoirs, Dale Hollow Lake on the Tennessee/Kentucky border, has produced fish over 40 pounds; its big drawing card is extensive weedbeds which attract muskies and provide good spawning habitat.


Because these lakes are so deep, and because they have precious little cover along their banks, muskies tend to suspend offshore, making trolling your most viable presentation method. Oppressive heat and humidity (and hordes of vacationing houseboaters and jet skiers) make trolling them in summer hard duty, but it's possible to catch a big fish by running aluminum spoons on downriggers from 30 to 50 feet deep. Troll main-lake points and ledges adjacent to deep channels, watching your graph for big schools of bait and tell-tale hooks indicating suspending muskies.


Fall, winter and early spring are the best muskie seasons on highland reservoirs. Fish move into tributary arms once the water temperature drops below 60 degrees, and can be taken by flat-line-trolling bass crankbaits like Bandits and Bombers, or larger musky plugs like Cisco Kids and Believers, in shad and trout patterns. Target submerged ledges, weedbeds and channel bluffs in the 15- to 25-foot zone, varying trolling speed from 1 to 4 mph until you determine what the fish want. You can bank on this pattern in the coldest weather; highland reservoir muskies will smack a trolled lure in 38-degree water.


Timbered reservoirs (Cave Run Lake in eastern Kentucky is a good example) often have a deep, open main body, but their shallower creek arms are loaded with casting targets including standing and fallen trees, stumps and thick beds of junk weeds such as Eurasion milfoil. Their forage base usually consists of shad, carp and suckers. As in highland lakes, musky fishing is best from fall through spring. By October, fish will move into tributaries where weed and wood cover is thickest; casting big jerkbaits (Musky Mania, Suick) and bucktails (Lindy, Mepps, Blue Fox) can pay off with a trophy fish. On cloudy or rainy days, muskies often move to the edges of cover and will nail a noisy topwater plug or a buzzbait with a vengeance. Once the water temp drops into the 50-degree range (usually in November), try casting large crankbaits like the Joe Bucher Depth Raider around deep points with standing timber. Trolling pays off now as well. Drag deep-diving musky plugs along submerged channels where standing timber tops off around 15 feet below the surface.


Rivers and streams are popular venues among Dixie's musky hunters, especially in Kentucky and West Virginia. Their forage buffet features suckers, carp, crayfish, frogs and terrestrial critters such as muskrats or snakes. Don't let the small size of many Southeastern creeks fool you — their slow-moving pools can hold some whopper muskies. Some of the best West Virginia musky streams are fishable only with a jon boat or by wading, so leave your V6-powered bass rig at the house.


Because current cools and oxygenates the water, rivers are probably your safest bet for a Southern musky in hot weather. During summer, concentrate on deep pools, casting crankbaits and jerkbaits around sunken trees and boulders. As the water cools in fall, muskies will slide out of these shadowy lairs and prowl shallow shoals and gravel bars for groceries; they'll blast a topwater prop bait here. Shallow wood cover in the form of deadfalls and logjams will hold river muskies year-'round. Bump this good stuff with a spinnerbait or root through it with a Hellbender. Early and late in the day, a buzzbait may produce a hellacious blowup when it knocks on wood.


One of the Southeast's best, and least talked-about moving-water patterns occurs in late winter/early spring in rivers whose flow is regulated by spillways or dams. When the water warms to around 50 degrees, walleye run to the headwaters to spawn, and will gather below these concrete obstructions in large numbers. Muskies will be here, too, holding tight to current-breaking objects like boulders and logs, then rushing into the sometimes-torrential flow to grab an easy meal. Make short, accurate casts around cover close to fast water with a big Dardevle spoon or a magnum-sized Rat-L-Trap lipless crankbait in a gold or perch pattern, using a fast retrieve to mimic a fleeing walleye.


Southern rivers are prone to flooding in spring, and muskies tend to move upstream as the water rises. Wait a couple of days until inflowing tributaries begin to clear and a mudline has formed at their mouths. Muskies will use discolored water for concealment, and a sucker-colored jerkbait fished here is likely to get eaten big-time.