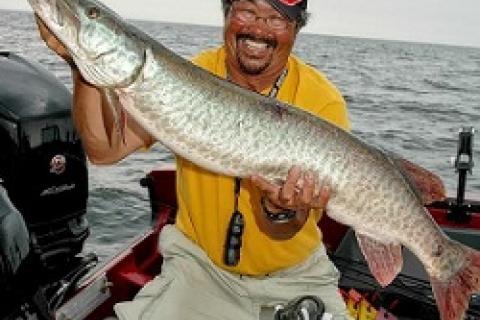 Sometimes muskie fishermen seem to spend as much time in bait shops as they do on the water. Muskie hunters seem to need all the latest and greatest baits in order to catch that one fish of ten thousand casts.


Right now is a great time to take an assessment of your muskie tackle in order to fill in the gaps. There are a ton of muskie shows around the country with vendors who would like to help you with discounted lures along with a wide variety of them.


In order to put the odds in your favor, it is important to keep in mind some of the key feeding periods and locations for muskies:
* Low-light periods such as early morning, evening, or at night
* Just before low-pressure storm fronts roll in
* A few days before and after full moon periods
* Wind-blown shorelines/rock reefs
* Big patches of cabbage or other fish-holding weeds with multiple open pockets and boulders around


Muskies are at the top of the freshwater food chain and are not the most aggressive fish. Triggering fish to bite is the key to any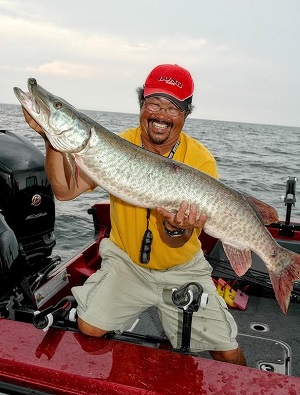 successful muskie angler.  Knowing when and how to fish a particular bait is often more important than the bait itself.  The point is you just don't need a suitcase full of expensive lures to be successful.


Shopping List of Essential Lures
1. Bucktails, like Venom Outdoors' twin-bladed Rattler, work in spring, summer and fall by creating flash and vibration to attract and trigger muskies. They are also an efficient lure that is designed to cover water fast and effectively. They can be reeled fast to stay near the surface, or more slowly, to go deeper.


Use Colorado-bladed bucktails to run high in the water column or you can weight them to run deeper. Smaller blades can be reeled faster.  Speed sometimes is the key to trigger strikes.  Big double-bladed spinners with #10 size blades, have been very productive in capturing monster muskies.


The walls of tackle stores are covered with every color in the rainbow. But keep it simple. White and silver work well. Combinations of chartreuse, orange and black are good in dingy water or at night. Flashabou/tinsel are excellent when the forage are shiny like ciscoes, tullibee, or shad.


2. A 10- to 12-inch crankbait like a Grandma can be twitched to resemble a wounded baitfish. It can be used shallow or deep. A few outlandish colors aren't bad to stand out in a crowd. But make sure to have natural colors that resemble the forage.


3. A topwater propeller bait can be retrieved across the surface at varying speeds. They work best when surface temperature is above 65 degrees or are devastating at night. There's nothing better than a gigantic muskie hitting at boatside when you can't see it!


4. A second topwater bait can offer a different look. Try a Jackpot, which slides from side-to-side. Or a Suick which is more a jerk bait, but dives just slightly below the surface.


5. A pin-style spinnerbait offers both flash and vibration and can be fished top to bottom, fast or slow. The pin-style spinner also can be jigged up and down below the boat or trolled over the top of weedbeds, on weed edges, over wood and along drop-offs.


6. Larger crankbaits can also be used for trolling.  Make sure you vary your speed in order to trigger strikes or find out what the fish want.


7. Plastic baits have caught a lot of winning fish on the Pro Musky Tournament Trail, according to Jim Saric of Musky Hunter Magazine. Bull Dawgs make great 'throw-back' lures to trigger strikes after a follow on a crankbait. They shine on pressured waters and during tough times, including cold-front conditions.


No matter the lure you are throwing, always do a 'figure-8' at boatside after every cast.  When trolling lures, speed up and slow down, in addition to making sharp 'S' turns with your boat. The change of speed and direction are key strike inducers.


Catch and Release Tools
Muskie anglers, who give everything they have to catch one fish, can't get that fish back in the water fast enough after finally subduing it. To be gentle on the giants you release, it's important to get quality tools for the purpose. Long needle-nose pliers and bolt cutters are must-haves. A protective fish-handling glove improves the odds of a safe release. Every boat should be equipped with an extra large net to keep the muskie in the water while you grab your release tools and a camera.


There's no need to take out a loan to buy a boatload of muskie gear, but it is beneficial to start with some key pieces. Keep your lures wet and be prepared to make a bunch of casts. Always maintain a positive mental attitude and make yourself believe that a big 'ski is right behind the very next cast!