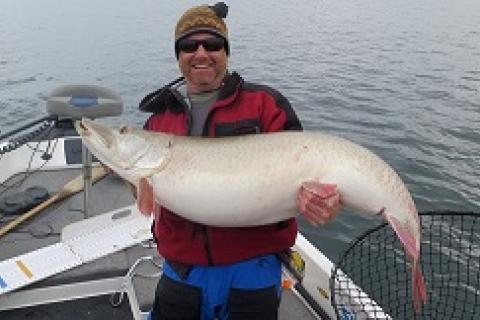 Dominic Hoyos of Stillwater, Minn. and Dean Block of Ramsay, Minn. are hardcore muskie anglers. This pair hardly pursues muskies until the middle of the summer and then truly focuses on big fish when many anglers have packed away their gear in favor of slaying a deer.


Their prime time to target big muskies is the month of November. Their lake of choice, Mille Lacs in Minnesota. This year their efforts paid off with a massive muskie that was estimated by the new 'big fish release' formula devised by muskie historian Larry Ramsell to weigh in the high 50 pound class.


No wimpy gear in their arsenal. Think tackle that could land a tarpon or other large saltwater predator. In fact, according to Block, he gets plenty of time in the salt and has adopted some of the heavy-tackle methods to muskie hunting.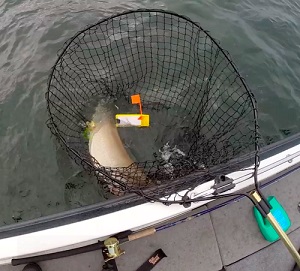 "We really hunt for big muskies," said Block. "I mean, Dominic and I go after big fish in the fall. Fish in the 50-inch plus range. November is the top month to catch them on Mille Lacs.


"Dominic runs a business and I am off work from my job during that time period. We can really dedicate ourselves to understanding big fish on Mille Lacs and what we need to do to catch them.


"Some of our gear is up to 100-pound line with 200-pound leaders. We rarely encounter smaller fish this time of the year. I fish quite a bit in the saltwater and I have adopted some of the heavy gear ideas to fishing for muskies."


Ironically, the big muskie they caught the day before Thanksgiving 2015 wasn't caught using massive gear. Well, at least not the 100-pound class.


"We were using 30-pound Yo-Zuri Hybrid line on the rod that caught the big muskie," said Block. "First off, that line can land huge fish. I use a lot of Ande line, too. The reason for not using the super-heavy braid on that setup is because we were using an Off Shore planer board. The clips from the planer boards don't hold well on lighter braid pulling big crankbaits in rougher water, so we prefer to use heavy mono or hybrid."


"We also remove the back clip and run the line through a heavy snap lock. That way you can pop the one clip free and the board will just run down the line. It is an efficient way to help catch more muskies."


The lure tied onto the monster muskie setup was a custom painted Grandma. "The big fish Dominic reeled in was caught with a Grandma," said Block. "I have them custom painted. There is just something about the loud colors we use that seem to trigger the big fish."


A general tip these mega-muskie hunters suggest is to troll in the late fall.


"Most muskie anglers on Mille Lacs cast for their fish," said Block. "We find that trolling is a more efficient method to search for the big fish.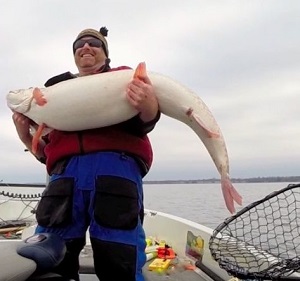 "We get plenty of big rips on our lures each season. Anywhere you can troll for muskies, I'd suggest giving that a try and using the Off Shore boards like we do for muskies, especially now they have released the new board designed for muskies."


The giant muskie, measuring 55.25"X30" has been accepted as the new Modern Day Released World Record, under a new program administered by muskie historian Larry Ramsell and hosted by MuskieFIRST.com, the world's largest and most popular Muskie publication. The fish was carefully documented and meets all the requirements of the program, according to Mr. Ramsell.


Hoyos and Block will be presented with a matching set of new World Record Release plaques at the Minnesota Muskie Expo this Spring.


by Pros4- 1Source's Dave Landahl