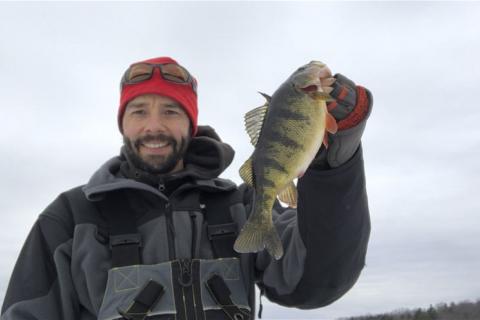 Yellow perch are fun to catch on the ice. While they are often willing biters, there are times when having a specific fishing lure makes a huge difference in the size and number of perch you can catch. Here are several lure styles you'll want include for any ice perch adventure.
Fast Sinking Baits Like Horizontal Jigging Minnows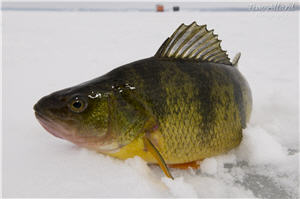 Yellow perch are generally active and willing biters in winter. photo credit, Tim Allard Photography
Lures like the Rapala Jigging Rap and Jigging Shad Rap, and more recent arrivals, like the Acme Hyper-Glide Minnow, are must-haves when jigging perch. On the lift jigging minnows swim up and out to the side, then glide downward in an injured minnow arc. It looks natural, vulnerable, and is a sight perch can't resist biting. Jigging minnows ranging from around 2.5 inches down to the smallest available will all catch perch.
Another advantage of these lures is they fish heavy for their size. This is useful when covering water to locate perch or when jigging them in deeper water. A fast sinking bait is especially handy when there's an active school beneath your feet and getting a bait down quickly is the secret to keeping fish interested and catchable.

Extra Tip: Add a real minnow head or scent-infused plastic to the belly treble of a jigging minnow to stimulate bites.
Fishing Darters and Lipless Crankbaits Will Appeal to Perch
Anglers in pursuit of perch will want some Rapala Ultra Light Rippin' Raps, LIVETARGET Golden Shiners or other rattlebaits hovering around 1.5 to 2.5 inches in their tackle trays. The vibrations, flash, and shimmying action of these lures really appeals to perch, especially jumbos.
Bring in fish using steady lifts or a series of short, quick snaps. Then pause to give perch a chance to bite. When fish are hesitant, shake the bait in place before killing it.

Extra Tip: Depending on perch mood and conditions, they may either love a hard, rattling shake or prefer a more subdued sound. Use a portable fish finder to gauge fish reaction and fine-tune jigging accordingly.
Blade Baits Will Catch Fish on Ice
These metal lures don't get all the credit they deserve for catching fish on ice. They sink fast, replicate a belly-filling meal, and have great attracting vibrations and flash. Do yourself a favor and pick up some 1/4-ounce Bass Pro Shops XPS Lazer Blade lure. At times they're magical at getting jumbos to bite.

Extra Tip: Don't make the mistake of overworking a blade bait. Jig just enough to feel its vibrations. Less is more when it comes to coaxing bites from icy waters with these lures.
Jigging Spoons Deliver Action Under the Ice
No jigging collection is complete without spoons. This group of lures can be broken down into several sub-categories, all of which are worth having on the ice to haul-in perch.
Generally, spoons between 1 to 2.5 inches are a good size for perch, but there are no hard-and-fast rules. Especially when jigging aggressive jumbos.
Straight, sleek spoons sink fast and have a conservative action, making them perfect for neutral fish. Clam's Pinhead Jigging Mino Spoon takes this category of spoon to the next level by giving it a lifelike profile and flashy, flapper blade that adds a subtle, strike-inducing action. It's definitely one to add to the arsenal.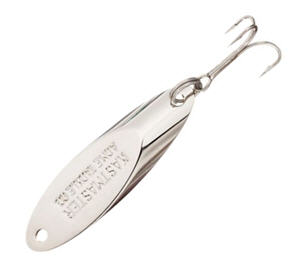 Spoons with beveled edges have a wilder, tumbling, wounded-baitfish action like the Acme Kastmaster Spoon
Spoons with beveled edges have a wilder, tumbling, wounded-baitfish action. These are great for attracting perch and riling-up a school to get them biting. The popular Acme Kastmaster Spoon and VMC Flash Champ Spoon are great picks.
Bent spoons also deliver good action under the ice. The more distinct the curve, the more erratic their action. The Northland Glo-Shot Spoon features an S-curve design for an irresistible flutter while its glow stick's luminescence pulls in perch from far and wide.
Rattling spoons are another essential. The extra noise from the bait's sonic chamber stimulates perch. I've iced many jumbos on a Northland UV Buck-Shot Rattle Spoon. The Clam Rattlin' Blade Spoon is another option.

Extra Tip: Spoons can somersault and spin. Use a snap-swivel to attach the lure to prevent line twist. Tying-in a swivel 18- to 24-inches above the bait is another option.
Pique Perch Interest With a Dropper Chain
When perch get fussy, jigging a dropper set-up is the closest thing to money in the bank.
Several spoons come pre-rigged with a dropper chain. Or, make your own by removing the treble hook from a spoon or a jigging minnow and attaching a dropper chain dangling a small, bait-tipped hook. A monofilament dropper can also be tied instead of using a chain.
Another option is a lure like the thin, Lindy Perch Talker. The strung beads and brass discs clack and move water to pique perch interest, while the dangling treble hook is pint-sized enough that even neutral fish can't help but slurp up.

Extra Tip: Missing bites with a dropper? Try increasing the sonar sensitivity in order to see the end of the dangling dropper hook and know when fish are eyeing and possibly sucking-in the prize.
Routinely Catch Perch With Ice Jigs
Small ice jigs tipped with soft-baits (see below) or live-bait routinely catch perch, especially neutral customers. A jig is a great presentation when perch are eating bloodworms, nymphs, and other diminutive forage.
Lead ice jigs ranging from 1/32 to 1/8 ounces are affordable and reliable, but tungsten ice jigs are getting more popular. Tungsten is denser and sinks faster than lead, letting you fish a more compact presentation without sacrificing weight. They are definitely a must-have when fishing deep flats for invertebrate-eating jumbos and anytime you need to quickly intercept nomadic, on-the-move jumbos. The Acme Pro-Grade Tungsten Jig, Clam Drop Jig, Custom Jigs & Spins Chekai Tungsten Jig, and VMC Tungsten Tubby are examples.

Extra Tip: Perch anglers should also carry dressed jigs, like the VMC Hot Skirt Glow jig. Whether fished bare or tipped with a small minnow, the jig's skirted materials pulsate and wave in the water, even when it's at rest. These subtle, micro moves are deadly at triggering bites from ultra-choosy perch.
Build a Soft Bait Collection to Haul in Perch
Whether fished with a jig or used to tip a lure, fishing with soft baits are another essential. Consider these profiles when putting your collection together.
A finesse tail bait is a must. The Bass Pro Shops Extreme Ice Arctic Angler Hat Trick Jig or Northland Impulse Skeleton Minnow are wispy and great at replicating bloodworms and other dainty foodstuffs perch eat in winter.
A 1- to 2-inch tube jig is always worth trying. A brown or green version crawled along the floor can replicate a crayfish, nymph, or goby. While a pearl or other lightly colored tube swam up and down in the water column can decoy a freshwater shrimp or a baitfish.
Small minnow baits in the 1- to 2.5-inch range are also great. The Berkely Gulp! Minnow is one reliable choice.

Extra Tip: Don't overlook nymph, creature, and other pint-sized plastic profiles. Just remember to follow the golden rule and use a profile to "match the hatch" based on what perch are feeding on.
Stock up on the above baits and you're sure to enjoy some great rod-bending action for perch this winter.