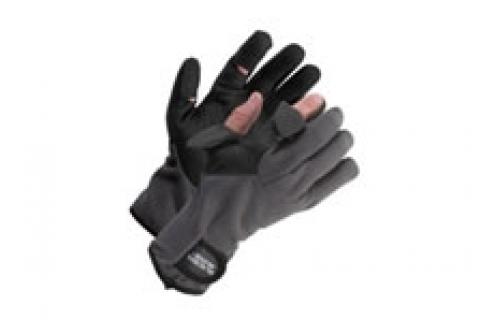 The essential gear you need to ice panfish isn't extensive. An assortment of baits, a light action rod and a good auger are the key ingredients. Spicing up this menagerie are sophisticated tools, such as electronics. These aren't mandatory, but they'll help you catch more fish. The following items represent a well-rounded toolkit for coaxing pannies topside.
Safety Gear
Ice picks are an important safety feature to carry with you on the ice.
First and late ice offers incredible panfish action. Generally speaking though, these book-end phases of winter are also when ice quality and thickness is the least predictable. Your safety should always take priority over biting fish. Carrying the following safety tools is highly recommended. Ice picks help you pull yourself from the water should you fall through the ice, while a flotation suit or a life jacket will keep you buoyant. A spud (chisel) is useful to test the ice thickness in front of you as you walk. Lastly, boot cleats, such as the products by Yaktrax, provide traction on slick ice.
Drill Particulars
An auger is an essential item for any winter angler. A manual auger between 4.5- to 6-inches will serve you well depending on your target species. Lightweight and inexpensive, they're also quieter than motor-driven models, a bonus for shallow-water stealth. A power auger, however, is a luxury in thick ice conditions and when punching 100-plus holes a day. Regardless of the type you own, carry a supply kit containing: spare blades and fastening screws, allen key, wrench, and an extra spark plug for power augers. Remember to maintain your auger. If it fails, the trip's over unless someone nearby is willing to drill you a few holes.
Panfish Tool Belt
A lanyard's a great accessory to keep important tools within reach. Mine has a small file for sharpening hooks, a pair of clippers for cutting line, and a LED light for charging glow baits. It also holds removable forceps. These are less bulky than pliers and better for removing tiny ice jigs from small-jawed panfish. Remove or tuck the lanyard in your jacket when operating an auger as having it dangling is dangerous.
Keep Fingertips Toasty
Panfishing demands a lot of fine motor skill maneuvering, like tipping a jig with maggots. It's important to have fingertips unhindered to complete these tasks, while still having a system to insulate them so they don't get cold and cramped. I use flip-mitts or fingerless gloves combined with a larger pair of mitts. Carrying spares is recommended. I also keep a fishing towel to dry off wet hands.
Carriers & Windbreaks
A container of some sort's a must for transporting gear on the ice. Options include a 5- to 6-gallon pail, a small ice fishing sled or a portable ice shelter. Sleds and buckets, which can be outfitted with a seat, work well in mild conditions and when doing a lot of walking and traveling light, such as late-ice perching. Portable shelters shine in cold and windy conditions. Their tent fabric creates a warmer interior when combined with a heater (make sure your shelter's properly insulated though). They also block wind from blowing ice fishing line, a bonus when finesse fishing.
High-Tech Tools
For hard-core anglers, electronics are indispensable. A GPS loaded with a lake's map data lets you navigate to off-shore structures and return to waypoints, like weed clumps. A portable ice sonar displays water depth, your lure, and nearby fish. Interpreting the sonar gives clues on a fish's mood based on its reaction to the lure, letting you experiment with jigging moves to pinpoint the perfect pattern to trigger bites. An underwater camera has merit too, such as observing panfish behaviour, seeing the components of fish-holding habitat, and learning jigging techniques for various baits. However, murky water conditions and snow cover will limit camera visibility.
Range of Baits
Always carry a mix of ice baits. Small jigs with different profiles (e.g., horizontal and vertical), puny plastics and tiny spoons and jigging minnows represent a healthy selection so that you are prepared for any fishing scenarios. Larger lures let you quickly cover more water and attract fish. They sometimes also appeal to bigger or more aggressive pannies. Smaller ice jigs and plastics excel in finesse situations. Store baits in small see-through trays or fly-fishing boxes, keeping them in your outerwear pocket so they're always within reach.
Having gloves that allow you to use your nimble fingers is key to a successful day on the ice.
Balanced & Well-Stocked
Open-water tackle is rife with technique-specific rods and this mindset has a place on the ice. A well-stocked rod case will include a mix of ultra-light, light and medium-light rods. The golden rule of rod selection is using a balanced outfit that's sensitive enough to feel the bait, properly present the lure and detect faint hits. Use standard rods for larger lures and aggressive jigging. Noodle or spring bobber models are better for finesse jigging and signalling light or up-swimming strikes.
Micro spinning reels from reputable manufacturers are the choice for trophy seekers given their quality components and superior drag systems. There are many quality 500 series spinning reels that perform well in winter. Opt for 2- to 4-pound-test monofilament or fluorocarbon ice-fishing specific line, matching line strength to lure weight and target species.
Bait Containers
Live bait is critical to success on tough bites, whether soaking a minnow for crappie or using a maggot-tipped jig for sunfish. In winter, an insulated minnow bucket is better than a plastic pail. An aerator will add oxygen to keep minnows lively, and the circulation this creates delays water freezing. For maggots and wax worms a StrikeMaster Bait Puck is a good choice for carrying bait; keep the container in an inside jacket pocket to prevent bait from freezing.
The above items represent a well-rounded panfish tool kit. Stick with the basics to get started, but don't be shy about integrating specialized gear, like a power auger or a portable sonar, into your panfishing search strategies. These sophisticated instruments will help you ice more fish this winter.