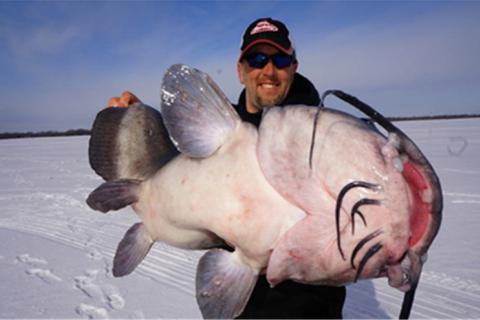 Ice fishing for channel catfish is growing in popularity. Channel catfish are plentiful, hard-fighting, and smaller ones make great table fare. We asked ice-fishing expert and owner of Wisconsin Big Fish Guide Service, Eric Haataja to share his knowledge of where and how to catch channel catfish during the hard-water season.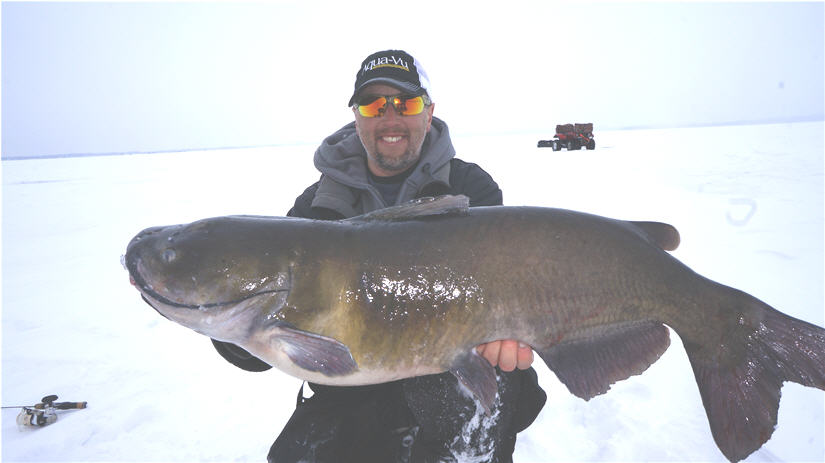 Eric Haataja ice-fishing expert and fishing guide with Channel Catfish
photo credit Eric Haataja
Where to Ice Fish for Channel Catfish
Haataja catches catfish from many areas in lakes. Topping his list are mid to deep flats found where a river mouth empties into a lake. The current attracts catfish. Cats will relate to the flat as well as the break.
Rock bars and humps are two other areas. Channel catfish will also related to deep holes in winter.

Extra Tip: Anglers are reminded to exercise extra caution around flowing water. Current significantly impacts ice conditions. Carrying proper safety equipment (ice picks, a throw rope, etc.) is a must.
Using Sonar and an Underwater Camera to Find Channel Catfish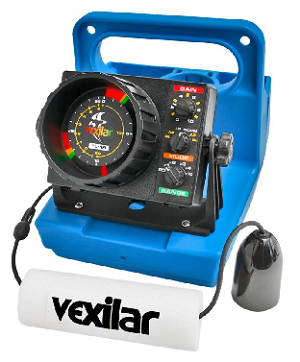 Haataja applies the same search tactics for catfish he uses for crappie, walleye, and trout. Working as a team, one angler drills holes while the other follows, checking holes for fish using a Vexilar FL-18 flasher.
When the flasher displays fish, Haataja uses an Aqua-Vu Micro to identify the species. When he finds catfish, he then studies their activity level.
"I'm not looking for catfish that are laying dormant on bottom," Haataja said. "I'm looking for big, suspended, active schools."
Catfish schools tend to mill around. Anglers need to be flexible and ready to move with roaming cats.
"I've seen how a school will do different things," Haataja said. "I've seen how they can go from shallow to deep one evening. Then on another night they'll migrate from 20 to 15 feet, or even up into 12 feet. I've even seen eating-sized catfish suspended 8 to 15 feet down over 30 feet of water."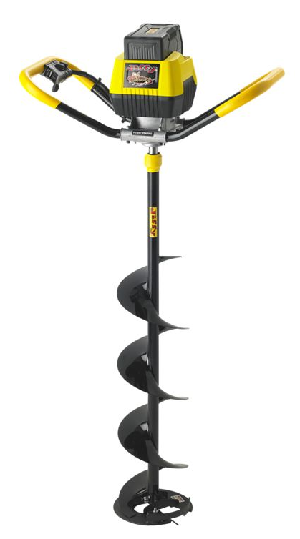 In short, the mobile angler's rewarded when it comes to icing catfish. It takes large moves to locate the herd, then smaller adjustments from one hole to another to stay with biting cats when they're swimming around in an area.

Extra Tip: Try the Jiffy E6 Lightning Electric Ice Auger, for its easy starting, reliability and powerful drilling features.
Set-Line Tactics for Catfish
Haataja catches a lot of channel catfish soaking cut bait beneath a hook-setting device, such as the Automatic Fisherman. In Wisconsin, anglers can fish with up to three lines and Haataja devotes at least two legally permitted lines for these devices.
"For the style of fishing I do for trout and catfish, you can't beat hook-setting devices," Haataja said. "It's like setting a mouse trap. They're very sensitive and you hook a lot of fish, but not every rod works in a hook-setting device."
This is why Haataja launched Haat Rods, which include five composite ice fishing rods perfectly tuned to work with hook-setting devices, but that are equally good as standalone jigging sticks. The 45" medium action casting Haat Rod is used most for catfish.

Tip: Find Hatt Rods at HaatRods.com.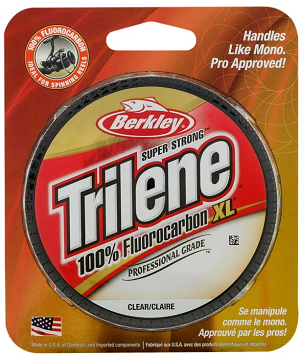 For bait, Haataja rigs up with fresh cut sucker, chub, or golden shiner minnows. A five inch minnow is cut into four pieces. The two middle pieces, the fillet mignon to catfish, get hooked on a #4 or #6 Gamakastu EWG treble hook. The hook is tied to 10- to 15-pound Berkley Trilene 100% Fluorocarbon Professional Grade Fishing Line or 10- to 12-pound Berkley monofilament with a with 10- to 12-pound fluorocarbon leader. A split shot is placed a few inches above the bait to speed its drop into the strike zone, which could be near bottom or suspended, depending on catfish location in the water column.

Extra Tip: "The bait does matter some days, so run an assortment if you're into cats, and let them tell you what they want to eat. Some days all they want to eat is suckers," Haataja said.
Simple Jigging Is Best When Ice Fishing Catfish
A 1/8-ounce to 3/16-ounce jig head tipped with two pieces of cut bait is a deadly presentation for winter catfish. A typical lift-fall jigging sequence attracts cats, but holding the bait still triggers a bite. Long pauses give a catfish ample time to inspect the cut bait.
"Cats aren't a walleye," Haataja said. "They're not as willing to chase a bait. They want to smell it, taste it, and then eat it."
Using a sonar's recommended for jigging. It displays when a fish is interested in the jig. When in doubt, pause, and let the cut-bait's scent tease catfish into biting.
Catfish can bite hard or barely at all. A sensitive rod is a must to detect light bites. To increase feel, Haataja uses 30-pound braid on mild winter days or when jigging in a heated shelter. Tied to the braid is a 10 foot lead of 10- to 12-pound fluorocarbon. Jigging outside in extreme cold can be difficult with braid. In this scenario Haataja runs to 10- to 15-pound fluorocarbon.

Extra Tip: Channel catfish can also be caught using jigging spoons and other ice-jigging baits. Tipping with bait is key as scent plays a huge role in attracting catfish and stimulating bites.
Ice fishing for channel catfish is growing in popularity. Follow Haataja's advice and you'll be on your way to wrestling these whiskered predators this winter.