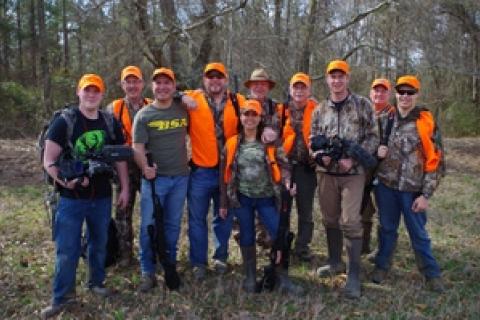 On Feb. 20, numerous members of the media and outdoor TV stars participated in the inaugural Squirrel Master Classic being put on by GAMO and covered in its entirety by Buckmasters TV Production. It was held at the Southern Sportsman's Lodge near Tyler, Alabama and will air later this year on Addicted to the Outdoors.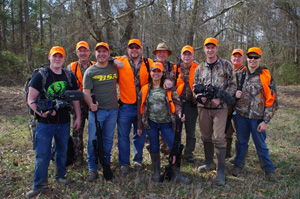 The "Addicted to the Outdoors" team, including cameramen and dog handler.
Tony Dolle picked up a few of us Outdoor Writers up at the airport the day before. We had arrived early so we checked in, grabbed the rifles supplied by GAMO and headed to the gun range to sight them in.


I'm not an expert air gun hunter but the guns that I've tested so far have had horrible triggers. But I was pleasantly surprised by the trigger pull of the Whisper Fusion Pro, which compared to the others I've tested was lighter in weight and I also liked how they've reduced the sound with their new technology.


We then hit the dinner and after that begun the opening ceremonies. Teams were assigned and we were good to go. Each team had a press member, two outdoor TV stars, a GAMO executive, a 4-H kid, guide and a dog handler. I was assigned to the "Addicted to the Outdoors" team with Jon and Gina Brunson. There was expected to be stiff competition as the complete Gamo prostaff members were going to be participating in this event.


We woke up to a great southern breakfast, jumped in the trucks and hit the woods. Right at daybreak we were in Red Alert Squirrel Mode. Whoa, this was going to be a lot more intense than I figured. The dog would jump on a tree and mark a squirrel for us. I'm glad I had a pair of Bass Pro Shops' new 10x42 Oculus binoculars. The squirrels would get up in top of a tree and hug a limb so I spent half my time glassing.


We were limited to a three-hour morning hunt, then we'd go back to the lodge for lunch and then hit it that afternoon for another three-hour hunt. At noon we had a mid-day weigh in. On the scoreboard they marked how many squirrels we had and the weights. If there was a draw due to the same number of squirrels, the tie would be decided by weight. At the end of the day we had another weigh in and points were totaled.


That night there was an awards ceremony and Buckmasters team members Jackie Bushman, Jacob Landry, Lou Riley, Adam Heggenstalker, Jim Shepard and Callie Littlefield won 1st place and were awarded Wooden Squirrel trophies.


It had been a fun event but it was now time to jump to the next rodeo. The next morning Tony ran us to the airport. After an unexpected layover in Atlanta I finally flew into Wichita where I grabbed a car I'd left at the airport and drove down to North Texas, arrived about midnight and hit the crow hunting mode the next morning which we will talk about next week.