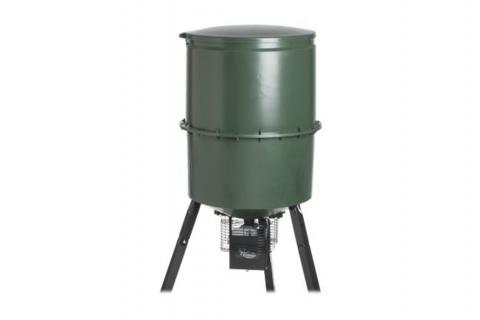 Attract and Grow Trophy Big Game
In today's sportsman's marketplace of ideas and innovative technology, the concept of growing and creating trophy game and lunker fish is no longer a fantasy. If you buy and set up a game feeder — they will come!
Game feeders were originally used for commercial reasons to fatten up livestock and poultry. That concept eventually trickled down to wildlife management professionals, and then eventually to wildlife enthusiasts and hunters for everything from keeping pond fish fed to attracting and providing nutrients to big-game animals.
Feeder Construction
Typically, the design and construction of game feeders is fairly standard. There's a central hopper or barrel that holds the feed, which opens and
releases into a funnel and then goes into a feeding bin, spinning plate or casting element that spreads the feed. The funnel system ensures uniform, clog-free operation. A trough-style feeder drops feed straight onto the ground. Hoppers are constructed of durable materials like rust-resistant powder-coated steel, polyethylene or durable plastic to withstand harsh elements. Some plastic models even have a UV-resistant coating to protect them from the sun's harmful rays. It is highly recommended that your feeder have a waterproof and lockable lid, so that animals and the elements don't tamper with it. Feeder hoppers typically hold anywhere from 50 to 300 lbs. of feed. Some feeders have adjustable legs with footpads that keep the unit off the ground and out of the reach of most curious critters and rodents.
Powering the Feeder: Batteries and Solar Chargers
Automatic feeders include battery-powered motors. Some even integrate solar-powered panels for efficiency and low maintenance. All automatic and timed feeders operate on either 6- or 12-volt batteries. However, by adding a solar charger to your unit, you can prolong the life of your unit's battery. Obviously, it's important to mount the solar panel where it will receive the most exposure to the sun. Be sure to tie off any excess wire so it doesn't hang on the ground for varmints to chew on.
Digital vs. Analog
The manner in which food is dispensed from a game feeder will generally have a direct correlation on its cost. If you want one with a photocell timer that can be automatically set up to go off around sunrise and sunset times, then you'll probably pay a little more. Some timers can be set for specific feeding times. Digital timers provide users the ability to set automatic feeding times and feed-dispersal rates. They have LCDs that can display certain features, such as feeding times, battery strength and more. These usually run off of 12-volt batteries. If you want to save a little money on your feeder setup, get an analog-timed feeder. It is still a dependable way to feed animals and can be set up to broadcast at several times a day and at different rates of speed. Most of the analog feeders run on 6-volt batteries and a peg control system, where you push a peg into the time on a clock face when you want the feeder to go off. Like big game feeders, fish feeders are available in both digital- and analog-timed programmable versions.
Hanging vs. Freestanding
Feeders can either be hung from trees or they can be freestanding from either a tripod or four-leg base. Some feeders even sport stairs to make the task of loading the feed into your hopper easier. Higher quality feeders have a ladder and a standing platform. A standing platform frees up your hands so you can pour food into the hopper.
Stump Feeders
Stump feeders use gravity to feed hungry game. They also tend to be more affordable than hanging or trough-style feeders. Stump feeders look so natural, they'll blend in to nearly any environment.
Fish Feeders
If you have a trout or bass pond and want to grow your fish to be big and fat, invest in a fish feeder. Ideally, a fish feeder is positioned on the bank or mounted on a pier and disperses food directly into the water. A fish feeder also takes the hassle out of daily hand feeding and it keeps your fish on a regular diet. All of this in turn keeps your fish healthier and alive longer. These feeders usually have directional casting via a spinning plate.

There are even higher-end fish feeders that can cast food farther by an air-blown device that won't damage food pellets. Keeping food pellets intact is essential because it's easier for the fish to find them and saves on food costs in the long run.

When buying a fish feeder, you should research what mounting options are available. Can it mount to a pier or dock? Does it come with hardware to mount on a bank? Most importantly you'll want a sturdy setup that requires as little maintenance as possible.

Game feeders are a great way to attract animals and keep them healthy. Cabela's offers a wide selection of game feeders and fish feeders at price that will fit your budget.