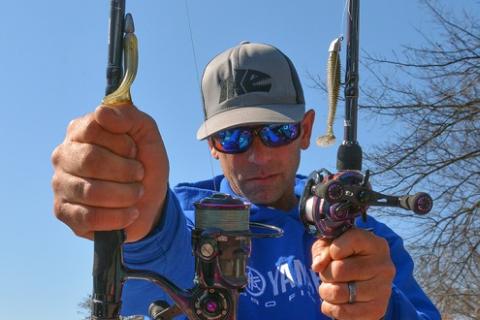 by Dave Landahl
Mike Iaconelli is arguably the most well-known professional bass angler outside of the fishing tournament scene. Yeah, yeah, Kevin VanDam is the kingpin of the sport, but Iaconelli is known by those who aren't zealots of the Bassmaster Elites.
Iaconelli's fame started back when ESPN/Disney owned the Bass Anglers Sportsman Society (B.A.S.S.). When he won the Bassmaster Classic in 2003 and famously screamed "Never Give Up", it was seen and heard by millions all over ESPN, including the highly popular and influential SportsCenter (at least, back then, it was popular and influential).

Anyways, Mike has been going forward ever since. Some love him, some dislike him, but all must admit this guy works at his craft, and yet he has the time for a lot of charitable work, and running The Ike Foundation, working to get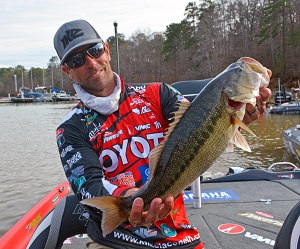 youngsters into the sport, especially those in areas where access to fishing isn't easy.
So, what keeps this guy going? Where does his love of the game come from? Read on and find out.
Winning. It may not be everything, but it is one heck of a motivator for a competitive professional like Mike.
"There isn't one specific thing that motivates me to keep competing," said Iaconelli. "But one of the big motivators for me is my desire to win again. I love the competition, but I really want to hold some hardware. It's been a few years now since my win at the Delaware River. I want to hold another blue trophy.
"I want to get that feeling again and win the Angler of the Year (AOY) title. I want another Bassmaster Classic win or more."
Since an angler can't win every time out or even every year, questions can start popping up in their minds. Why am I doing this? Is the sacrifice worth it? Iaconelli is no different in that regard than other pros, but the fan support helps to drive him on.
"The most recent Bassmaster Classic was not good for me," said Iaconelli. "I had a bad day on Saturday and didn't make the cut. It was bad for me. Asked myself, why do I keep doing this?
"Then I show up at the Classic Expo show. Thousands and thousands of people are there to see us. They come by the booths and tell you how much they support you. They share stories of their big catches. Stories of how they watched me on TV when they were younger and I'm the reason they want to participate in the sport.
"It's pretty amazing. That fan interaction and support is pretty high on my list of motivating factors.
"Of course, what else am I going to do for a living?"