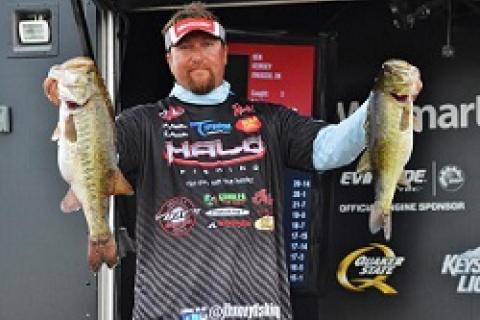 Mercury pro JT Kenney is known as an expert when fishing for bass in the shallows. He used that knowledge to take home a win and a check for $125,000 at a recent FLW Tour event on Lake Toho in Florida.


Inquiring minds want to know what Kenney's shallow water secrets are. Probably nothing more than a flipping stick, heavy braid and a giant punch weight, right? Well, um, no.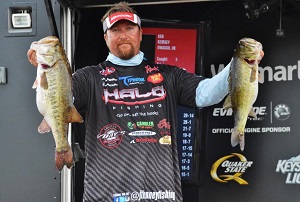 "I'm known as a guy who just pitches and flips in the shallows," said Kenney. "I do love using my Halo rods for that, but there is a lot more to my shallow water presentations than just flipping.


"Years ago that may have been how I fished, just one rod on the deck, but now I prefer a well-rounded approach."


Kenney's approach for finding shallow bass varies from day-to-day and is also dependent on many factors like weather, body of water, etc. However, his three go-to offerings work for him almost everywhere a bass swims.


Lipless Crankbaits are Terrific Lures
"One of the first things I'll through in the shallows is a Yo-Zuri Rattling Vibe," said Kenney. "Lipless crankbaits are terrific lures for the shallows because they are so versatile. You can burn it fast or pause it and let it go down a few feet.


"If I'm on a search-and-destroy mission in the shallow grass I will fish my Vibe with 30-pound Spiderwire braid. In clearer lakes without so much grass, I will switch to 15-pound Berkley fluorocarbon."


Soft Stickbaits That Work Everywhere
"If there is a bait that will work from New York to Florida and all over the country, it is the Gambler Fat Ace," said Kenney. "It's a soft plastic stickbait. What makes it unique is that it is a little bit bigger than other similar baits. So, it falls slightly faster than the others.


"You still get that perfect wiggle fishing it on slack line, but because to sinks faster, I can cover more water with it. I usually fish them on fluorocarbon, but let the conditions dictate what you use."


Fish That Spinnerbait When it Rains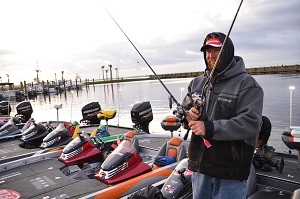 "When it is overcast, windy and especially when it's raining, I reach for my Nichols Pulsator spinnerbaitspinnerbait," said Kenney. "I don't know what it is, but when the rain is hitting the water, fish that spinnerbait along the shallow cover and the bass tear it up.


"Seriously, I don't care where you are fishing, the spinnerbait and rain deal works. I have so much confidence in it. Good old JT has made a lot of money fishing them."