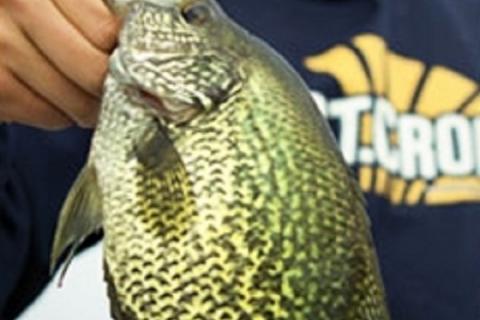 Park Falls, WI (October 17, 2013) - Some tournament goers may have never given Tommy Skarlis a second glance during takeoff on day one of the 2013 Crappie Master National Championship - held September 27 and 28, on Grenada Lake out of Granada, Missouri.

Perhaps they should have, however, as the Waterloo, Iowa, resident and his partner, Kyle Steifeldt, also from Iowa, took first place in the prestigious derby.
Why was Skarlis not a perceived threat? He's one of walleye tournament fishing's top guns and not a household name amongst the competitive crappie crowd.
Well, until now, anyways...
To boot, Skarlis and Steifeldt won the event while using a technique more known for taking trophy walleyes than crappies: trolling crankbaits behind inline planer boards. But without the right gear, particularly rods, Skarlis came clean that the duo would never have been in the running.
"There's a reason crappies have the nickname 'papermouths'," says Skarlis. "That's because crappies can come unbuttoned so easily, even after a perfect hookset. But the St. Croix Eyecon rod was perfect for the job; it has just the right amount of backbone to pull a full-size inline planer board, yet a mid-section-to-tip action that allows an angler to fight a fish without fear of losing it. And we never lost a fish during the tournament. And I mean not one..."
Skarlis toted an array of St. Croix Eyecons to troll cranks' during the two-day tournament, and he predicted the 10-1/2-foot and 12-foot models, with lures trailing behind the boat, would be the ticket. But Skarlis soon realized the only crappies they could get to bite were far outside the boat's path, and thus the 8-foot medium-action (model ECT80MM2) ended up being ideal rod for the planer-board-pulling job.
"And I am honored to have had input, along with many other pros, when it came to designing this rod. The entire line of St. Croix Eyecon rods really are great multi-species rods, too, as this win proves," Skarlis adds.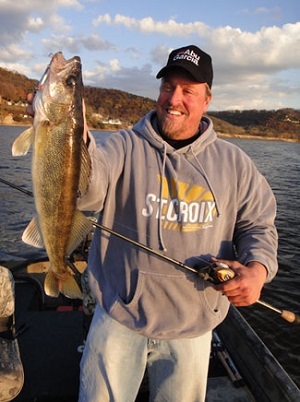 So what were the details of Skarlis and Steifeldt's trolling regimen for their 27.83 pounds of crappies over two tournament days with a seven-fish-per-day limit, including the 2.67 big fish for the event? Size-6 Flicker Shads and size-4 and -5 Salmo Hornets pulled 50 to 100-feet behind the planer boards at precisely 1 MPH.
He clipped the lures to a snap tied on 10-pound test monofilament. All weighable fish were suspended 8 to 12-feet down over 14-foot of water, and spied port and starboard with Humminbird Side Imaging sonar.
St. Croix's Eyecon rods might just be the most versatile trolling rods on the market. If you're not sure about that, just ask Tommy Skarlis. From trolling for walleye, to panfish, and even Great Lakes salmon and trout, these rods can handle it all.

About St. Croix Rod
St. Croix Rod is a family-owned manufacturer of high-performance graphite and fiberglass fishing rods headquartered in Park Falls, Wisconsin. The company offers a complete line of premium, American-made fly, spinning and casting rods under their Legend Elite®, Legend® Xtreme, Legend Tournament®, Avid Series®, Premier®, Wild River®, Tidemaster®, Imperial® and other trademarks through a global distribution network of full-service fishing tackle dealers.
The company's mid-priced Triumph®, Mojo Bass/Inshore/Surf, Eyecon® and Rio Santo series rods are designed and engineered in Park Falls, Wisconsin and built in a new, state-of-the-art manufacturing facility in Fresnillo, Mexico. Founded in 1948 to manufacture jointed bamboo fishing poles for a Minneapolis hardware store chain, St. Croix has grown to become the largest manufacturer of fishing rods in North America.