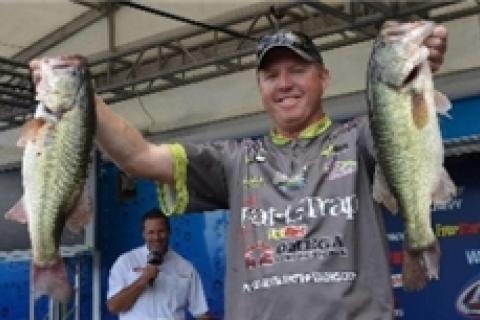 There must be something about the last name 'Martin' that equates to tournament bass fishing prowess. Roland Martin, Tommy Martin, Scott Martin and at the FLW Tour event on Lake Chickamauga out of Dayton, Tennessee, Casey Martin from New Hope, Alabama. Martin was leading the event heading into Day 3 and added to his lead with a 23 pound 3 ounce limit bringing his 3-day total to 73 pounds 2 ounces. Martin will take his lead into the final day with his closest competitor,Michael Neal of Dayton, Tennessee, 10 pounds 6 ounces behind him with 62 pounds 12 ounces.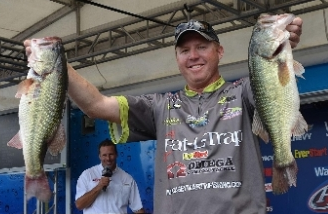 Rounding out the Top 5 are Wesley Strader of Spring City, Tennessee with 58 pounds 4 ounces, Jim Moynagh from Carver, Minnesota weighing 55 pounds 15 ounces and Larry Nixon of Bee Branch, Arkansas with 55 pounds 5 ounces.
"I feel pretty good about tomorrow," said Martin. "But you never know on this lake. Over here in the spring, guys were weighing 35-pound limits. I'm fishing loose. I found out yesterday I qualified for the Forrest Wood Cup. I have my spot to myself."
Martin switched to drop shot rigs today. He said his drop-shot rig consisted of a green pumpkin-colored Roboworm on 10-pound-test Seaguar Invizx line. He said that four of his fish that he weighed in came via the drop-shot rig, including his 7-pound kicker bass. He also weighed in one bass on a Picasso School-E-Rig, which he threw rigged with Gene Larew Sweet Swimmers and Strike King  swimbaits.
 
 "I don't have a whole lot else to go with," Martin continued. "Tomorrow, I might stay there all day and end up going down with them. I've got one other spot that I can hit intermittently, but I'm going to stick with the school that got me here.
Neal confident for final round.
"I think I can catch them again tomorrow," said Neal. "The place I caught them yesterday and today I didn't fish on the first day. I messed up with that. I caught my fish early. I left the best spot today with about 20 pounds. I had 22 boats following me today."
Strader happy to be from east Tennessee.
"The good lord has blessed me beyond my wildest dreams" said Strader. "He blessed me even more by living in Ray County, Tennessee."
Nixon down.
"I'm pretty disappointed with the day I had," said Nixon. "I only have two schools of the right kind of fish. When I got to my spot this morning, there was no current. Dead slick and flat calm. I did everything I could to catch around 13 pounds and be able to play again on Sunday."
Lake Chickamauga (June 27-30, 2013) Leaderboard

Story by: Dave Landahl, OutdoorsFIRST Media