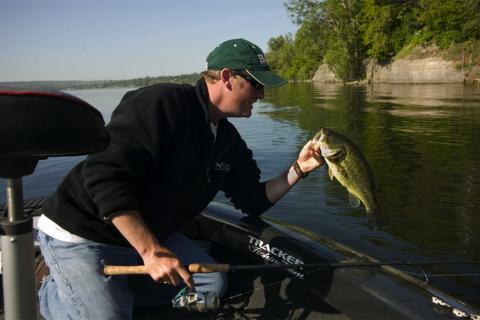 Newcomers to the freshwater angling world usually find spinning gear easier to use than baitcasters. Learning to operate and cast with a spinning rod and reel is relatively painless and free from the frustration caused by backlashes. Subsequently, spinning reels are what most anglers use as they begin to learn how to fish.
From that early experience, many anglers stick with spinning tackle and remain happy fishermen for years. Yet others migrate to the baitcasting world. Many are drawn to baitcasters by the professional bass anglers, some of whom carry as many as 20 or 30 baitcasting rod and reels on the boat with them as they fish.
The question I hear many anglers ask is: "Which type of reel is better — spinning or baitcasting?" That answer depends on several things, including the fish you pursue, the bait you use, and just plain angler preference.
Tip: The choice between spinning and baitcast fishing gear depends on the situation for the freshwater angler
Spinning vs Baitcast Fishing Gear
Many of today's anglers grew up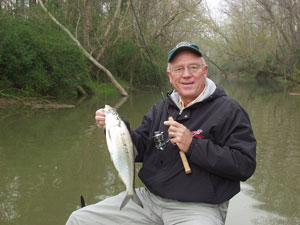 watching the B.A.S.S. pros on television or reading about them in fishing magazines. Back then, few pros were ever seen with a spinning rod in their hands. In fact, in years past, no self-respecting bass fisherman would be caught dead with a spinning rod in his boat! Nowadays, you can flip to your favorite Saturday morning fishing show and find that this is not the case anymore, as several bass anglers can be found frequently downsizing baits and using spinning gear.
Muskie fishermen will almost exclusively use the larger variety of baitcaster with braided fishing line to handle these brutes. Northern pike demand similar equipment. And, big catfish being hauled up from the bottom require the heavier rods that are found with baitcasters.
Line size probably plays the most important role in tackle selection. Whether fishermen realize it or not, pros are using baitcast tackle for a very specific reason. Baitcast reels can handle heavier line and actually allow for longer casts than spinning gear in the same size range. Bass anglers regularly use line in the 14- to 17-pound-test range. Muskie and catfish anglers use even heavier line.  A small spinning reel has a smaller, more narrow spool, which has a hard time with large diameter lines. Small baitcast reels can handle these lines and provide greater casting distance.
Baitcast rods like the Bass Pro Shops Johnny Morris CarbonLite 2.0 Casting rod usually have more backbone than spinning rods as well. The backbone of a rod is the portion of the blank closest to the handle that gives the least when bent. When properly constructed, a casting rod's backbone will lie directly on top of the blank as the angler holds the rod. This backbone allows lures to be "ripped" through vegetation more easily, while also ensuring a more powerful hook-set than a spinning rod of the same class.
The arrival of braided line, with its thin diameter and much heavier breaking strength, brought some issues to light in freshwater fishing circles. This super-thin line causes problems on baitcast reels simply because it is so small in diameter. Setting the hook on a fish with braided line on a baitcasting reel tends to bury the line deep into the spool, a situation that will cause a major backlash on the very next cast. Small line diameter is also why monofilament fishing lines less than about 10-pound test are seldom found on baitcast reels.
However, braided line, with its high strength to diameter ratio now allows spinning tackle to be used in heavier applications. Fifty-pound test braid has the diameter of 12-pound monofilament, and as such, is more easily cast with a spinning rod and reel. Several manufacturers make reels that pick line up onto the spool in such a way that it can't bury itself into the spool on a hook set. That, coupled with the virtual no-stretch quality of braided line, has made spinning tackle more and more attractive to freshwater anglers.
Because of braided line improvements, I now see spinning gear being used for muskie and northern pike. I also see spinning gear being used for catfish, as well.
Is Your Situation Better for Spinning or Baitcast Gear?
Anglers looking to make a choice between spinning tackle and baitcasting tackle need to look at their specific fishing techniques before making that choice. In reality, the choice is not between which one an angler uses. It has become more of a choice of which of the two an angler will use in a given situation. In general, the lighter the line required in a given fishing situation, the more attractive spinning tackle becomes.
So, the answer to this oft asked question is: "It depends." Next time you're considering which outfit is the better choice, make sure you determine where and how you plan to fish. That is the true consideration when choosing between spinning and baitcasting tackle.