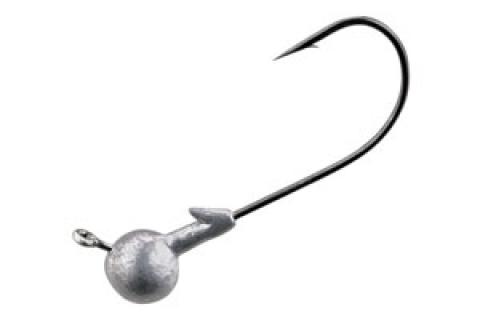 When shopping for jig heads I like to hunt for the best value. Part of this is likely because I grew up shore-fishing a river and had rocky snags claim countless jigs I had saved my hard-earned allowance money to buy. One thing I won't do, though, is cut corners when it comes to hook quality. Given all this, I wanted to share some thoughts on the Bass Pro Shops Round Head Pro Jigheads.


For starters, you get 10 jigs per pack for $6.79. That's a great buy considering they have a Gamakatsu 60-degree turned-eye 3/0 hook that's strong and sticky sharp. I originally purchased the 3/16- and 1/4-ounce jig heads for two applications. One was for tying jig flies for smallmouth bass and walleye, and the jig heads preformed well for this. The second was for swimming and hopping a 5-inch fluke or a grub, and the heads have proved well suited for these tactics as well. The collar's barb holds plastics well.


Scanning reviews on basspro.com reveals this jig also works for other tactics. Many buyers are using the jig head for A-rigging. One reviewer found using these jig heads with Tender Tubes extended the life of the plastic bait. This is just the tip of the iceberg when it comes to rigging options.


The jig heads come unpainted, which likely explains the affordable price. You can fish them "as-is" or paint them if you prefer. While I've yet to try it, a couple reviewers noted the jigs take Pro-Tec Powder Paint well. The nice thing about this option is you can customize color to suit your needs and home waters.


If you're in the market for some jig heads, give the Round Head Pro Jigheads a try. You get 10 jigs with quality Gamakatsu hooks for $6.79, and with a buyer's rating of 4/5 stars the odds are good you'll like 'em.