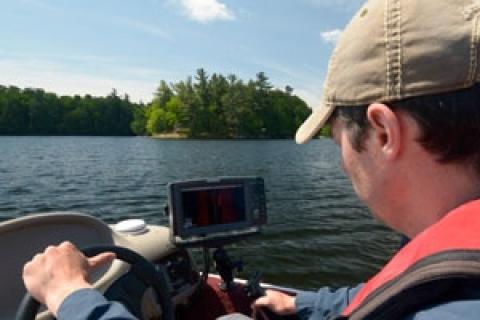 Several years ago I upgraded the marine electronics in my boat, outfitting it with Humminbird Fishfinder/GPS Chartplotter Combos. This was my introduction to Side Imaging and I can say without a doubt that this technology has helped me find new spots and catch more fish.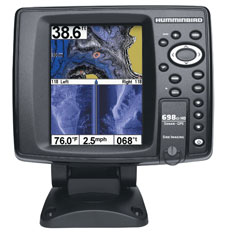 I absolutely love exploring a lake I've never been on before. Patterning fish in these circumstances is always a thrill. Side imaging shortens the learning curve and reduces scouting time. Here's an example.
A few weeks back I headed up to a small, shallow lake I had never fished. Not only was there no digital map of contours, I couldn't find a paper version. I launched the boat and started cruising 200 feet from shore. It didn't take long for spots to show up on the 8-inch display. I soon put together a string of waypoints that marked isolated rock piles and weed clumps on a flat. After completing my reconnoissance, I fished the areas I had marked and caught a variety of panfish and walleye. It was a fun and productive day on the water.
This is one of countless examples of where Side Imaging made it easy to sift through large expanses of unknown water and pinpoint fish-holding areas. I also regularly use it to find fingers extending from weed-lines as well as locate clumps of growth in deeper water beyond a weed bed. These features stack-up largemouth. They're also dynamite zones for crappie.
Then there are those times when bites are few and far between, and Side Imaging saves the day. I no longer flog water. Instead, I start the outboard, switch to the Side Imaging view, and scan for better areas. This approach still covers water, just with sonar instead of a lure.
Side Imaging has also helped me gain a deeper understanding of spots that I already knew were good. Scanning their layout revealed more about their make-up than I previously appreciated. It showed me stuff I didn't know, which in turn let me find other areas containing these details. This technology is an amazing learning tool.
If you've yet to make the jump to a fishfinder containing Side Imaging or the other scanning technology available from Lowrance or Garmin, you owe it to yourself to consider upgrading. The extra details grained from this sonar innovation make for more productive and fun days on the water.