Getting wet is part of fishing. Whether it's the splashback after crashing through a wave or a steady spring rain, you're gonna get wet. Quality rain gear is your best defense. Luckily, there is a waterproof, windproof, breathable wet-weather suit designed for every budget. This buying guide will look at a variety of rainwear options to help you make the best choice for your budget.  
Basic Materials for Rain & Wind Protection on the Water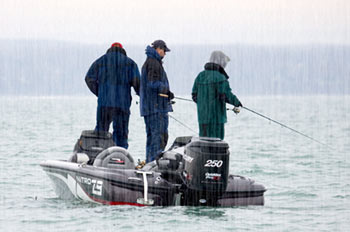 Entry-level rain suits use either polyvinyl chloride (PVC) or polyurethane as a waterproofing agent. Both are applied as a laminate to a fabric shell, often made of nylon or polyester. They coat and cover the fabric's pores making it impermeable. These materials provide water and wind protection at an affordable price.   
Rainwear's also available that's made entirely of PVC. PVC suits are waterproof, but poor breathability makes them uncomfortable to wear for long periods, especially when active or in hot weather. Some rain gear is constructed of polypropylene layers that sandwich a breathable membrane for better air flow in entry-level suits.
High-End Breathable Rain Gear
High-end fabrics and membranes are the next option in rainwear materials. Designed for heat and moisture control, they are both waterproof and breathable. They outperform PVC and polyurethane, but cost more.
The GORE-TEX waterproof membrane is one example and has a long and proven track record in the outdoor industry. In rain gear, the GORE-TEX membrane is laminated to a durable outer fabric and an inner liner, which is then sealed with a waterproof solution. Magnified, the membrane looks like dozens of spider webs layered on top of each other, says Brad Yeomans, a GORE associate. These openings are 20,000 times smaller than a water droplet, but 700 times larger than a water vapour molecule. The result's a waterproof membrane that allows perspiration to escape from the inside of a garment.
How to Choose Angling Rain Gear
With an understanding of the materials used, the next decision becomes what type of rain gear to buy. Angling rain gear can be categorized in three options: high-end fishing rain suits, cross-functional waterproof outerwear and entry-level rainwear. 
High-End Fishing Rain Suits
Foul-weather, fishing rain suits provide the best protection and functionality for hard-core fishing in extreme weather. They're waterproof, windproof and breathable. Bass Pro Shops' 200 MPH Jacket and rain pants or  Bass Pro Shops 100MPH Gore-Tex Rain Jacket are examples of such products.
This rain gear is designed to accommodate casting and other fishing movements, while providing comfort after fishing for hours in steady rain. The other bonus of foul-weather suits is they're built to block wind, which reduces heat loss from wind-chill in cool temperatures.
Cross-Functional Outerwear
Cross-functional rain gear is not designed for fishing exclusively. It's made of high-end breathable fabrics that provide rain and wind protection. These garments are a good choice if fishing is one of many outdoor passions you have, but you're only interested in owning one garment. Jackets and pants are available in a range of prices and often branded as waterproof outerwear. RedHead's Flex Jacket is one example of this style of rain suit. Columbia and Huk also offer options in this category. As most companies cater to outdoor athletics, cuts are closer fitting than foul-weather suits
Tip: Shop Fishing Rain Gear here
Tip: Shop Casual Rain Gear here
Tip: Shop Hunting Rain Gear here
Entry-Level Fishing Rain Suits
The final choice for fishing rainwear includes suits constructed with PVC, polyurethane or polypropylene. These garments provide waterproof and windproof features at an affordable price. The downside is they don't offer the same breathability as high-end products. Yet, as with any purchase, determining usage is critical. For anglers uninterested in fishing in the rain or cold for long periods of time, these suits will likely suffice. Quality varies in this category, so ensure you purchase a well-constructed suit. Guidewear Rain Stopper jackets and pants are examples of rain gear in this category.
More Rain Gear Tips to Consider
Seam Construction  — Seams are weak points in rain gear and should be inspected before you buy. In inexpensive, non-woven rain gear products, seams are often welded together and can come apart under stress. Stitched seams result in stronger garments, but every stitch creates a hole where water can enter. To seal holes, seams are taped with a waterproof adhesive to prevent leakage. If you're serious about quality, invest in garments with all the seams reinforced and covered.
Zipper Tips  — Zippers are another weak point on jackets and pants. Look for rain gear with single or double storm flaps covering the zippers to block out rain and wind. Two-way zippers are handy on the front of jackets and bib pants.  
Ventilation  — Regardless of the garment you buy, it's best to pick one with venting options built into the design to encourage airflow. Front and back yoke ventilation are common on light-weight models. Underarm zippers let you control the size of the opening and are particularly beneficial in hot weather. 
Elbows, Knees and Seat  — Rain gear with articulated elbows and knees provides more freedom of movement. Also, look for elbows, knees and the pant seat to be reinforced with extra material to extend the product's lifespan in these high-wear areas. 
Pockets  — When it comes to outerwear, in most cases plenty of pockets is a good thing. Athletic, waterproof outerwear designs tend to feature pockets on the inside of clothing, rather than on the outer shell like fishing-specific raingear. If you tend to carry a lot of items in your jackets and pants, opt for outside pockets whenever possible for a more comfortable and less-constrictive fit. 
Fishing-Specific Features in Jackets  — Long cut parkas protect and insulate your lower back. For wading anglers, parkas aren't practical, so shorter cut jackets are the norm. Some foul-weather jackets will accommodate zip-in insulation liners to boost their insulation. Fleece lined hand warmer pockets and fleece collars also improve cold-weather comfort. Adjustable draw cords at the jacket's waist and the hood are crucial to a proper fit. They also help to trap in heat in cool conditions. High-end fishing jackets will feature neoprene or adjustable cuffs. Cuffs prevent water from seeping up the arm and soaking your insulating layers. Visor-style hoods are good for protecting glasses from rain. Be sure to look for an oversized hood to ensure a comfortable fit if you frequently wear a ball cap when fishing.    
Bib and Pant Features  — Bibs provide more protection, pockets and insulation than waist-high pants. Invest in X- or H-suspender bib straps as straight straps can sometimes fall off your shoulders. Most pant legs have adjustable Velcro cuffs to tighten the fit for rain and wind protection — a big-time bonus on chilly days. Also note that long pant zippers give you more clearance, allowing you to quickly put on or take off pants without removing your footwear. 
Fitting Tips  — A properly fitting garment is as important to your comfort as the waterproof and windproof properties of its materials. When buying a foul-weather suit, be sure to wear a few insulating layers before dawning the rain gear to check that there's plenty of room for dressing warm in cold weather. When it comes to fit, look for something that's comfortable. Too snug and it will compress insulation layers; too loose and it won't breathe well. Also, sit while wearing the jacket and pants. You're lower back should be well protected as it's a weak point for heat loss. If it's not, get a longer cut jacket or a pair of bib pants. 
You need to weigh a variety of factors when choosing rain gear. Budget is a big one. Luckily, a variety of rain gear options exist at various price points. When shopping, scrutinize each garment's construction and fit. The product must protect you from the elements, but it should also be comfortable. The more confortable you are, the longer you can fish in the wind and rain.