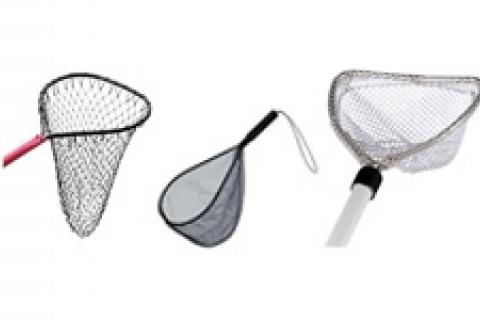 Nets are a fishing necessity. Whether you're using one to land a trophy or working a seine to corral bait, nets are important fishing tools. This buyer's guide will overview the "ins and outs" of fishing nets to help you pick the best model for your needs.
Types of Fishng Nets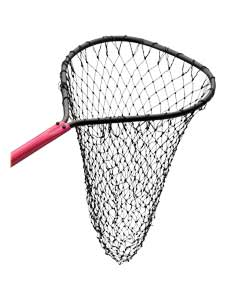 Coated nylong and rubber nets are smooth and fish-friendly.
There are several categories of fishing nets. Landing nets help you capture a hooked fish. Baitwell nets are used for catching bait in a livewell or holding tank. Casting nets and seines are designed for trapping your own bait. Let's look at each of these in more detail.


Landing Nets  
A wide variety of landing nets are available, but not all nets are the same. Small and compact models exist for fly fishers, while super-sized ones are used by big-game anglers, such as muskie and saltwater anglers. Here are some important factors to keep in mind when choosing a landing net:


Netting Material: Rubber, coated nylon and non-coated nylon are the most common netting materials available. Netting can also be divided into knotted and knotless categories.  


Coated nylon and rubber are fairly smooth and fish-friendly. Non-coated nylon, especially if knotted, is abrasive and can damage fish, scraping scales and removing protective slime. If you're planning to harvest fish this may not be an issue. Otherwise rubber or treated, knotless nets are better for selective harvest and catch and release practices.  


Another virtue of investing in a mesh-treated net is that the coating delivers better performance. The rubberized treatment gives the mesh a semi-rigidity that dramatically reduces tangles when compared to non-treated mesh. Another bonus is that the coating deters hooks from penetrating into the mesh when a fish is landed or thrashes in the pen. Yes, coated mesh nets cost more, but are worth it for the time you'll save not having to deal with tangles so you can focus on fishing. High-end nets may also feature a coating around the hoop to keep the netting in place and make the unit more durable.


Finally, in most cases, opting for a net with black mesh and a black hoop is best. This low-visibility color will not spook fish as you prepare to land them.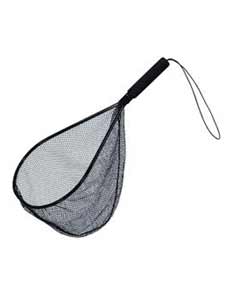 For small, delicate fish, such as trout, opt for a small, micro-mesh net.
Mesh Size: The actual size of the mesh holes is also important. For delicate fish, like small stream trout, opt for a small, micro-mesh. For bass and walleye, a heavier mesh is needed with holes averaging an inch in size. Of course, for big fish a 1.5- to 2-inch mesh is recommended. The larger the mesh size holes, the less water resistance and the easier it is to move the net through the water.  


Hoop Size and Shape: The size of net hoop you choose is influenced by the length of fish you regularly catch. Unfortunately, if you're a multi-species angler, one net won't do it all. For example, I own three nets: a model measuring 32-by-41 inches for when I'm muskie fishing or trophy channel catfish, a telescopic net with 20-by-23 inches in dimensions for bass, walleye and crappie, and a small 11-by-15 wooden trout net for wading streams.  


Teardrop shaped nets are the most common and versatile style. Some nets will feature a raised front. These scooper nets are used by anglers needing to net a fish from a significant distance and used by anglers trolling on big water or steep shorelines.  


Handle Length and Material: Handle length is another important variable. Short handles make for compact, easy-to-maneuver nets. The downside is that you need to get the fish in close to be able to net it. At the other extreme, long handles perform well on big water, when waves and deep hull boats demand you reach several feet to net a fish.  


One of the more recent areas of net innovation is in the handle category. Telescoping, folding and sliding handles are becoming increasing popular among anglers. These models retract for better storage during transport, but will quickly expand and be ready for action when a fish nears the boat. Telescoping models can be locked in place at various lengths, while sliding models only lock when fully extended. Some models, such as Frabill's Hiber-Net boast a compact and durable design where the entire net and net frame collapse and store in the handle, then slide and snap into position when required. For those tight on space, this is a great option.


Handle material is another important feature in a net. Most are made from aluminum, a fiberglass composite, or wood. Aluminum and fiberglass will be light and strong. Well-crafted wood nets are not only lightweight and strong, but also have a natural, pleasing aesthetic. Canoe and kayak anglers may want to consider a lightweight net that can be converted to a floating model by adding foam to the handle or on the lanyard.  


Regardless of the material itself, buy a sturdy handle for a long lifespan. If after big fish, look for net handles with reinforced construction for strength and durability. It's best to pay a bit more money for a quality net with added features (like treated mesh and a telescopic handle) for better on-the-water functionality and to save money in the long run.  


Fishing Baitwell & Dip Nets  
Baitwell nets are designed for capturing bait from a bucket or a holding tank. On a cold outing, using a net will keep your hands dry and warm. These nets don't feature the same quality mesh as landing nets do, and most come in an untreated micro-mesh.  


Teardrop size nets are common and work best in bait buckets with curved sides. While D-Hoop nets, with their flat front, make it easier to trap bait from a flat-sided tank. Also consider buying a floating net so it's always at your fingertips, and you won't loose it if you accidentally drop it overboard. It's a good idea to buy a few of these and keep them in your boat as they have a tendency to get lost or misplaced.  


Fishing Cast Nets and Seines  
These are two of the more common methods for trapping a lot of bait. Cast nets are designed to be thrown over a school of bait fish. With weights around their perimeter, the edges of these nets quickly drop. To trap bait, the throw-line is retrieved. Cast net mesh may be treated to help it keep its shape when thrown and to ensure a quick and even opening. Look for reinforced stitching, adequately secured weights, and well-constructed mesh to ensure you get a quality cast net.


A seine net is a piece of netting extended between two poles. The top of the netting has floats and the bottom is evenly lined with weights. A seine can be worked by one or several anglers. These units are ideal for wading in streams or small ponds. The net is moved against the current or towards shore before being lifted to trap bait.  


When choosing a seine, look for a model with properly secured floats and weights that won't easily break off. Quality mesh in a dark color is also recommended to avoid spooking baitfish.  


A variation on the seine described above is an umbrella drop net. These nets are secured to a steel wire frame, making a square net that can be folded up for transport or storage. A rope is tied to the centre of the frame. The net is lowered from above and then baited. Once fish arrive to feed, the net is quickly raised to trap fish. They work well from the top of bridges, docks or piers.  


All the above nets will excel at catching baitfish in the right conditions. When the trapping is done however, be sure to take the time to dry and store the net to ensure many years of use.  


Fishing Net Accessories  
There are a variety of net accessories that will keep you organized when fishing. Here are just a few:  


A magnetic net release is a great tool for wading anglers. The lanyard's ends attach to the net and your wading vest. Each end also has a magnetic clip. Unclip the magnets to net a fish, and then return the clips together for compact storage of the net and lanyard.  


Although many boats have rod holders, few have net holders. Certain rod holders can be used to hold the net handle when working a fish at boat side. For transport, you can store nets with tie-down straps or bungee cords to protect your investment and keep your boat organized.