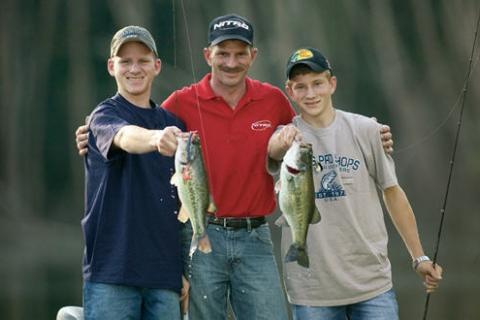 Soft baits rank high among bass anglers for the sheer versatility and effectiveness of these squishy, scented creations. Bass anglers hunt trophy largemouth with monster-sized swimbaits, finesse fussy smallmouth with tiny worms and do just about everything else in between with an array of different soft-bait styles. This buying guide will outline the various types of soft fishing baits available, as well as describe the common use of each in bass fishing.


Soft Baits Defined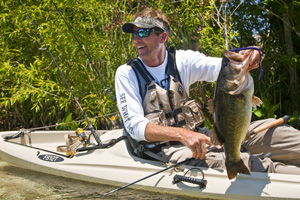 Rubber worms are the original soft bait and are notorious for producing big bass, too.
The term soft bait represents a broad category ranging from pliable plastics to biodegradable products such as Berkley Gulp! Alive! Regardless of material composition, the appeal of soft baits to bass anglers is multifaceted. The flexible bodies of these baits give them a life-like action in the water. Their squishy texture feels natural in a bass' mouth compared to a hard-plastic lure. Also, part of the manufacturing process includes adding scent, salt, flavors, colored dye, metal flakes and holographic foil. All of these factors boost the appeal of soft baits to bass. They help attract fish, trigger strikes and encourage fish to hold on longer than they do with hard baits. Here are some of the most popular categories of soft baits available for bass enthusiasts.


Soft Plastic Worms
Worms are the original soft bait. Regardless of length and shape, the main action of these invertebrate imposters is derived from the tail, which flaps and emits vibrations as the bait moves through the water. Tail designs vary. Some common types include sickle, ribbon, twister, paddle or straight.


Texas rigging is the most popular way to fish an artificial worm. Texas rigging a worm requires a worm hook and a bullet weight placed directly at the worm's nose, which gives the presentation a uniform profile. Supersized worms like Bass Pro Shops 12" Squirmin' Super Worm are time-honored lunker largemouth offerings. Smaller finesse worms from 3 to 5 inches can be used for any bass species using a drop-shot rig or shaky-head jig.


Stick Baits are Deadly in Finesse Fishing

These unassuming, tubular baits could be considered a sub-category of worms and are deadly in finesse fishing scenarios. The Gary Yamamoto Senko, Bass Pro Shops Stik-O and YUM Dinger are all excellent soft stick baits. Loaded with salt, these soft baits have a good sink-rate, which often means weights aren't required in shallow water scenarios. They can be Texas-rigged using an offset worm hook, but much of their fame comes from wacky-rigging.


Wacky-rigging is quite simple. The stickbait is hooked through the center of the body (folding the bait so the ends touch is a good method to determine the center). As the bait sinks the ends quiver with an action often too seductive for bass to resist. The Owner Wacky Hook and Eagle Claw Wacky Worm Hook are two examples of specific hooks for this rigging. Circle hooks are another good option as they help reduce gut hooking given their design.


Fishing With Grubs
A grub fished on a round jig is a deadly bottom-contact presentation for any bass. Grubs have a cylinder body outfitted with a twister-tail that delivers the bait's action. Single tails grubs like the Bass Pro Shops XPS Single Tail Grubs are quite popular while dual appendage models like the Zoom Fat Albert Twin Tail Grub are also available. A variation on dual tail grubs includes baits like Bass Pro Shops XPS Skirted Double Tail Grub; the front skirt on these baits delivers additional bulk and action. Common bass grub sizes range from 3 to 6 inches.


Most anglers fish grubs near bottom. Once baits have sunk to the floor retrieves can range from quick hops to slow-dragging along bottom. An often overlooked but effective presentation for suspended fish is counting lures down to a specific depth and then swimming them back with a steady retrieve with or without occasional pauses.


Tube Baits

Tubes are hollow-bodied soft baits rounded at one end and then open-ended with tentacles at the other. The hollow design holds liquid fishing scents extremely well. Bass sized tubes range from 3 to 6 inches; trophy hunters will use larger tubes, often around 8 inches.  


Tubes between 3 to 5 inches are most often rigged with tube jig inserted into the bait's body. Dragging a tube along bottom rigged this way is a sure-fire smallmouth bass producer. Tubes will also spiral when they fall on slack line, mimicking an injured baitfish. Largemouth anglers also Texas-rig large tubes for flipping and pitching into heavy cover. Large tubes include Bass Pro Shops Magnum Flipping Tube or Strike King Flip-n-Tube.


Jerkbaits
Jerkbaits feature a slim, minnow profile with either a forked or straight tapered tail. Samples of these baits include Bass Pro Shops Shadee Shad, Strike King 3X ZTOO, YUM Houdini Shad and Zoom Fluke.


Like hard-plastic jerkbaits, softies should be fished with a twitching, erratic retrieve to imitate an injured baitfish. The flexible, soft-plastic of these baits gives them a life-like wiggle action when retrieved.


When fished in open-water, jerkbaits are usually Texas rigged with the hook exposed. For a snagless presentation, tuck the point of the hook back into the soft plastic skin. Gamakatsu EWG Worm Hooks and Eagle Claw Topwater Jerkbait Style Hooks are commonly used for rigging soft plastic jerkbaits. Shank-weighted worm hooks have recently gained popularity. Small soft jerkbaits also shine on drop-shot fishing rigs.


Swimbaits
Swimbaits are relative newcomers on the bass fishing scene. There's plenty of variety in this category and all catch fish. These lures can be fished at any depth, and weedless models excel in sparse to moderate cover. In many respects, swimbaits work anywhere you'd fish a spinnerbait.


Some baits come pre-rigged. Examples include Bass Pro Shops Lazer Eye Shad,  Storm WildEye Swim Shad. Other swimbaits require rigging, such as Berkley PowerBait Split Belly Swimbaits and YUM Money Minnow. Most these baits are rigged Tex-posed (Texas rigged with the hook point exposed) with shank-weighted swimbait hooks: Gamakatsu Swimbait Hook, Yum Money Minnow Swimbait Hook or Owner Weighted Beast with TwistLock Hook.


Craw Soft Baits
Whether you call the real thing a crayfish, crawfish or crawdad, these soft baits, simply referred to as craws, regularly fool bass. Realistic craw imitations often feature pincers, abdomen and tail, but it's the claws on craws that deliver the tantalizing action when moved. Many plastics are also designed so the pinchers face upwards to imitate the defensive stance of a crawfish. These baits can be fished with a stand-up jig or football jig around rock or wood. For weed cover, opt for Texas-rigging. Craw imitations can also be added as a trailer to a skirted bass jig. Some craw options include Bass Pro Shops Tournament Series Incredible Craw, Berkley PowerBait Chigger Craw, NetBait Paca Craw and Strike King Rage Tail Lobster.


Soft Plastic Lizards
Texas-rigging or Carolina-rigging a soft-plastic lizard is a top choice for pro and weekend bassers alike. When moving through the water, a lizard's four limbs and tail flutter and flap — that's five areas of movement sure to peak a bass' curiosity! Lizards also have a sizable profile, making them a decent big-fish bait. Some good bets include Bass Pro Shops Squirmin' Lizard or Strike King Rage Tail Lizard.


Creatures Baits

Creature baits make up a vague but vast category of soft baits. Many creature baits fall into this group because they don't resemble one thing in particular, but rather components from other soft baits. For example, one creature bait design has a top half like a lizard body, a lower half with crayfish-styled pinchers and a double twister-tail. Bass Pro Shops Bull Hog, Gambler Ugly Otter, Gary Yamamoto Kreature, Strike King Game Hawg and Zoom Brush Hog are samples of creature baits.


Rigging these baits will depend on the style and size of creature you're using. I've fished them on bottom with football jigs, Texas-rigged them for pitching, used them as trailers on flipping jigs, and even used them on split-shot rigs. The unique design of creatures makes them a great option for fishing high pressure waters where bass might have become conditioned to more popular baits like worms and lizards.


Frogs and Toads
Using any kind of topwater lure is exhilarating, and hollow-body frogs are no exception. Frogs come pre-rigged with hooks tucked tight against the bait's body. Bass Pro Shops XPS Frog, Snag Proof Bobby's Perfect Frog, Trophy ScumFrog and Strike King King Rat are all excellent choices for hollow-body frogs.


Toads, on the other hand, are designed to be rigged Tex-posed. Various wide-gap, off-set hooks can be used for rigging these soft baits. Some specific models are available, however, such as the Gambler Chris Lane Double Trouble Toad Hook, Gamakatsu Frog Hook and Zoom Horny Toad Hook. The action of toads comes from their legs, which create a gurgling disturbance during the retrieve. Weedless topwaters are perfect for skimming over dense vegetation. They can also be used as a buzzbait substitute in open-water scenarios. Top toads include Bass Pro Shops Humpin' Toad, Gambler Cane Toad and Strike King Rage Tail Toad.


Trailers for Bass Jigs

Trailers are soft plastics designed to be attached to the hook of a skirted bass jig. Trailers for bass jigs come in a range of styles; most feature legs, twister tails, chunk legs or claws for action. Examples include Berkley Havoc Pit Chunk, Netbait Paca Chunk, Strike King 3X Chunk and YUM Chunk. Traditional pork trailers such as the Uncle Josh Phantom Craw or Big Daddy Frog are also well-liked.


Trailers for spinnerbaits are also available. A few to consider are Bass Pro Shops Squirmin' Spinnerbait Trailer or Luck 'E' Strike Clunn Spinnerbait Trailer. Threaded onto the hook, these tails pulsate and wave in the water when retrieved.


There are plenty of options when it comes to soft baits. Truth be told — bass will strike almost any one of them most of the time. You'll simply need to fine-tune your color selection and rigging for what works best in your waters. Of course, that's half the fun!