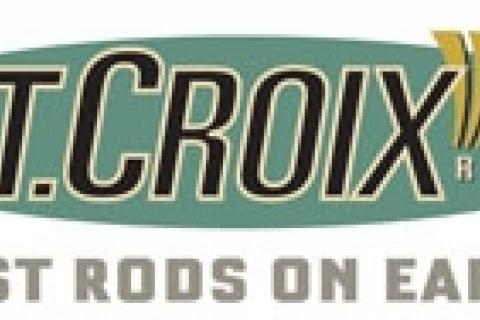 Park Falls, WI (March 4, 2013) - Angling for different species calls for diverse techniques, each technique typically requiring a unique rod. But acquiring "specialty" poles for every ploy can be out of budget's reach. For that reason, the rod designers at St. Croix created the Triumph series of spinning and casting rods - all made with the thoughtfulness and integrity that is St. Croix.
Four new Triumph spinning models join the lineup for 2013, including a medium-heavy
7-footer and three potent 7-foot 6-inchers that span the action-gamut from medium-light to medium-heavy.
"Every rod in St. Croix's Triumph series is over-built for the price," says St. Croix pro staffer Tommy Skarlis. "Triumphs are a great way to introduce anglers, new and seasoned alike, to the craftsmanship St. Croix puts in every rod. And the added length and distinctive actions of these four models will fill the gaps in your rod bag."
What are Skarlis' thoughts on all three actions? "Perfect for every freshwater species that swims, with medium-light for live-bait and jig presentations, medium for casting crankbaits and medium-heavy for deep-water jigging and chunking large lures.
"The extended lengths are great for dropping the tip to the surface when the wind is riling your line. Sweeping smooth hooksets are trademark for extended length rods, too.
"You'll catch more fish with a Triumph. It's as simple as that."
But it's not just freshwater anglers who get the best hooksets for their buck. The entire Triumph series, including the four new fabulous all-species sticks, are built tough enough to meet the demands of saltwater angling as well. Still, their premium-quality SCII graphite blanks will telegraph the lightest hit to your fingertips.
Like the entire line of casting, spinning, steelhead and salmon, musky and travel Triumph models, 2013's newest spinning rods are built with hard aluminum-oxide guides enclosed by sleek black frames, Fuji DPS reel seat (spinning models) and Fuji ECS or TCS reel seat (casting) surrounded by premium-grade cork handles. And of course, they're backed up by St. Croix's 5-year Superstar Service.
While one rod may never be able to do it all, one series will. Introduce someone to a Triumph today.

About St. Croix Rod
St. Croix Rod is a family-owned manufacturer of high-performance graphite and fiberglass fishing rods headquartered in Park Falls, Wisconsin. The company offers a complete line of premium, American-made fly, spinning and casting rods under their Legend Elite®, Legend® Xtreme, Legend Tournament®, Avid Series®, Premier®, Wild River®, Tidemaster®, Imperial® and other trademarks through a global distribution network of full-service fishing tackle dealers.
The company's mid-priced Triumph®, Mojo Bass/Inshore/Surf, Eyecon® and Rio Santo series rods are designed and engineered in Park Falls, Wisconsin and built in a new, state-of-the-art manufacturing facility in Fresnillo, Mexico. Founded in 1948 to manufacture jointed bamboo fishing poles for a Minneapolis hardware store chain, St. Croix has grown to become the largest manufacturer of fishing rods in North America.