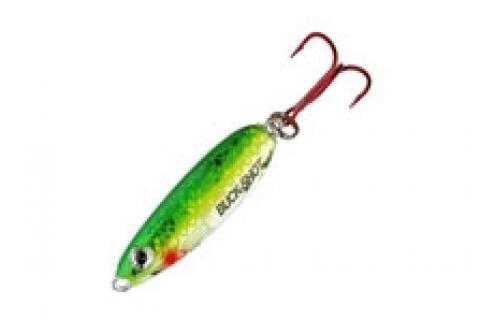 In this gear review I want to share one of the best year-round lures in my angling arsenal, the Northland Fishing Tackle Buck-Shot Rattle Spoon. Retailing for between $4.50 to $5.50 and available in 1/16-, 1/8-, 1/4-, 3/8-, 1/2- and 3/4-ounce sizes, this lure catches a multitude of species. Classified a jigging spoon, the Buck-Shot shines in straight-down scenarios for a variety of reasons.
According to the author, the Northland Fishing Tackle Buck-Shot Rattle Spoon is one of the best year-round lures.
For starters, the spoon's straight profile gives it a reserved flutter, which helps it sink quickly into the strike zone. This makes it a lethal option for catching fish that are holding tight to structure. Its conservative action also ensures it doesn't wonder off to the side. This means superior bait control, a trait that's advantageous when working an area with precision, such as jigging walleye in fast river current.
While a Buck-Shot's profile classifies it as a conservative action spoon, it packs in fish-attracting boisterousness in other ways. Surrounding the spoon is what Northland calls a "holographic Baitfish-Image" covering that's highly reflective. Patterns come in natural hues, such as Silver Shiner, that are complimented with a metallic finish. These designs are dynamite in clear water. Vibrant options are also available, like Super-Glo Firetiger or Super-Glo Perch, which feature glow paint on the reverse side that are perfect for stained water or in low-light. 
Amping-up the fish-attracting color schemes is a noisy brass rattle chamber. Aggressively jigging the spoon will sound out a steady clacking rhythm that calls-in fish from a wide distance. Using a light shake causes the spoon to shimmy and emit a reserved clicking that coaxes fish to strike.
Another virtue of this spoon is its versatility. I have rip-jigged this bait to catch lake trout suspending over 70 feet of water in spring. In summer and into autumn, this spoon shines to haul up yellow perch from deep flats or to extract smallmouth and walleye from deep structures and ledges (e.g., mid-lake reefs, river wing dams).
When winter arrives, the Buck-Shot is just as hot on the ice and will catch a multitude of species from northern pike to panfish. Worth noting is that the spoon maintains its action when tipped with a minnow, a common ice-fishing practice. This said, always check lure movement in the hole, adjusting as necessary, before lowering the rig into the strike zone.
If you're a fan of vertically jigging, the Northland Buck-Shot Rattle Spoon is sure to please.