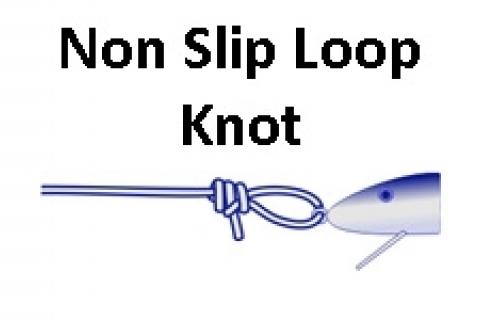 How to Tie Fishing Line: Non-Slip Loop Knot Instructions


The Non-Slip Mono Loop is also known as the "Kreh Loop" as it has been popularized by fishing legend Lefty Kreh. As its name suggests it forms a non-slip loop at the end of a fishing line. The loop connection to a fly or a lure can give the fly or lure more natural action. Some fishermen find the Kreh Loop easier to tie than the similar Rapala Knot and equally reliable.


This fishing knot is on the PRO-KNOT Fishing Knot Tying Instruction Cards, available at Bass Pro Shops website or at your local Bass Pro Shops store. 


Step-By-Step Instructionsto Tie a Non -Slip Loop Knot


Step 1

Make an overhand knot in the line about 10 inches from the end. Pass the tag end through the hook eye and back through the loop of the overhand knot.

Step 2

Wrap the tag end around the standing part 5 or 6 times. Bring tag end back through overhand knot, entering from same side it exited from before.

Step 3

Moisten he knot then pull slowly on the tag end to cinch the wraps loosely together. Then pull the loop and the standing line in opposite directions to seat the knot. Trim tag end.