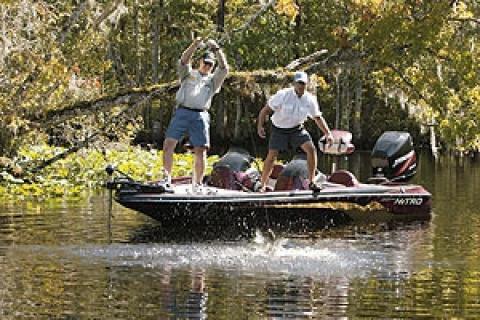 With spring around the corner, many anglers are wandering fishing shows to pacify the last remaining weeks of cabin fever. In addition to picking up the latest lures, a lot of us spend time investigating lodges and considering fishing getaways for the upcoming season. Planning a fishing trip isn't much different than any other vacation or multi-day outing — yet there are some specific things to keep in mind. In this article, I'll review a few tips to plan a fishing trip.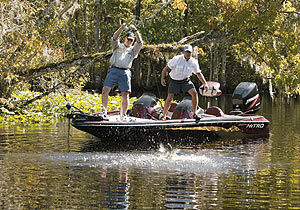 Does the lodge have fishing guides? If yes, it's worth considering hiring one to learn the lake for a day.
Lodge Questions  
When talking to resort owners, it's a good idea to ask some important questions to determine if their resort is right for you. Here are a few: 
What are the costs? This will keep your fishing trip within your price range. You'll want to find this out and determine if there are packages available. Also ask how rates are set up: do they charge per person or is it a set fee for a room or cottage?


When's the best time of the year to stay and fish the water? Lodge owners will know the nuances of their water body and can advise when it's best to fish for various species. If you're flexible, this can pay off as some of the best fishing takes place outside of traditional holiday periods.  


Does your lodge have guides? If yes, it's worth considering hiring one to learn the lake for a day. For lodges that don't, ask them how they can help you get on fish. No matter how good of a fisherman you are, finding fish on a new lake takes time (this is why pros pre-fish tournaments), so ask owners how they'll support anglers. I've had owners take me for a tour of the lake, highlighting good areas, while others have pointed out spots on a map.


How up to date are their boats? Top notch lodges will keep their rental fleet in good order. I'd also ask what bells and whistles are on their boats, so you know the level of comfort and functionality you'll be fishing in. Do they have trolling motors, fish finders, live wells, seats and so on? I also ask if boats have navigation lights, and I bring portables ones if they don't. The portables are inexpensive and if you're after walleye, they're needed to safely and legally fish prime time, low light conditions.  


Is there a store on the property? Forgetting something during a vacation is discouraging, whether a toothbrush or a hot lure. Finding out if there's a tackle shop or small store onsite will let you stock up on anything you've left behind. Also ask if they sell bait and lures, as this can save you having to drive to the closest town to buy some.


What else is important to you? This is a question to ask yourself in terms of what you want and need out of a fishing holiday. For example, I know someone with a medical condition and needs to be a certain proximity to a hospital, limiting his fly-in remote adventures. Is privacy paramount over fishing productivity, or do you only need a roof over your head but expect non-stop action on the lake? It varies from person to person, so consider specific questions you need to ask to make your pre-trip planning and fishing resort selection successful.
Perusing Pamphlets & Websites
Most lodge representatives know that their booth and marketing kit is a big factor in selling their resort over another. Personally, I'm a little wary of resorts with pamphlets and out of date photos or websites with links that don't work. This shouldn't be the only thing you base your decision on, but it is worth noting. It always makes me wonder, if lodges can't keep their photos current or websites up to date, how do they maintain their facility?
Cutting Through Hidden Costs
No one likes to get stung by additional fees and charges on a holiday. A simple question to ask lodges is what other charges should you anticipate if you're coming up on a fishing trip? An honest operator will tell you. In the past, I've been unexpectedly dinged for the rental of life jackets, docking and launching fees, bait, linens, soap, rental boat gas, fishing maps and a variety of other small charges. Yes, some of these charges make sense, but if you're not expecting them they quickly add up and can leave you feeling a little ripped off. It's best to inquire at the onset about additional charges, so you're not surprised and can budget accordingly.
Bring Extras
Although some lodges provide supplies, it doesn't hurt to bring extras to ensure you're comfortable. If I'm heading to a cottage-style resort where I'll be cooking my own meals, I always bring a coffee maker and filters, some dish soap and towels, a fillet knife and knife sharpener, a spatula, and some tinfoil for cooking fish. These items have really paid off at least once on an outing.
When it comes to the bedroom and bathroom, bringing a sleeping bag has served me well on cold nights when the provided linens didn't cut it.  Some resorts require you to bring linens, towels and toiletries so make sure you.
Some resorts require you to bring linens, towels and toiletries so make sure you inquire and pack accordingly. I also always bring a flashlight so anyone getting up in the middle of the night can safely find their way around the cabin.
Flying to a Remote Lake?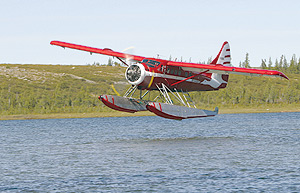 Flying to a remote lake to fish is an amazing experience. Solitude, scenery, and great fishing are some characteristics of fly-ins.
Flying to a remote lake is an amazing experience. Solitude, scenery, and great fishing are some characteristics of fly-ins. If considering this type of operation, find out how much overall weight they allow on the plane and adhere to this limit. You can't bring as much gear in on a fly-in as lodges you drive to, so pack strategically. Bring lures and fishing rods that will catch various species. Pack rods in rod cases to ensure they're not damaged in transit. That said, it's a good idea to pack a rod-tip repair kit if you don't already carry one in your gear for the unexpected.
Fishing Regulations and Licenses
It's not the lodge's responsibly to brief you on fishing regulations for their area, so do your homework before you go. If going out of state or country, get necessary documents in order well in advance. This includes: fishing licenses, travel insurance, passports, boat and vehicle ownership, and so on. If going cross-boarder, find out what items you can and can't bring and plan and pack accordingly (e.g., there are often cross-boarder food limits, so consider grocery shopping after you arrive). You'll also want to leave copies of travel documentation and an itinerary with someone at home.
Planning a fishing trip shouldn't be stressful. Give yourself enough time to arrange and organize the outing, beginning with doing your homework when picking a lodge. Each time you stay at a new resort, you'll discover something to keep in mind for your next one. It's been my experience that no matter how planned and prepared I try to be, I inevitably forget something. If you do, chalk it up to experience and consider it another funny story for your fishing adventure archives.