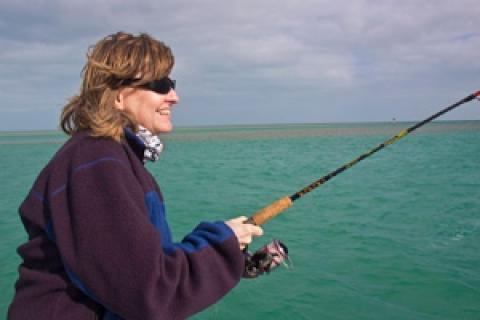 Looking for Mother's Day gift ideas for your favorite female angler? If you need some inspiration, below are some of my wife's favorite fishing items.


#1
Bass Pro Shops' 3.5-inch Tender Tube in Amber Pepper Purple Flake tops the list as one of her all-time favorites for putting a hurt on smallmouth. It's known as "Sue's Tube" in the boat.
#2
Gary Yamamoto's Double Tail Hula Grub is another go-to bait. Teamed with a football jig head this combo has a knack for hauling-in big bronzebacks and bucketmouths when dragged along bottom.
#3
The Rapala X-Rap, specifically the 3-1/8-inch version, has a spellbinding effect on bass when it's tied on the end of my wife's line. She uses a slow to medium-speed retrieve and really plays up the wounded-minnow aspect of the jerkbait presentation. "Bass love the pause," she likes to say — and they do.
#4
The Strike King Rocket Shad is another doozy of a bait that Sue slams smallmouth with. Chuckin'-and-windin' is a breeze with this easy-to-fish spinnerbait. Runs true too in current, which is another bonus.
#5
Northland Fishing Tackle's Thumper Jig is one of Sue's panfish All-Stars. Whether hopped along bottom, cast and swam slowly, or lazily drifted behind the boat, the 1/16- and 1/8-ounce versions are deadly for yellow perch, bluegills and crappie thanks to the added flash and vibration courtesy of the jig head's blade. A 1.5- to 2-inch soft-bait minnow, grub or tube are all great choices for rigging.
#6
As far as walleye go, my wife's a big fan of trolling a bottom bouncer teamed with a spinner rig. We use Lindy, Northland Fishing Tackle and Bass Pro Shops rigs regularly in our boat.
#7
Mustang Survival Elite 28K Inflatable Life Vest is another favorite fishing item. Comfort, non-constrictive and safety are three reasons why she digs this life vest.
#8
Buying a boat ladder for the boat was also a big hit. A ladder makes getting back in the boat an easy task after taking a mid-day swim.