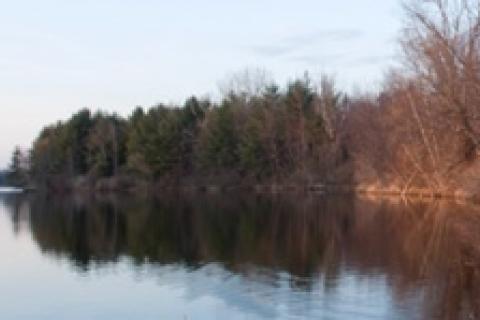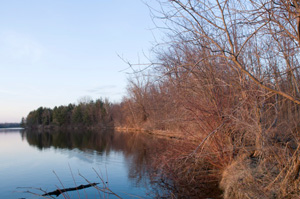 As ice recedes across the ice belt, shorelines and tributaries are the first areas that hold panfish promise. For many anglers, early spring action begins on foot. Walking and stalking the water's edge is a reliable strategy to intercept panfish ice-out feeding binges. Here are a few tips to consider when tactics take place on terra firma:
Use existing water access points and paths as forging new routes damages vegetation and disrupts animal habitat.
Look for lakes and rivers with recreational paths along the shore; these routes make it easy to move from one area to the next on foot or on a bike. On large systems a vehicle is helpful for big moves.
Focus on fertile, wind-sheltered, sun-bathed areas like canals, coves, marinas and back-bays, as these warm up the fastest, hold plenty of food, and are the most appealing to panfish.
Tributaries and inflow areas also represent foraging stations for pannies in spring, expect fish to hold in slack-water zones of eddies, current seams and deep holes.
Keep a low-profile when casting and stay back from the bank to avoid spooking fish.
Travel light and carry gear in a backpack or use a product like the Plano Guide Series Lumbar Fishing Pack. A wearable carrier keeps things organized and is a better option for maintaining balance compared to shoulder bags or hand-held boxes when scrambling along the shore.
Consider the compactness and portability of a two-piece, light-action spinning rod, which is less likely to tangle in tree branches and bushes when walking.
Carry a mix of tackle: float-and-jig set ups are reliable spring offerings, but minnowbaits and small swimbaits are also deadly..
Don't forget scissors, a knife, pliers or hemostats, and other catch-and-release tools.
Pack a water bottle and food to keep your energy levels topped up.
Use quality polarized sunglasses to see fish in the shallows as well as prime panfish cover, like sunken trees and weed growth.
Wear comfortable shoes and consider a pair of waterproof hiking boots or rubber boots.
Leverage technology if fishing with friends, spreading out to explore different areas and then texting or calling once fish are located.