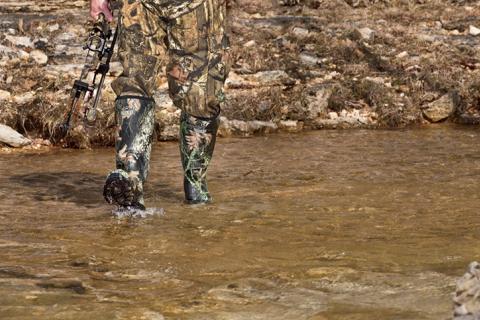 There are no hard-and-fast statistics on the subject, but I do know this: anglers spend a lot of time on their feet while chasing fish. Do your feet a favor and outfit them with quality fishing boots and shoes for the best protection and comfort on the water.


Hiking boots are great for early spring, late fall fishing.
Proper arch support, quality cushioning, insulation, breathability and waterproofing (or water drainage) are all important aspects to consider when choosing angling shoes and boots. In this guide we'll concentrate on what's available to protect your feet, covering boots, shoes, sandals and clogs for a variety of fishing conditions.


1. Hiking & Hunting Boots Can Work for Fishing

During early spring and late fall when cold days are the norm, an insulated pair of hiking boots and hunting boots can serve you well on the water.


Both boots provide adequate arch and ankle support, and there are dozens of styles to choose from. However, as temperatures dip below the freezing mark, certain insulated hiking boots may not provide enough warmth or protection for a full day of fishing, especially when there's a windchill. Factors influencing this include how easily your feet get cold and the amount and quality of insulation in the footwear.


High quality boots will feature breathable materials to keep your feet comfortable, letting sweat vapor escape. Many boots contain waterproof liners and a durable water repellency treatment to prevent moisture from saturating the outer fabric. These features make them good choices if you frequently fish in the rain. Other great options include rubber boots.


2. If You're a Shore Angler Try Rubber Boots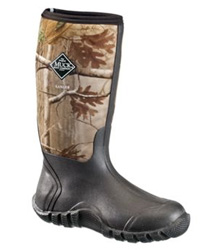 Fishing in warm to cool rains, rubber boots will keep you dry.
In warm to cool rains, a pair of quality rubber boots will provide all-day weather protection. There are plenty of options to choose from.


Height (or cut) is an important consideration when buying rubber boots. High-cut boots, like RedHead 16'' Span Tough Waterproof Neoprene Boots or The Original Muck Boot Company Ranger 16'' Waterproof Boots, might seem overkill if you're fishing out of a boat, but if you're a shore angler, these boots will keep your feet and lower legs dry on walks through fields of wet grass. The added height lets you walk the shallows, which is handy for landing fish along heavily treed shorelines.


If you're looking for rubber boots to keep your feet dry while boat angling in the rain, shorter cuts often feel more comfortable. Mid cuts stopping below the calf or above the ankle are often sufficient; however, consider the amount of overlap the boots provide with your rain pants if you plan to fish during downpours. When standing, you'll likely be adequately covered with an ankle cut or higher. Yet, if not protected by a console when seated, your lower legs may be exposed. In this case, a higher cut boot provides much better protection. When buying boots, wear your rain pants and try on a few different cuts while seated to determine the height of boot you need.


Insulated rubber boots will keep your feet warm when fishing on cold, crisp mornings — especially when the forecast calls for day-long drizzle. Don't forget to look for boots with a non-slip outsole. Things get slippery when wet, and buying rubber boots designed to grip soaked surfaces is important for your safety.


One final note when it comes to rubber boots, if you stand a lot when you fish be sure to invest in a pair with quality arch support. Plain, "basic" rubbers rarely deliver adequate support required for a full day on your feet.


3. Waterproof Shoes for Fishing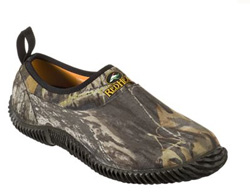 In warm to hot climates, a low cut waterproof shoe will protect your feet while fishing. 
Waterproof shoes function like rubber boots, just in shoe form, which often simply means a shorter cut (i.e., height). Examples include RedHead Mallard II Non-Insulated Waterproof Slip-On Shoes or RedHead Westy Waterproof Rubber Boots. These shoes will serve you well from late spring to early fall in average rain conditions.


Again, as long as your rain pants provide adequate coverage over the shoes, your feet and lower legs will stay dry. Depending on the coverage of your outerwear, you may be fine with shoes in extended downpours as well. This will suffice during summer showers. The low-cut of shoes will help keep your feet from getting too hot.


In colder conditions, though, higher cut boots offer extra protection and insulation from cool, damp winds. Given this, consider waterproof shoes for warm conditions and stick to boots once temperatures get cool.


4. Boat & Deck Shoes for Anglers & Boaters

Boat and deck shoes are designed specifically with anglers and boaters in mind. Pick up a quality pair, and you'll see they're packed full of features for water lovers. Most are constructed with materials offering water repellent properties. Look for models featuring non-slip, non-marking soles.


Fishing shoes should provide plenty of cushioning in the mid sole to help absorb the shock from bouncing in waves, as well as deliver day-long comfort. Models will have varying degrees of breathability built-in to their design. Mesh panels, like those found on World Wide Sportsman Bayside Lace Fishing Shoe, encourage plenty of air flow, making them extremely comfortable to wear during summer.


Boat shoes and deck shoes come in a range of styles. Both lace-up and slip-on models are available in athletic and conservative styles.


5. Athletic Shoes Work for Fishing Too

Athletic shoes are gaining ground on the fishing scene. Study fishing magazines from the last couple of years and you'll notice a trend of more anglers wearing running or cross-training shoes on the water. If you're wondering why, the answer lies in comfort.


On blue-sky, summer days, running shoes are on my feet the majority of the time. They deliver superior cushioning, and after a full day of standing and casting, my feet rarely feel overly tired.


Running and walking shoes offer plenty of cushion and arch support, and lace designs ensure a snug fit. Most feature mesh areas for superior airflow, making them ideal for warm temperatures, but not the best option for cool, windy conditions. One tip when considering athletic shoes: look for non-slip and non-marking soles. While fairly standard on boat shoes, the same can't be said for athletic footwear.


6. Water Shoes Appeal to Many

Water shoes are a versatile category of warm-weather footwear that has boomed in recent years, appealing to power boaters, paddle-sport enthusiasts and beach lovers. These lightweight products deliver decent cushioning, excellent traction, support, and adjustment options to ensure a snug, comfortable fit.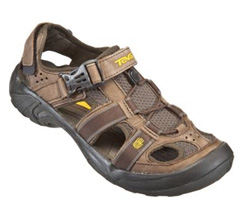 Water shoes are lightweight, yet have a snug fit to stay on your feet and keep you cool.
The majority of products are like athletic shoes that are built with mesh sides and intended to get wet often. As such, water shoes feature plenty of openings for drainage when above water. These shoes deliver superior breathability, making them excellent for hot weather fishing regardless of whether you're dunking them or not. Examples include the The North Face Hedgefrog II Water Shoes or Teva Omnium Leather Water Shoes.


7. Sandals & Clogs Are Great Fishing Shoes

Sandals and clogs are great options when wind and rain aren't a concern during warm conditions. There are a variety of options on the market. Here are a few things to keep in mind when purchasing this type of footwear.


Make sure you get a proper fit. Oversized pairs have a tendency to slip off at inopportune times. A size too small and your toes will be exposed. I always do a tap test when buying toe-exposed footwear. It takes about 10 seconds.


After putting them on and tightening any straps, walk up to a wall and lightly tap each foot on it. If your toes don't hit, it's a fit. If they slip forward and hit the wall, you either need a larger size or must adjust the straps so your heel is closer to the back. This might seem trivial, but trust me, it's worth making sure your toes are sheltered.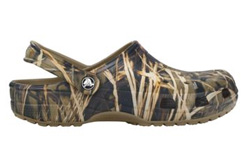 Clogs provide protection for your feet, as well as airflow.
Some sandals and clogs are designed for getting wet. A handy feature if you're often walking in the water to launch your boat.


When it comes to materials, look for sandals or clogs that provide adequate airflow, either through open areas or mesh. You may also want to consider picking up a pair featuring anti-microbial materials to help reduce foot odor.


There are plenty of footwear options to meet the demands of different climates and weather conditions. When outfitting your feet, always ensure you've got a good fit. Lastly, don't skimp when it comes to footwear. A wise man once told me, "Always buy the best when you're putting something between you and the ground." This includes beds, chairs and footwear. Trust me — your body's worth the investment.