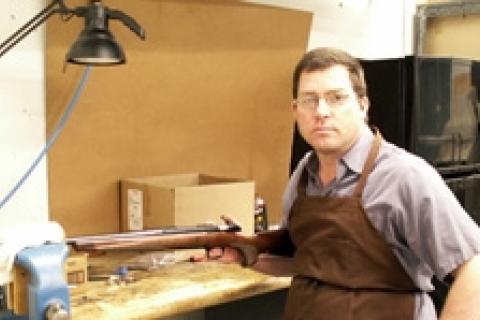 I have always heard the old adage, "Choose a job you love and you will never have to work a day in your life." I've never regretted the decision I made to become a gunsmith. The only thing regrettable is that more men and women aren't aware of this worthwhile profession.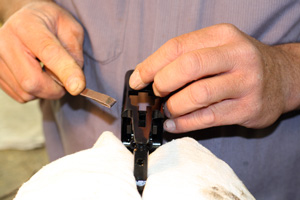 A gunsmith polishes a receiver.
I have lost count the number of times I've been asked, "How on Earth does someone become a gunsmith?" Most are surprised to learn that I, like most gunsmiths, have received my training by attending gunsmithing school.
In the U.S., about 10 brick and mortar gunsmith schools teach ambitious men and women how to repair firearms. Most programs are designed to build on the next skillset — starting with proper use of hand tools, mainly a hacksaw and a 6-inch mill file. This usually will try a student's patience, as the first project must be perfectly square using only a mill file; however, since this is a skill gunsmiths are required to perform almost every day — it is an important one to master.
The skill to master power equipment including milling machines and lathes follow the hand tool section. Using newly acquired skills, a student is given blueprints of tools to be made. These tools will be used throughout the gunsmithing career such as barrel and action wrenches and other assorted jigs and fixtures. The art of refinishing or bluing is usually learned by the end of the first year. Bluing — making the metal a blue-black color — also incorporates disassembling and reassembling of various rifles, shotguns and pistols that the student has blued.
Year Two
The second year is focused on the building of custom rifles. It begins with learning to thread and chamber barrels, first on practice pieces (which become bolt-lapping tools) then moving onto the real thing once the barrel is ready to be machined. Action choice is left to the individual student in most programs, but a military surplus action is usually used to give the student some time and experience installing sights or scope bases, altering bolt handles (either by bending or welding on a new bolt handle) and polishing the action inside and out.
Stock Work
By the middle of the student's second year, stock work becomes the main focus. First, the student decides on the style and purpose of the stock and then the proper measurements are transferred on a blank or block of wood, usually American Walnut. Though few gunsmiths will build a stock from a blank in their entire career after graduating, this know-how is priceless.
Most gunsmithing instructors are expert gunsmiths and stockmakers, to demonstrate and lend a guiding word of encouragement when needed. One-and two-piece stocks are made the same way, mostly by hand. The last part of the program involves the finishing of stocks, checkering, reloading and other loose ends such as bookwork to keep accurate records.
Each school has different specialties and methods they teach. A few schools, namely Montgomery Community College in Troy, N.C., Lassen Community College in Susanville, Ga., Murray State College in Tishomingo, Okla., Trinidad State Junior College in Trinidad, Colo., and Flathead Valley Community College in Kalispell, Mont., hold summer gunsmith courses sponsored by the NRA. These weeklong labor-intensive classes focus on skills for the beginning or even the more advanced gunsmith. Courses range from basic machine shop to bluing or even custom stock building. Manufacturers come to these summer programs to teach gunsmiths how to maintain their firearms.
I'm sure there are easier or even more lucrative occupations, but the life of a gunsmith is the life for me and I feel as though I have never worked a day in my life.
For more information on the National Rifle Association short courses visit nragunsmithing.com.